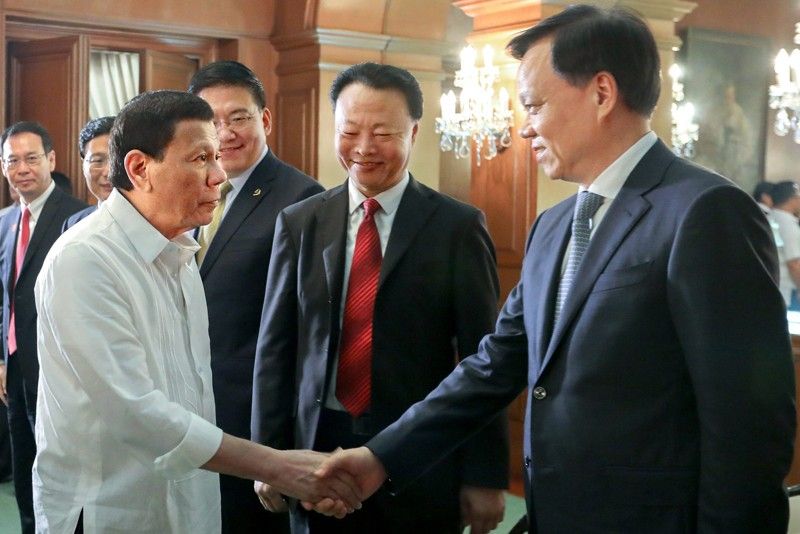 President Duterte shakes hands with Communist Party of China Chongqing party chief Chen Min'er during the latter's courtesy call at Malacañang on Monday. Looking on is Chinese Ambassador Zhao Jianhua.
Duterte receives Chinese Communist Party officials
MANILA, Philippines — President Duterte received Communist Party of China-Chongqing chief Chen Min'er and other CPC members in a courtesy call at Malacañang on Monday.
The President welcomed Chen and CPC members at the Music Room, the Palace said in a statement.
PDP-Laban vice chairman and Energy Secretary Alfonso Cusi said the President mainly exchanged pleasantries with Chen and members of his delegation.
Cusi said the meeting would enhance further the relationship between PDP-Laban and CPC.
It would also boost investment opportunities both in Manila and Chongqing.
At the meeting, Chen also invited the President to visit Chongqing, Cusi added.
A protégé of Chinese President Xi Jinping, Chen is seen as an influential political official in China. He became the Communist Party Secretary of Chongqing two years ago and joined the 25-member Politburo, the CPC's top decision-making body.
Chongqing is one of China's leading cities, which is typically led by a party secretary from the Chinese Politburo.
Chen had also served as head of the provincial department of propaganda and vice governor of Zhejiang province. He became Guizhou's governor in 2013 before being promoted as provincial communist party secretary.
Chinese Ambassador Zhao Jianhua, vice minister of the International Department-CPC Central Committee (IDCPC) Guo Yezhou, executive vice mayor of Chongqing Municipal People's Government and secretary general of CPC Chongqing Municipal Committee Wang Fu were also present during the courtesy call.
Also present were PDP-Laban president Sen. Aquilino Pimentel III, Cagayan Economic Zone Authority secretary and PDP-Laban vice president for international affairs Raul Lambino, Foreign Affairs acting Secretary Jose Eduardo Malaya III and Sens. Christopher Go and Francis Tolentino.