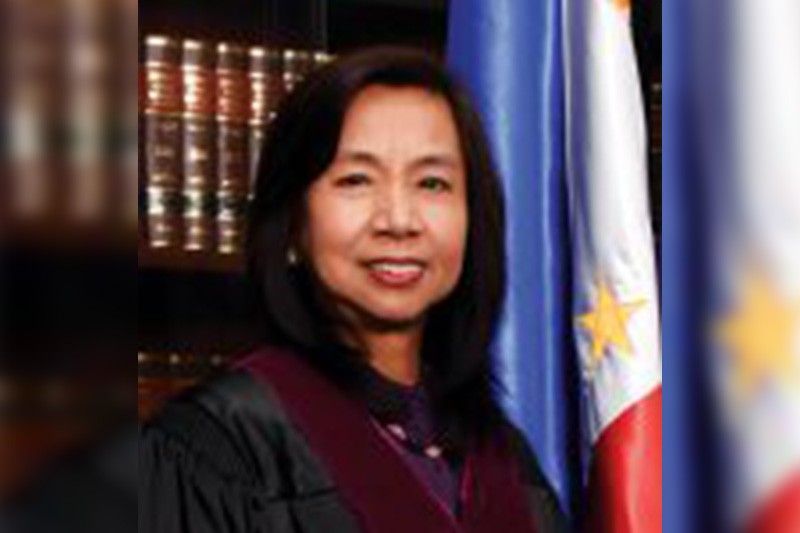 Chief Justice Lucas Bersamin is set to retire on October 26. The Judicial and Bar Council will accept applications and nominations for the chief justice post until August 20. The STAR, File
Supreme Court website
Bernabe accepts nomination to chief justice post, Caguioa bows out
MANILA, Philippines — Associate Justice Estela Perlas-Bernabe has accepted the automatic nomination for the chief justice post.
Justice Secretary Menardo Guevarra, a member of the Judicial and Bar council by virtue of his position, confirmed this in a message to reporters.
Guevarra also said that Associate Justice Alfredo Benjamin Caguioa declined his automatic nomination.
This means that out of the five most senior justices at the SC, three have declined the nomination to succeed Chief Justice Lucas Bersamin, who will reach the mandatory retirement age of 70 on October 18.
Senior Associate Justice Antonio Carpio and Associate Justice Marvic Leonen already said no to their automatic nomination.
Carpio said he declined as "there are only eight days from the vacancy to my compulsory retirement," which is on October 26.
Associate Justice Diosdado Peralta has yet to accept or reject his automatic nomination as of this story's posting.
Bernabe reminded new lawyers of integrity
During the oath-taking of 2018 Bar passers, Bernabe told them to hold on to their integrity as they start on the path of the legal profession.
"Hard work is the foundation of your dreams. Keep in mind that no matter how talented or naturally gifted you are, there is no substitute for hard work," Bernabe, who will chair the 2019 Bar said.
"In whatever you decide to do, never compromise your integrity... Always remember that in whatever opportunity you choose, your integrity is non-negotiable," she added.
Bernabe graduated from the Ateneo College of Law as salutatorian. She passed the Bar in 1976.
She practiced legal work for China Banking Corp., Paramount Finance Corp., and the National Home Mortgage Finance Corporation from 1978 to 1993.
In 1996, she was appointed as Metropolitan Trial Court Judge in Makati, then was appointed to Makati Regional Trial Court in 2002. After four years, she became a justice of the appellate court.
She wrote the 2013 decision that held that the Priority Development Assistance Funds (PDAF) or congressional pork barrel unconstitutional.
Bernabe will retire from the SC on May 14, 2022.