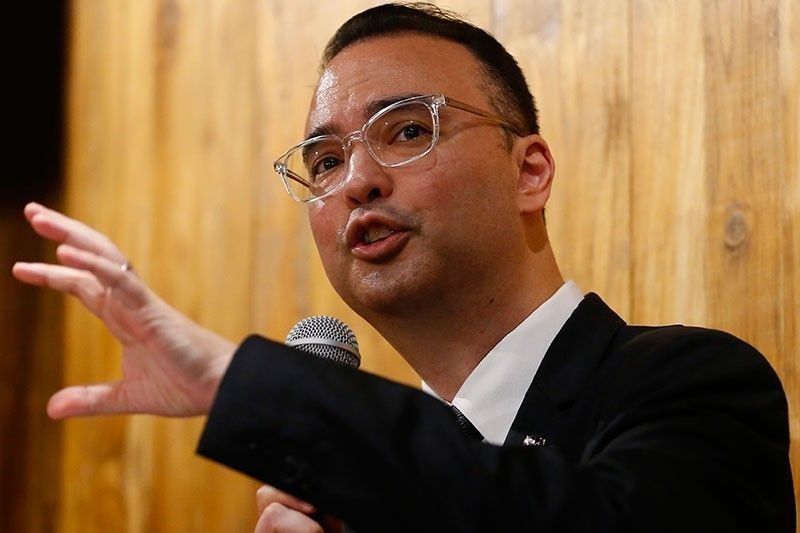 "My message to you is that I will do as much as I can to spread out the development and attend to the concerns of the districts and party-list groups.
File
Zero corruption on 'pork,' Cayetano asks colleagues
Jess Diaz
(The Philippine Star) - August 13, 2019 - 12:00am
MANILA, Philippines — Speaker Alan Peter Cayetano is asking members of the House of Representatives to avoid corruption in the use of pork barrel funds and other taxpayer's money allocated to their districts or constituencies.
"My message to you is that I will do as much as I can to spread out the development and attend to the concerns of the districts and party-list groups. But we have to heed President Duterte's appeal: absolutely no corruption," he appealed as the House expects to receive the President's budget proposal for 2020 in one week.
He also told his colleagues over the weekend that: "We made it very clear at the start that there are things we can give and take but there are lines we have to draw. When it comes to corruption, the line is drawn: no party affiliation, no friendship, we will not protect each other."
The Speaker also vowed to have the House approve the proposed P4.1-trillion national budget for 2020 "on time" before the end of the year to sustain the country's economic growth.
"We had six years of good growth during the Aquino administration and four years under President Duterte. So if we pass the budget on time, we can make up for what we lost last year. If we sustain growth for 18 years, believe me, we will see a different Philippines," he said without explaining why his horizon for economic expansion is 18 years, which is beyond the six-year term of Duterte.
According to sources in the chamber, the proposed budget would include at least P35.2 billion in pork barrel funds for 24 senators and 305 House members.
The Department of Budget and Management has asked lawmakers to submit their project list in advance for inclusion in the budget to avoid last year's spectacle of the Senate and the House quarrelling over billions in alleged fund insertions in this year's outlay.
The congressional allocation for 2020 would still be P100 million for every House member and P200 million for each senator.
Of a congressman's allotment, P70 million is for "hard" or infrastructure projects like multipurpose buildings and road construction, while P30 million is for "soft" programs like medical and educational assistance.
In the case of a senator's P200 million "pork," P100 million is for "hard" and P100 million for "soft" projects.
The congressional pork barrel used to be a lump-sum fund, the details of which were supplied after the annual budget was enacted by lawmakers, who also meddled in project implementation.
The Supreme Court prohibited such practices in November 2013.
Several former senators and congressmen are facing plunder and graft charges before the Sandiganbayan for allegedly pocketing billions in commissions and kickbacks from their pork barrel-funded projects.