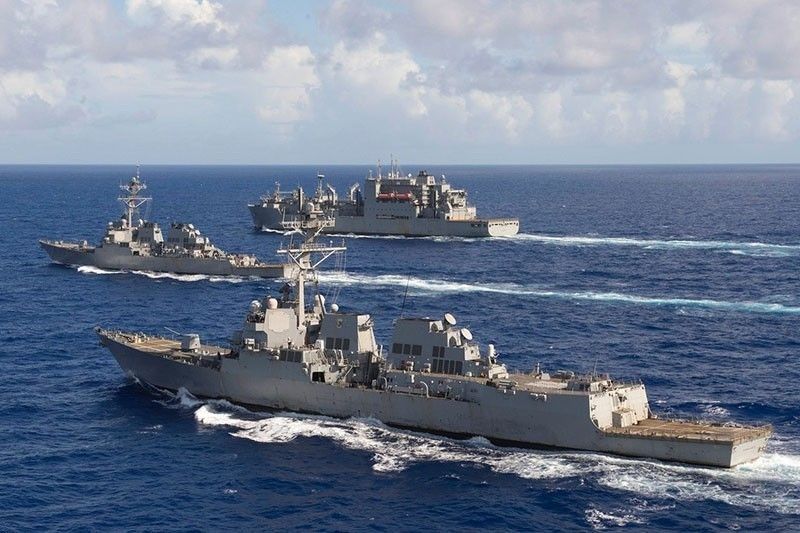 This US Navy photo obtained Oct. 28, 2016 shows the guided-missile destroyers USS Spruance (DDG 111), front, and USS Decatur (DDG 73) and the Military Sealift Command fleet oiler USNS Carl Brashear (T-AO 7) as they steam in formation in the Pacific Ocean following a joint exercise with the US Air Force 34th Expeditionary Bomb Squadron from Anderson Air Force Base, Guam,on October 27, 2016. Spruance and Decatur and the guided-missile destroyer USS Momsen (DDG 92), along with embarked "Warbirds" and "Devilfish" detachments of Helicopter Maritime Strike Squadron (HSM) 49, are deployed in support of maritime security and stability in the Indo-Asia-Pacific as part of a US 3rd Fleet Pacific Surface Action Group (PAC SAG) under Commander, Destroyer Squadron (CDS) 31.
PO 2nd Class Will Gaskill/US Navy Media Content Operations/AFP
Palace OK with seeking US help to monitor Chinese ships in Philippine EEZ
MANILA, Philippines — Malacañang is open to seeking help from the United States to monitor Chinese vessels in the Philippines' exclusive economic zone in the wake of concerns over the reported passage of two Chinese warships through Sibutu Strait without clearance.
Presidential spokesperson Salvador Panelo noted that the Philippines has a defense treaty with the US, its traditional ally.
"There's nothing wrong with that. I think we are doing something so we can have our own satellite resources. While we do not have one, that's part of a treaty. There is a treaty between America and the Philippines," Panelo said in a radio interview, referring to the Mutual Defense Treaty signed by Manila and Washington in 1951.
READ: US assures Philippines: Any armed attack in South China Sea will trigger MDT
The treaty allows the two countries to jointly develop their security capabilities to counter external armed attacks.
Defense Secretary Delfin Lorenzana raised the idea of seeking assistance from the US last week as he was expressing concern over the passage of Chinese ships through Sibutu Strait in Tawi Tawi without informing the Philippine government.
"In the WPS (West Philippine Sea), if it is far; our radar cannot see them but other agencies like US, another country who has satellite, they can monitor that," Lorenzana said in a television interview last Friday.
READ: Another Chinese ship seen operating in Philippine waters
There were at least four instances when Chinese ships passed through the strait in the Philippines' southern tip since February, according to the defense chief. The Chinese ships reportedly turned off their automatic identification systems to avoid being detected by the Philippine authorities.
The United Nations Convention on the Law of the Sea allows "innocent passage" of ships vessels through a coastal state's territorial sea. UNCLOS described innocent passage as "continuous and expeditious" and "not prejudicial to the peace, good order, or security of the coastal state."
Lorenzana said Chinese commercial vessels need not seek permission from Philippine authorities because of the innocent passage principle. But China has to notify the Philippines if its warships intend to pass through Philippine waters, he added.
READ: DND chief Lorenzana wants China to explain presence of survey ships in Philippine EEZ
Also last week, Ryan Martinson, an assistant professor at the US Naval War College, said two Chinese survey ships were seen operating within the Philippines' EEZ. The ships have been operating in the area since August 3, Martinson said.
Palace: There should be courtesy among friends
Panelo said the Foreign Affairs department has filed diplomatic protests over the presence of Chinese ships in Philippine waters but could not say how many of the protests have been answered by China.
"What is important is we filed (protests). It's up to them how they will deal with it," the presidential spokesperson said. Panelo said there should be courtesy among two friendly countries but admitted that it's not that simple in the case of the West Philippine Sea row.
READ: Philippines to fire off diplomatic protest over Chinese survey ships, warships
"Kung totoong magkakaibigan tayo, siguro, as a matter of courtesy between two friendly countries, eh, magbigayan tayo (If we are really friends, perhaps as a matter of courtesy between two friendly countries, there should be give and take)," Panelo said.
"If UNCLOS says a country has to seek permission or should inform another country that it plans to pass through an area it does not own, the problem is they would also claim that they own the area. So you see the point, it's really hard to talk about something that you claim but is also being claimed by a other party," he added.
Panelo stressed that the best way to solve the dispute is to talk about it as friends.
READ: Philippines not informed of Chinese warship sail-by in Tawi-Tawi
Asked if Malacañang sees sincerity in China's friendship with the Philippines, Panelo said it remains unknown whether Beijing is aware of the passage of Chinese ships through Philippine waters.
He said Chinese Ambassador Zhao Jianhua has given assurances that China would not tolerate any wrongdoing.
"That is precisely the reason why we filed a diplomatic protest, so they would be informed of what happened in that area if they are not yet aware of it," Panelo said.
READ: Palace: China's refusal to recognize arbitral ruling won't stop Duterte from raising it with Xi
Panelo said the administration is also open to Lorenzana's suggestion to build a detachment in Fuga Island, an area in northern Luzon that is reportedly being eyed by Chinese investors.
"Everything that would be beneficial to the security of the country is always okay with the president," he said.
Panelo said Duterte does not need to instruct the Defense department about the matter.
"If you are a member of the Cabinet and you know the policy of your principal, you do not need to wait for orders. You will do it at your own initiative," the president's spokesperson said.