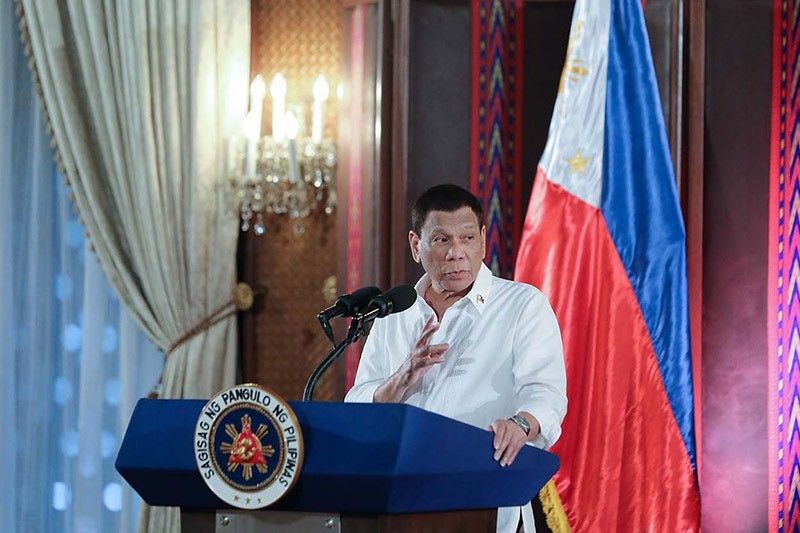 President Rodrigo Duterte delivers his speech during the oath-taking ceremony of the newly promoted officers of the Philippine National Police at the Malacañan Palace on Aug. 8, 2019.
Valerie Escalera/Presidential Photo
Palace: China's refusal to recognize arbitral ruling won't stop Duterte from raising it with Xi
MANILA, Philippines — China's refusal to recognize the arbitral ruling on the South China Sea would not deter President Rodrigo Duterte from invoking the landmark decision during his visit to China this month, Malacañang said Sunday.
The 2016 arbitral ruling by a Hague-based court invalidated China's expansive maritime claim in the South China Sea and upheld the Philippines' rights over its 200-nautical mile exclusive economic zone.
READ: 'Time has come' for Duterte to raise arbitral ruling with Xi
Duterte has vowed to bring up the ruling when he meets with Chinese President Xi Jinping this month. Chinese Ambassador Zhao Jianhua has stressed that China, which claims virtually the entire South China Sea, would not recognize the ruling.
"That's the position and right of China not to budge on their position, in the same way that it is our right not to budge in ours. That's the way it is. But that will not stop the president from raising the issue of the arbitral ruling," presidential spokesman Salvador Panelo said in a radio interview.
"You know, when friends meet, they can always discuss anything under the sun. And if friendship is present, then both parties will be open to any discussion," he added.
READ: Beijing's position on South China Sea arbitration remains unchanged — Chinese envoy
Panelo expressed confidence that the Duterte administration would achieve its objectives by holding negotiations with China.
"As I have repeatedly said, we are resorting to a friendlier network of settling differences which is negotiation. What we cannot get by invoking (the ruling), we might be able to do so through talks. Asserting something as a matter of right and principle is different from talking as friends," the presidential spokesman said.
"There's nothing wrong with the president raising the issue. What's the matter if he says, 'By the way, what are we going to do with the ruling by the international court? I know you don't recognize it but we can talk about it, maybe we can do something about it.' There's nothing wrong with that," he added.
READ: Senate probe into Chinese plan to develop Luzon islands sought
Duterte, who has been tapping Chinese loans to support his key infrastructure projects, has been accused of being too soft on China and not doing enough to protect the Philippines' rights in the West Philippine Sea.
Critics have claimed that Duterte's policy on China could erode the Philippines' legal victory in the Hague and embolden Beijing to continue its aggressive actions in the West Philippine Sea.
Duterte has assured the public that he would not give up even an inch of Philippine territory to foreigners. The president, however, has warned that an aggressive stance on the dispute could lead to a conflict and a "massacre" of Filipino soldiers.
Joint exploration
Duterte is also expected to discuss a proposed joint exploration in the West Philippine Sea during his fifth visit to China this month. The Philippine leader has said he was open to a 60-40 sharing agreement in favor of the Philippines.
Panelo assured the public that the joint exploration would not be disadvantageous to the Philippines.
"They offered a 60-40 (scheme). How can that be disadvantageous? Second, the ambassador of China said they won't ask for a share that is bigger than that of the Philippines," Panelo said.
"If you assert that and they do not recognize (your claim), there would be no oil exploration. At the same time, we can use that as a bargaining leverage, you can say, 'After all, it's ours although you are claiming it, why can't we just talk about the exploration so both of us can benefit?" he added.
READ: MOU on joint exploration in West Philippine Sea may be part of Duterte-Xi talks
Panelo said the Philippines' willingness to enter into a joint exploration deal with China reflects its ownership of the area to be covered by the agreement.
"When you are an owner of something, you can precisely enact what you are supposed to perform...In other words, that very act alone shows that you are the owner because you allowed it. If you are not the owner, how can you give permission on a particular thing if you do not own it?" he said.
Duterte and Xi signed a memorandum of understanding on the proposed joint exploration last November.
READ: Duterte may discuss Recto Bank allision with Xi in 5th China visit
Last month, Energy Secretary Alfonso Cusi said the Philippines and China are seeking to craft a framework for the joint exploration in the disputed waters by November.
The government, Cusi said, is also working on lifting the moratorium on exploration and drilling works implemented in 2014 and 2015.
Foreign Affairs Secretary Teodoro Locsin, Jr. said he has accepted China's proposed terms of reference, describing it as "superior" to that of the Philippines.
READ: Duterte expected to push for crafting of South China Sea code 'delayed' by China
Duterte is also expected to press China on the long-delayed binding code of conduct for South China Sea claimants this month.
"I said that's why I'm going there. They are delaying it and it's causing so many incidents and one day it will - one mistake, a miscalculation there and it will be hard to undo," the president said in a chance interview last Thursday.
In 2002, China and the Association of Southeast Asian Nations signed the Declaration on the Conduct of Parties in the South China Sea to ensure that maritime disputes are settled peacefully.
Nearly 17 years have passed since the declaration was approved but the claimants have yet to come up with a binding code of conduct.