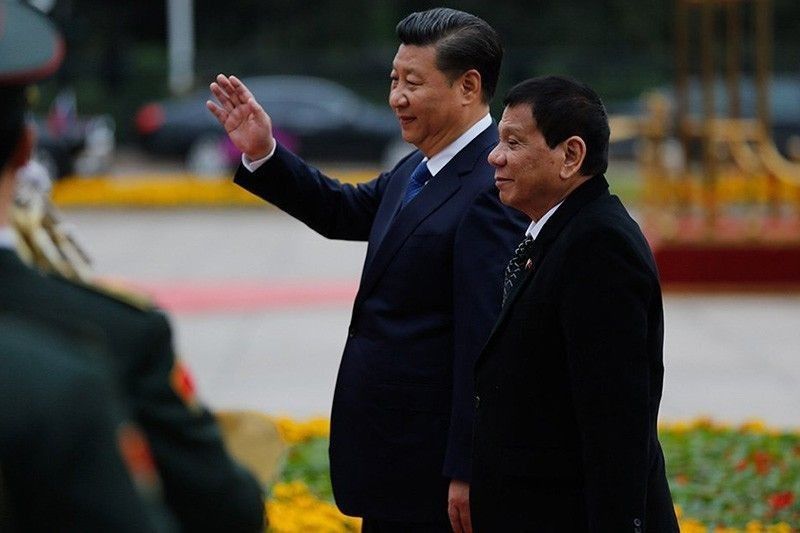 In this Oct. 20, 2016 photo, President Rodrigo Duterte is accompanied by Chinese President Xi Jinping during his arrival at the Great Hall of the People in Beijing, China.
Presidential Photo/Toto Lozano, File
Duterte may discuss Recto Bank allision with Xi in 5th China visit
MANILA, Philippines — President Rodrigo Duterte and Chinese President Xi Jinping may discuss the Recto Bank incident during their meeting in China this month, Malacañang said Sunday.
Former presidential aide and now Sen. Christopher Go said over the weekend that Duterte is planning to go to China this month to meet with Xi and to watch the FIBA World Cup. The trip would provide the president an opportunity to relax, a source told The STAR in a recent interview.
If the trip pushes through, it would be Duterte's fifth visit to China since he became president in 2016.
INFOGRAPHIC: Countries visited by Duterte since assuming presidency
Presidential spokesman Salvador Panelo said details of the trip are still being arranged.
"Perhaps all problems, including topics on trade relations, cultural exchanges, people-to-people (exchanges), the assistance they provide and the assistance we need," Panelo said in a radio interview when asked whether the Recto Bank and Panatag (Scarborough) Shoal incidents would be tackled during Duterte's meeting with Xi.
Pressed if Duterte would discuss the Philippines' diplomatic protest over the Recto Bank incident with Xi, Panelo replied: "Perhaps. All issues may be discussed."
COMMENTARY: The Reed Bank incident and the crisis in Philippines' China policy
Last June, Filipino fishing boat F/B Gemvir 1 sank after it was hit by a Chinese ship near Recto Bank, an area within the Philippines' exclusive economic zone.
The crew of the Chinese vessel supposedly abandoned the 22 Filipino crew members after the incident, prompting the Department of Foreign Affairs to file a diplomatic protest.
The Chinese Embassy statement has claimed there were seven to eight Filipino vessels in the area where the incident happened. It has also denied abandoning the 22 Filipino fishermen, saying the captain of the Chinese ship tried to help them but was afraid of being besieged by other Filipino boats.
READ: 'Chinese boat not swarmed by Philippine vessels'
Duterte, who was accused by critics of being too soft on China, has downplayed the Recto Bank incident as a "little maritime accident." He has also claimed that the incident did not constitute an attack on Philippine sovereignty.
Panelo said there was no word yet from the DFA yet on whether China has responded to the Philippines' diplomatic protest.
Duterte has also revealed that he and Xi have forged a fishing deal that allowed China to fish in the Philippines' exclusive economic zone and granted Filipino fishermen access to the Panatag Shoal. The shoal is located off Zambales and is within the Philippines' EEZ but has been under China's control since 2012.
READ: Nothing new in Duterte's SONA 'lecture' on West Philippine Sea
Last week, Defense Secretary Delfin Lorenzana described China's takeover of Panatag Shoal as "bullying."