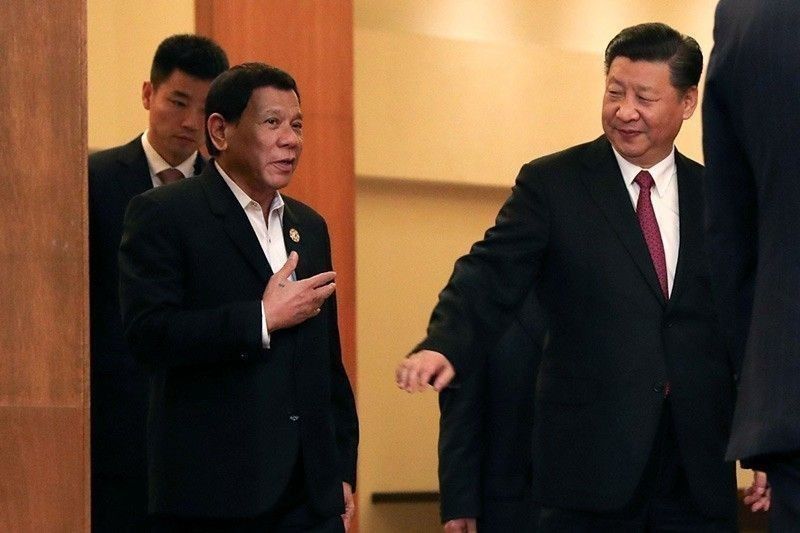 President Rodrigo Duterte will fly to China this month for his fifth meeting with President Xi Jinping.
Presdiential Photo, file
'Time has come' for Duterte to raise arbitral ruling with Xi
MANILA, Philippines — President Rodrigo Duterte will raise the Philippines' arbitral victory over the West Philippine Sea in his forthcoming meeting with Chinese President Xi Jinping, Malacañang confirmed Tuesday.
The president is set to meet with his Chinese counterpart by the end of the month but no specific date has been set yet.
Presidential spokesperson Salvador Panelo said Duterte will raise the arbitral ruling to discuss the 60-40 sharing in the proposed joint oil and gas exploration in the West Philippine Sea.
RELATED: Duterte may discuss Recto Bank allision with Xi in 5th China visit | MOU on joint exploration in West Philippine Sea may be part of Duterte-Xi talks
"He (Duterte) said, 'Remember that I said before that there will be a time when I will invoke the arbitral ruling. This is the time that's why I'm going there,'" Panelo said in a press briefing.
According to Panelo, Duterte and Xi will sit in a one-on-one dialogue to discuss issues between the two countries, including competing claims in part of the South China Sea that is within the Philippines' exclusive economic zone.
Duterte has been refusing to bring up the arbitral ruling with Xi, claiming that he does not want to go to war with China. The president previously said he will bring up the landmark ruling with Beijing before the end of his term.
"That is pursuant to what he said the first time we visited China. He said there will be a time that I will rise this issue and talk about it but not now. The time has come," Panelo said.
RELATED: Fish in our time: Duterte and Xi's 'undocumented' deal on sea row
2016 ruling
In July 2016, the United Nations-backed tribunal ruled in favor of the Philippines, invalidating China's nine-dash line claim over the South China Sea, including the West Philippine Sea.
The arbitral tribunal also concluded that Beijing violated its commitment under the UN Convention on the Law of the Sea upon building artificial islands within Philippine exclusive economic zone.
Asked why the president has suddenly decided to invoke the Philippines' arbitral victory, Panelo said Duterte's term is coming to an end.
This declaration from the Duterte administration comes three years after the landmark ruling was issued and halfway into the president' term.
In previous speeches, Duterte said Xi had warned him that there would be "trouble" if the Philippines will dig for oil in the West Philippine Sea, which China also claims.
RELATED: Esperon: Duterte said China 'in position' in West Philippine Sea, not 'in possession'