Duterte expected to push for crafting of South China Sea code 'delayed' by China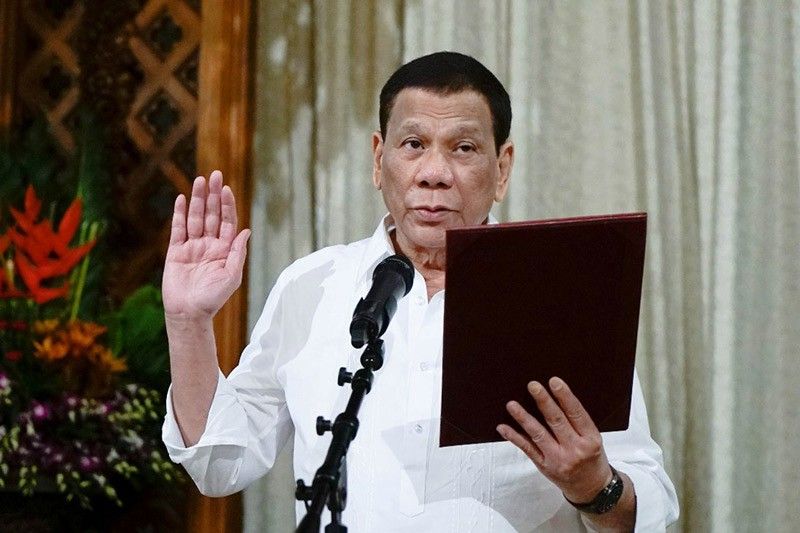 MANILA, Philippines — President Rodrigo Duterte is expected to press China on the long-delayed binding code of conduct for South China Sea claimants during his visit to Beijing this month.
Duterte warned that further delay in the crafting of the code of conduct would result in a "miscalculation" in the disputed areas.
"I said that's why I'm going there. They are delaying it and it's causing so many incidents and one day it will — one mistake, a miscalculation there and it will be hard to undo," the president said in a chance interview Thursday.
Asked who is delaying the code of conduct, Duterte replied: "It could be China. Nobody else is asking us to wait."
READ: 'Time has come' for Duterte to raise arbitral ruling with Xi
China claims about 90% of the South China Sea while the Philippines, Vietnam, Malaysia and Brunei and Taiwan have overlapping claims.
In 2002, China and the Association of Southeast Asian Nations signed the Declaration on the Conduct of Parties in the South China Sea to ease tensions and to ensure peace and stability in the region. Nearly 17 years have passed since the declaration was adopted but a binding code of conduct has yet to be completed.
"We would talk about what's the situation in the China Sea or West Philippine Sea, I'd like to call it. So it will cover everything. One is why we do not have yet the code of conduct. It has been pending for a long time," Duterte said.
READ: Another Chinese ship seen operating in Philippine waters
Duterte is scheduled to visit China this month to discuss bilateral issues, including the South China Sea row, with Chinese President Xi Jinping.
Presidential spokesperson Salvador Panelo said the president would also bring up the 2016 arbitral ruling that voided China's expansive maritime claim and upheld the Philippines' rights over its 200-nautical mile exclusive economic zone.
Duterte, who has been accused by the opposition of not doing enough to assert the Philippines territorial claims, said the South China Sea dispute is becoming a "very big issue."
"I do not want trouble for my country but whether we like it or not, however, on which side you are, it would not be good for my country to be in a state of violence," the president said.
"So I'd talk about the arbitral ruling itself. Then the Code of Conduct and... marines resource. Let us first be sure that we have the access. And I'm most interested in the exploitation of the natural resources," he added.
READ: Duterte: Philippines owns WPS, but Chinese can fish
Duterte said the Philippines and China could start the talks without touching on the validity of who is the real owner of the disputed areas.
"It takes time. We can start the talks. But I'm most interested in the extraction of the natural resources," the president said.
Last November, Duterte and Xi signed a memorandum of understanding on the proposed joint exploration in the South China sea.
READ: MOU on joint exploration in West Philippine Sea may be part of Duterte-Xi talks
Energy Secretary Alfonso Cusi has said the two countries are trying to craft a framework for the joint exploration by November.
The government, the energy chief said, is also working on lifting the moratorium on exploration and drilling works imposed in 2014 and 2015.
Last month, Foreign Affairs Secretary Teodoro Locsin, Jr. said he has accepted China's proposed terms of reference.
Duterte open to 60-40 sharing
Duterte said he is open to the China-proposed 60-40 sharing agreement in favor of the Philippines.
"But the more important is DOC (Declaration on the Conduct of Parties in the South China Sea), the ownership, the CoC (code of conduct) plus the minerals to be extracted. And they have proposed a 60-40. That's okay for me. But that could be a later topic if we have time," the president said.
READ: Most Pinoys want Chinese fishermen destroying West Philippine Sea resources arrested — SWS
Duterte, who earlier claimed that an aggressive stance on the South China Sea row could lead to conflict, stressed he is not allowed to accept China's ownership claims.
"We are not allowed to accept that China owns it because of the arbitral ruling. And even before, we were claiming it... But I'd like to assure also. I would not allow any foreign troops. I do not want trouble. Not the Chinese, not the Koreans, not the Americans, not anybody else except Filipino troops," he said.
Last June, Duterte said Xi had told him that there would be "trouble" if the Philippines digs oil in the West Philippine Sea. Duterte has repeatedly said he would not declare war with China over the maritime dispute because it would lead to a "massacre" of Filipino troops.
READ: Raising war with China over arbitral award meant to 'scare' Filipinos
Asked what he would do if Xi warns him of trouble again after invoking the arbitral ruling, Duterte replied: "Then I will think about it. I will just keep it to myself first because at that stage nothing would really be a very significant development."
"But once we have set the agenda, I talked first about jurisdiction, the CoC, and the exploitation of the natural resources of my country since as far as I'm concerned, we own it. So that is my position. We still own what we are claiming," he added.
Duterte said he would discuss the arbitral ruling with Xi because his term is about to end soon.
"It's about time that we start talking. Now is the time. I only have a few months left (in power)," he said.