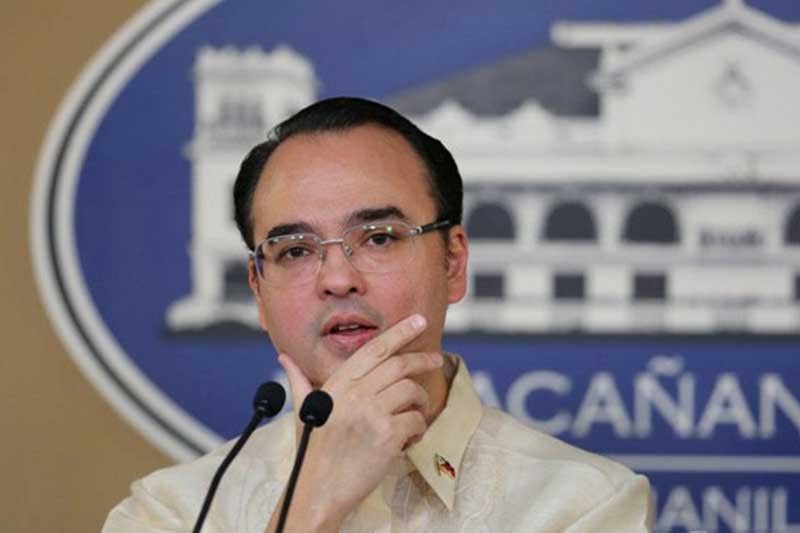 Speaker Alan Peter Cayetano made this appeal to the Philippine Drug Enforcement Agency (PDEA) on Friday during the agency's 17th anniversary.
File
'Probe House members in narco-list'
Jess Diaz
(The Philippine Star) - August 11, 2019 - 12:00am
MANILA, Philippines — Shake off any inhibitions in investigating and prosecuting congressmen linked to illegal drugs.
Speaker Alan Peter Cayetano made this appeal to the Philippine Drug Enforcement Agency (PDEA) on Friday during the agency's 17th anniversary.
"I am not here to ask for any favor for the Congress. If there are members who are using, or worse, selling drugs or protecting drug lords, I am with you in cleaning up the legislature. As the President told us, we have to lead by example. Be persistent," he told PDEA officials, agents and employees.
He asked them to do their work diligently and promised that he and his colleagues in the House of Representatives would support them.
"If you lack funds, tell us. If our critics from abroad and even the media have questions, let's be patient and persistent in answering and explaining our situation," he said.
On the basis of reports from the PDEA and other agencies, President Duterte had accused several lawmakers and local officials of involvement in illegal drugs. The initial so-called narco-list and drug matrix included then Pangasinan congressman Amado Espino Jr., whom the President later cleared.
The latest House member to be linked to prohibited drugs is Leyte Rep. Vicente Veloso III, who had denied the accusation.
Upon his petition, the Supreme Court has ordered the authorities to justify the lawmaker's inclusion in the list and to remove his name if they don't have sufficient evidence against him.
The House has named Veloso, a retired Court of Appeals justice, as chairman of its committee on justice, the panel that has jurisdiction over complaints against acts of injustice by public officers and against impeachable officials, including Supreme Court justices.
In his remarks before PDEA personnel, Cayetano also defended the President's bloody anti-drug war.
"The drug campaign, or the anti-drug campaign, or the drug war as we call it, is not a war on life. Our intention is not to kill people. Our intention is to protect human life – the life and liberty of our people, to protect our people by giving them safe areas to live in, safe streets to walk, safe places to work," he said.
He said people killed by the authorities in the anti-drug drive "are those who want to kill the law enforcers and who are facing criminal prosecution."
"No country in the world has a perfect record for their law enforcement, because we're human. There are many people who also fall into bad practice. But as a whole, the casualties of the drug war are brought about by the force to protect our people," he said.
"Why would you save the life of the pusher if you risk your own life or the lives of innocent people? Of course, if you can save the life of everyone, why not?" he added.
Cayetano pointed out that most Filipinos support the anti-drug campaign and the efforts of law enforcers to run after drug users and peddlers.
He cited surveys showing that 66 percent of Filipinos believed the number of drug users in their communities has decreased due to such campaign.
He also promised to review the compensation of PDEA officials and personnel and work out an increase if needed.