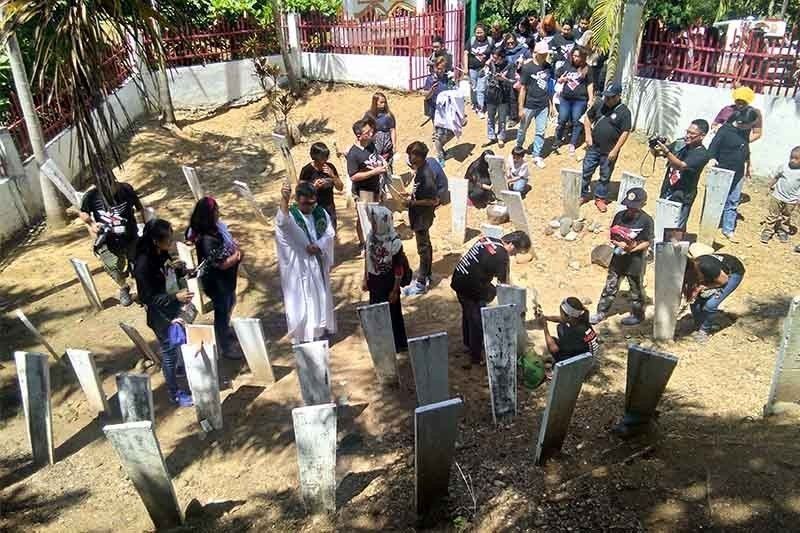 In this file photo taken November 2018, families and journalists gather in Ampatuan, Maguindanao to mark the Maguindanao Massacre.
Philstar.com/Jonathan de Santos
DOJ: Ampatuan massacre trial in final stage
MANILA, Philippines — The multiple murder trial over the gruesome massacre of 58 people in Maguindanao in 2009 is finally in its last stage, the Department of Justice said Thursday.
"The trial of the Maguindanao massacre was finally completed on July 17, 2019," Justice Secretary Menardo Guevarra told reporters.
He explained that the parties were given until August 15 to submit their respective memorandum and summation, then the case is deemed submitted for decision.
READ: Media groups mark ninth year since Ampatuan massacre
"The DOJ expects that a judgment will be rendered before the 10th anniversary of the infamous massacre on 23 November 2019, and that justice will finally be served," Guevarra added.
Last year, on the eve of the ninth year since the massacre, the families of the victims said they are awaiting the verdict on the case with "cautious hope."
READ: As Ampatuan case nears end, massacre victims' kin forge on with tempered hope
They said that to have a case on the massacre—globally condemned for its violence—is "already quite momentous."
"The impending decision will undoubtedly go down in Philippine history as one of the most significant legal decisions to ever come from our trial courts regardless of the outcome," they added.
READ: Maguindanao massacre: Guilty verdict seen
Ampatuan massacre
A total of 58 people, 32 of them journalists, were killed in the massacre.
They were on their way to a local Commission on Elections office to witness the filing of the certificate of candidacy for then-Buluan Vice Mayor Esmael Mangudadatu when they were flagged and killed by gunmen in Ampatuan town.
The incident prompted then-President Gloria Macapagal-Arroyo to place Maguindanao under martial law.
Members of the Ampatuan clan, political rivals of the Mangudadatus, were accused of ordering the killing.
Andal "Datu Unsay" Ampatuan Jr. is the primary accused in the case pending before the sala of Judge Jocelyn Solis-Reyes of Quezon City Regional Trial Court Branch 221.
He is among the 197 suspects charged over the massacre. Other members of the Ampatuan clan—including its patriarch Andal Sr. who died in 2015—were charged with 58 counts of murder.