Duterte to investors, donors: Your money is safe in the Philippines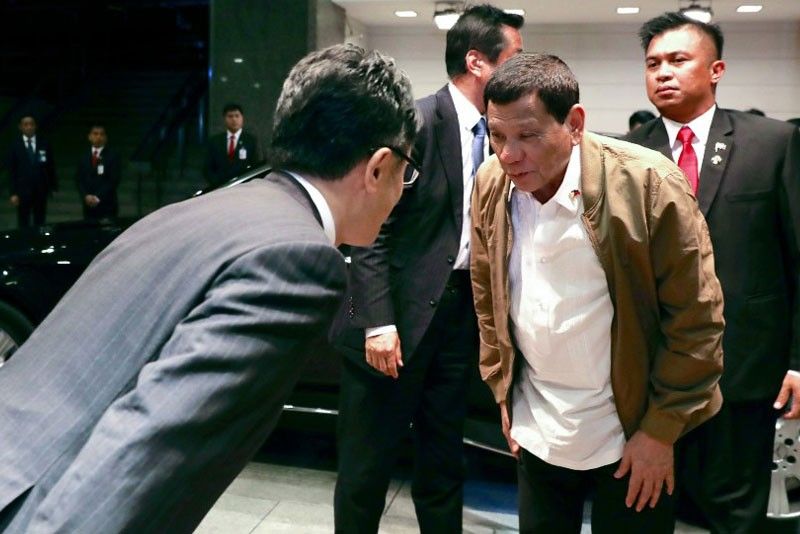 MANILA, Philippines — President Duterte has assured investors and donors that their money is safe in the Philippines, citing his crackdown on corruption and economic reforms toward a viable business environment.
Duterte said good governance has made it possible for his administration to create an enabling environment that allows businesses and investments to prosper.
"Who wants investments? Who wants it? My country needs it. Now the investors, be it a Japanese, a Chinese, the first thing is: is our money safe? Well in my term, it is safe," Duterte said during the 25th Nikkei Future of Asia Conference last Friday in Tokyo.
"Is there no corruption? There is no corruption. I have killed all of them already. Some but not all," he added, drawing laughter from the audience, which included political, economic and academic leaders from Asia Pacific.
Duterte reiterated that he was ready to act on the concerns of investors against erring government personnel "24 hours a day."
"That is my promise, that is my guarantee. Your return of investment is yours. You can take your money anytime out. Do not be afraid. We will not stop you," he added.
Duterte has vowed not to allow even a whiff of corruption under his watch and has fired several officials accused of anomalies. But the President's critics have expressed their doubts about his anti-corruption campaign, citing the reappointment of dismissed officials who had been tied to irregularities.
The President also highlighted the economic reforms introduced by his administration including the comprehensive tax reform program and policies designed to promote ease of doing business and competitiveness.
Duterte said the Philippines is embarking on a massive infrastructure program to increase spending to five percent of the gross domestic product.
Officials have claimed that Build, Build, Build, the administration's $8-trillion multi-year infrastructure program, would usher in a "golden age" of infrastructure development in the Philippines.
"In all these respects, Japan is a reliable, responsive and relevant partner. We value Japan's recipient-driven approach to cooperation and development," the President said.
"I am proud to note that our engagement with Japan is an exercise of responsible partnership. It is one that empowers rather than fosters dependency. It is underpinned by friendship and reconciliation, deepened through the years by mutual respect and understanding," he added.
Japan has promised to provide $9 billion to boost the Philippines' infrastructure network and to fund other development projects. The East Asian country is also top provider of official development assistance to the Philippines, with $5.84 billion as of end-September, according to government data.
Duterte also assured donors that the rehabilitation of conflict-ravaged Marawi is under way and efforts are ongoing to promote peace in Mindanao.
"(Reconstruction) is ongoing. Do not worry all the donors of the country, your money is in the bank. They are all pledges. And the money that Japan and everybody contributed are all accounted for. We have not spent the foreign aid assistance. We spent first our own money," the President said.
Duterte said central Mindanao is now "relatively peaceful" following the ratification of the Bangsamoro Organic Law. The law, which seeks to correct the historical injustices against the Moros, created a new Bangsamoro region with enhanced autonomy.
"I also intend to ensure that Mindanao, the long-neglected part of the country where I hail from, will realize its full potential," Duterte said.