Hurdling scholastic controversy, Imee returns Marcos family's grip on Senate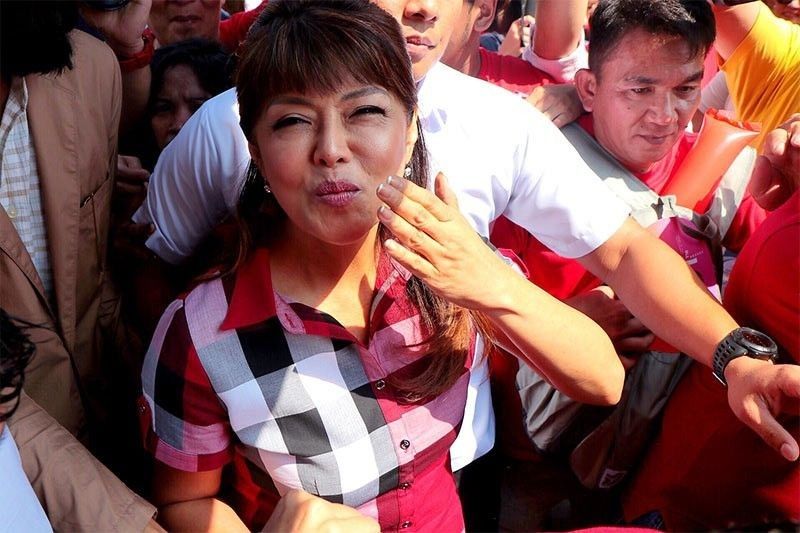 MANILA, Philippines (First published at 9:18 a.m. on May 15) — Imee Marcos, daughter of the late dictator Ferdinand Marcos Sr., will be making her debut as a senator following Monday's midterm vote.
The final and official tally of the Commission on Elections showed Imee sitting in the Senate's winners' circle. The Ilocos Norte governor has obtained 15,882,628 votes across the country.
This marks the return of another Marcos to the Senate in the years that followed the 1986 People Power Revolution that sent the formerly ruling family out of the country.
Imee ran and won under the administration-backed Hugpong ng Pagbabago slate, whose campaign manager is presidential daughter and Davao City Mayor Sara Duterte.
From her questionable academic background...
Last year, a supposed photo of Imee' scholastic records went viral, raising questions on her academic credentials.
Interaksyon first reached out to Princeton University in October 2018. It confirmed that although she attended the school, she did not graduate, contrary to the candidate's claims.
A day after Comelec declared the official start of the campaign season, Imee asserted that she is an alumna of the Ivy League university just as questions on her supposed stellar academic record were raised.
"Pumasok ako sa Princeton at pagkakaalam ko, nag-graduate ako (I went to Princeton and as far as I know, I graduated)," she told News5 chief Luchi Cruz-Valdes on "Aplikante sa Senado."
READ: Despite evidence, Imee Marcos insists she graduated from Princeton
Princeton University confirmed that Imee attended the University but did not graduate. Even the Ivy League school's student newspaper, Daily Princetonian, reported that Imee did not graduate from their university.
Almost a month later, a photo of Imee's supposed yearbook from the University of the Philippines' College of Law made rounds on social media.
But what the Facebook post failed to mention was that this is not the actual yearbook of the UP Law Class of 1983 when they graduated 36 years ago. The photo was from a profile from a yearbook published in 2008 to commemorate the 25th anniversary of that batch.
READ: Viral UP Law yearbook with Imee Marcos not from 1983
Reporters hounded Marcos in different campaign sorties to get her statement on the matter, but she dodged questions.
... to honesty as an election issue
Imee's assertion of her strong academic background had Davao City Mayor Sara Duterte saying that "everyone in the world is a liar" anyway.
READ: Sara Duterte responds to criticism over Imee Marcos' degree: Everyone's a liar
Marcos is part of the younger Duterte's 13-man Hugpong ng Pagbabago slate.
President Rodrigo Duterte also found himself in a pickle to address whether honesty is an election matter.
READ: Duterte doesn't give direct answer when asked in honesty should be an election issue
Now: A Marcos back in the Senate
Imee follows the footsteps of her brother Ferdinand Jr. nickname "Bongbong," the namesake of the late strongman, who ran and lost in the 2016 national elections for the vice president seat.
Bongbong is contesting Vice President Leni Robredo's win before the Presidential Electoral Tribunal but his petition remains pending to date.
Bongbong, like Imee, also stirred controversy after reports show he did not complete the degrees he claimed to have. Bongbong, however, may have instead received some training from Oxford University in England and Wharton School of Business in Pennsylvania.
READ: Bongbong speaks up on Oxford, Wharton schooling
Editor's note: We have updated this story to reflect the final and official results.