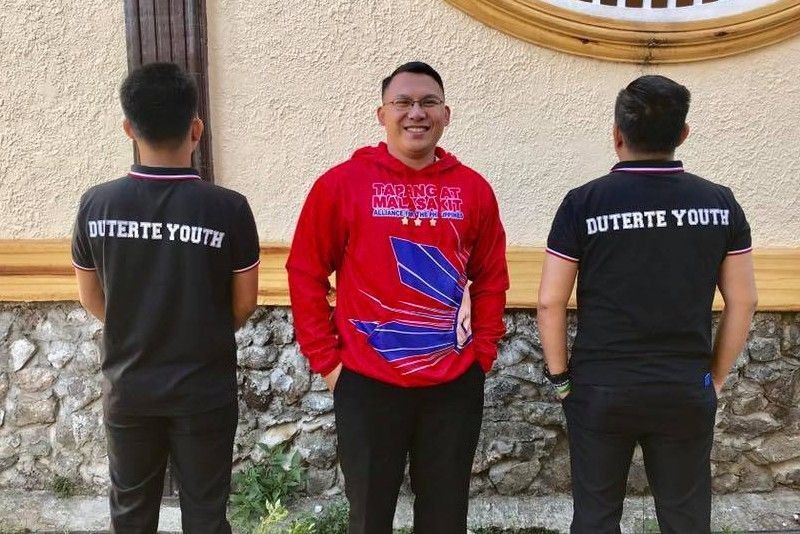 Presidential spokesperson Salvador Panelo on Sunday said National Youth Commission Chair Ronald Cardema is considered resigned from his post.
Ronald Cardema FB page
Cardema 'railroading' party-list process, ex-NYC exec Dingdong Dantes says
MANILA, Philippines — Dingdong Dantes, a former commissioner of the National Youth Commission, called out former NYC chairman Ronald Cardema for "railroading" his way to a seat in Congress.
In a series of tweets, Dantes criticized Cardema, who has petitioned the Commission on Elections to allow him to be a substitute nominee for the Duterte Youth party-list.
Clearly, if the petition will be granted, parang na-railroad ang democratic process of choosing the rightful representative.I think we all agree that the young people should never—ever— be disenfranchised, especially in governance.But with the Youth Chief getting into this?Teka.

— Dingdong Dantes (@iamdongdantes) May 20, 2019
"Clearly, if the petition will be granted, it would seem that the democratic process of choosing the rightful representative has been railroaded," Dantes said in a mix of English and Filipino.
"I think we all agree that the young people should never—ever—be disenfranchised, especially in governance. But with the Youth Chief getting into this? Teka," he added.
On Thursday, Kabataan party-list Rep. Sarah Elago said in a post that the 33-year-old Cardema was pushing for his late placement as a party-list nominee. Duterte Youth, of which Cardema is national chair, originally listed his wife Ducielle Marie Suarez as its first nominee.
Under the Party-list System Act, nominees of the youth sector "must at least be 25 but not more than 30 years of age on the day of the election."
The Commission on Elections is already looking into Cardema's petition to be a nominee of Duterte Youth party-list.
Cardema should've quit before campaign
Dantes also questioned Cardema's motives and pointed out that if he really wanted to be a lawmaker, he should have stepped down from his NYC chair post.
"Pwede bang nagising na lang siya isang araw at nag-decide na trip nya?" Dantes said.
(Is it plausible that he just woke up one day and decided that he wants to do it?)
The former NYC commissioner pointed out that Cardema's position at the commission may have given the Duterte Youth an advantage during the campaign.
In press releases sent through National Youth Commission email addresses, Cardema often hit activist groups, accusing them of being in league with communist rebels.
Cardema also actively campaigned for the Duterte Youth using his account, during his stint as NYC chair and days leading up to the elections.
In a May 9 release accusing Kabataan party-list of removing Duterte Youth posters, Cardema is quoted as saying: "Labanan ito ng dalawang party-lists sa youth sector, isa solid na anti-government at isa solid na pro-government, isa galit sa government troops at isa gusto pa ibalik ang ROTC military training sa kabataan ng bansa."
(This is a fight between two party-lists in the youth sector, one that is solidly against the government and one that is solidly pro-government. One that hates government troops and one that wants to make reservist training mandatory for the country's youth.)
On Sunday, Cardema's profile on Facebook listed his job as "incoming congressman" even though his petition is still pending before the Commission on Elections.
READ: Palace: Cardema deemed resigned amid bid for party-list seat
'NYC post can already give voice to youth'
Dantes also lamented that Cardema, who supposedly was the representative of the youth by virtue of his NYC position, joined "in abusing and circumventing the party-list system."
Dantes added that even if it were true that Cardema only wants to serve the youth, he has a lot of explaining to do on why the original nominees backed out.
He also urged lawmakers to look into the current party-list system, which was meant to give underrepresented sectors a voice in Congress.
"Protect and strengthen the mechanism that gives space to sectors so that they voice would be heard. Do not let it to be bastardized by persons who are thirsty or drowning in power," he added.
Dantes stressed that if Cardema wants to serve the Filipino youth, he had already been in the "best position" to do so.
Last February, Cardema stirred controversy when he said students who join protests by groups linked to communist rebels should lose their scholarships. After drawing flak for his statement, Cardema said he had been misquoted and that he meant that only government scholars who join the rebels should lose their scholarships.
RELATED: Youth commission chair 'corrects' own statement on 'anti-government' scholars
Malacañang distanced itself from Cardema's statement, saying government scholars could still express dissent against the policies and programs of the government.