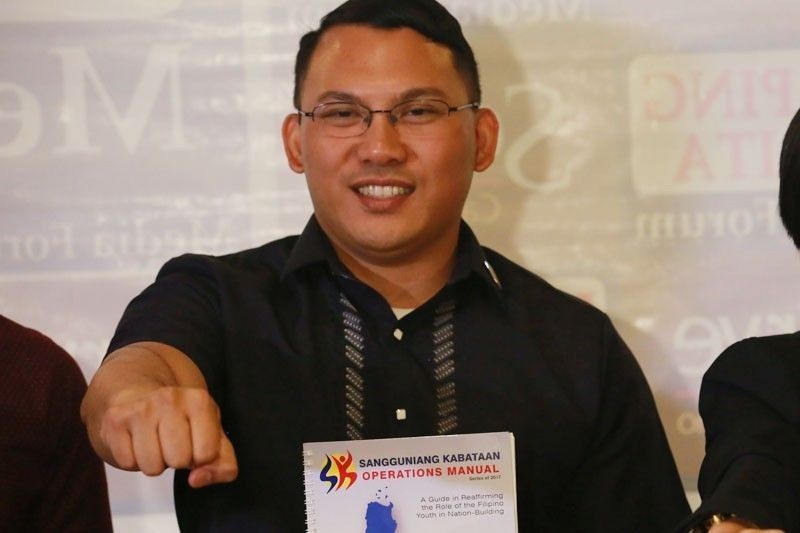 Presidential spokesperson Salvador Panelo on Sunday said National Youth Commission Chair Ronald Cardema is considered resigned from his post.
The STAR/Michael Varcas
Palace: Cardema deemed resigned amid bid for party-list seat
(Philstar.com) - May 19, 2019 - 5:40pm
MANILA, Philippines— Presidential spokesperson Salvador Panelo on Sunday told National Youth Commission Chairman Ronald Cardema to vacate his office since he is considered to have resigned by filing a petition to be a nominee of Duterte Youth party-list.
The Commission on Elections has yet to decide on Cardema's petition but has acknoweldged that it was filed before the May 13 elections, on the Sunday afternoon just before the polls..
"Regardless of the outcome, we deem that Mr. Cardema has already abandoned his present position because his act of filing the petition absolutely reflects his intention to relinquish his office and exposes his desire to serve the government in a different capacity," Panelo said in a statement.
"The Palace therefore requires Mr. Cardema to vacate his office forthwith and turn over all official papers, documents, and properties in his possession to the Office of the President," he added.
On Thursday, Kabataan party-list Rep. Sarah Elago said in a post that 33-year-old Cardema was pushing for his late placement as a party-list nominee. Duterte Youth, of which Cardema is national chair, originally listed his wife Ducielle Marie Suarez as its first nominee.
Under the Party-list System Act, nominees of the youth sector "must at least be 25 but not more than 30 years of age on the day of the election."
According to a The STAR report on Sunday, the Comelec said Cardema filed the petition after all five of the party-list's nominees "backed out."
Kabataan party-list has vowed to block Cardema's substitution bid as it accused the official of using NYC's public platform and resources to campaign for Duterte Youth.
"The president shall soon appoint a person who can advance the genuine interests and welfare of our country's youth as the new chairperson of the NYC," Panelo said.
RELATED: Cardema as sudden Duterte Youth nominee? 'Period has lapsed,' Comelec says
Nominee substitution
Sought for comment on Friday, Comelec spokesperson James Jimenez said that the period for substitution had lapsed.
Under Section 18 of Comelec Resolution No. 3307-A:
A party-list nominee may be substituted only when he dies, or his nomination is withdrawn by the party, or he becomes incapacitated to continue as such, or he withdraws his acceptance to the nomination...

No substitution shall be allowed by reason of withdrawal after the close of polls.
Comelec Director Frances Arabe, however, later clarified that she verified through the poll body's law department that Cardema's petition and learned that the petition had been filed at 5:30 p.m. on May 12. Government offices usually close by 5 p.m. on weekdays and are usually closed on Sundays.
Arabe said party-list nomines are allowed to file for substitution due to withdrawal until before the closing of elections day last May 13. Senatorial candidates, on the other hand, only had until Nov. 29, 2018 to file for substitution due to withdrawal.
A former Philippine Military Academy cadet and later briefly an activist, Cardema was named NYC chairman on August 23, 2018.
He was NYC commissioner for Luzon before he was appointed chairman of the commission. Cardema is also a military reservist under the National Capital Region-Regional Community Defense Group of the Army Reserve Command.
Last February, Cardema stirred controversy when he said students who join protests by groups linked to communist rebels should lose their scholarships. After drawing flak for his statement, Cardema said he had been misquoted and that he meant that only government scholars who join the rebels should lose their scholarships.
RELATED: Youth commission chair 'corrects' own statement on 'anti-government' scholars
Malacañang distanced itself from Cardema's statement, saying government scholars could still express dissent against the policies and programs of the government. — Rosette Adel with reports from The STAR/Alexis Romero