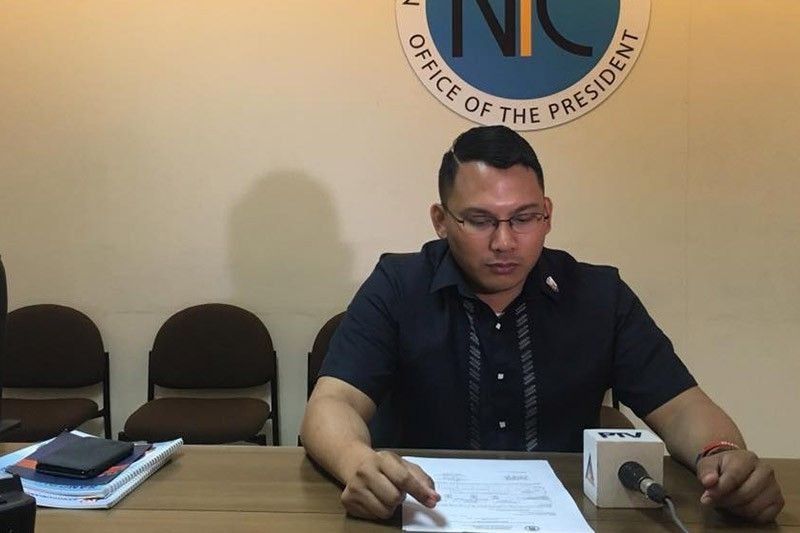 National Youth Commission officer-in-charge Ronald Gian Cardema is also the chairman of the Duterte Youth Movement.
National Youth Commission/released
Youth commission chair 'corrects' own statement on 'anti-government' scholars
MANILA, Philippines — National Youth Commissioner Gian Cardema explained that he only meant to call for the removal of scholarships of those who joined armed rebels group, despite his statement worded to refer to "all anti-government scholars."
In an interview with CNN Philippines on Wednesday night, Cardema said that he "is correcting" what has been reported that he asked the president to issue an executive order to to strip students deemed to be "anti-government" off scholarships.
News reports carried what he had said on his statement. This was posted on his Facebook account that read:
As chairman of the National Youth Commission, I am requesting our Head of Government, Philippine President Rodrigo Duterte, to issue an Executive Order removing the government scholarships of all anti-government scholars, specifically those students who are allied with the leftist CPP-NPA-NDF, a terrorist group that is trying to overthrow the Philippine Government and killing our government troops.
CNN Philippines' host Pia Hontiveros stressed that his qualifier on students "who are allied with the leftist CPP-NPA-NDF" was preceded by a blanket statement of "all anti-government scholars."
But Cardema said that his statement should be taken as a whole, pointing out that he had specifically mentioned the incident of a slain University of the Philippines Los Baños student in an operation by the Armed Forces of the Philippines against the New People's Army.
Cardema said: "I am the source of that news and I am correcting that now."
He also said that he has been vocal on his earlier statement that dissent is allowed in the country.
Vice President Leni Robredo, lawmakers, Cabinet secretaries and youth groups, thumbed down on Cardema's proposal.
Justice Secretary Menardo Guevarra warned: "WITH ALL DUE RESPECT, such proposal, if adopted, would effectively restrain the youth's constitutional right to freedom of speech and expression."
The 1987 Constitution champions every citizen's freedom of speech and of expression, and to peacefully assemble and petition the government to redress of grieveances.
FROM INTERAKSYON: 'Duterte Youth' member and National Youth Commission chair are taking aim at youth scholars
Duterte: Dissent is allowed
Duterte said that he respects dissent to his policies as they are merely expressions. "I need more overt acts," he added.
Duterte was quoted in media reports as saying students who "espouse [the destruction] of the very government feeding food on their mouth" may lose their scholarship.
"If you espouse to overthrow the government then you are committing the crime of rebellion... It carries with it the penalty of no bail... When the time comes, I will arrest all of them and they will lose everything the government has offered them," the president said.
Anakbayan for its part, slammed the move to "use the right for education as hostage to suppress our right to freedom of expression and dissent."
The Anti-Subversion Law, sought to punish those who affiliate themselves with the CPP or any subversive association, has long been repealed.
Rights groups have time and again called on "red-tagging" or the practice of publicly classifying individuals and organizations cirtical of the government as communist terrorists, state enemies and subversives, as it endangers lives.
Related video: