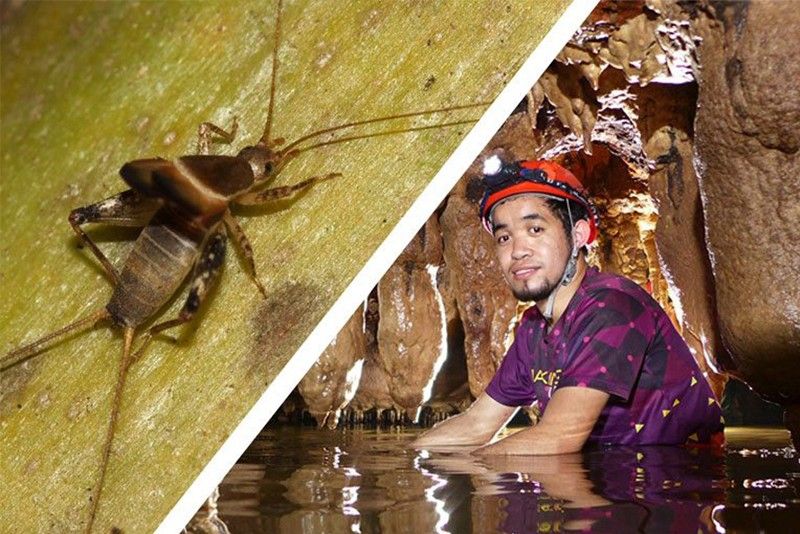 Photo shows a newly discovered cricket species, Ornebius alvarerzi, named after UP Los Ban?os biologist James Alvarez who died during fieldwork on Mount Apo in December last year.
New cricket species named after late UP biologist
MANILA, Philippines — A new cricket species discovered in Siargao Island was named after a University of the Philippines biologist who died while descending Mt. Apo last Dec. 8.
Ornebius alvarezi, one of the two new species of scaly cricket described in a new study published in journal Zootaxa, was named after UP Los Baños (UPLB) biologist James Alvarez.
Florante Cruz, a colleague of Alvarez at the UPLB Museum of Natural History, said the announcement of the new species was timely as it was released days before Alvarez's 28th birthday on May 8.
"(It) is both a testament and honor given to James Alvarez, a promising young wildlife biologist brimming with so much potential but whose life was probably destined to be just that – short, accomplished and well-lived," Cruz said in an article published on the museum's website.
"I looked at it closely from several points of view and concurred, yes, the new cricket does embody James," he added.
Cruz said the scaly cricket has a whitish, milky edge coloration that looks like a band, similar to the "permanent headband" on Alvarez's scalp that was a result of a head operation when he was a boy.
He also likened the cricket's scales to Alvarez's hairy arms and legs and bushy hair.
Cruz paid tribute to the late biologist, noting his passion for biodiversity and conservation.
"If you personally knew James, you would really see that he would be happiest when in the field. When he was young, he was frail and easily got tired outdoors. I remember him saying that field work gave him several firsts in his life, one of which was conquering a fear of heights," he wrote.
"When he surmounted that fear, he felt he could do anything – explore deep recesses of caves despite what lurks within, cross mighty rivers and assault 60-degree steep mountains and climb centuries-old trees to observe wildlife in the forest canopy," he added.
Alvarez, a Master of Science in Wildlife Studies graduate and an extension associate at the UPLB Museum of Natural History, suffered a seizure and never regained consciousness while trekking down Mt. Apo.
He climbed the mountain with a group of friends after conducting capacity-building activities for University of Southern Mindanao in Kabacan, North Cotabato.
The new study – coauthored by Ming Kai Tan, Sigfrid Ingrish, Jessica Baroga-Barbecho and Sheryl Yap – described two new species of scaly cricket discovered in Siargao Island.
Aside from Ornebius alvarezi, also described in the paper was Ornebius bioculatus, the fourth species of scaly cricket in the country.
Last month, a study by the same team also described three new cricket species discovered in Mindanao, including one incapable of producing a sound.