'Matrix' evolution: From 'coup plotters' to just Duterte 'dislikers'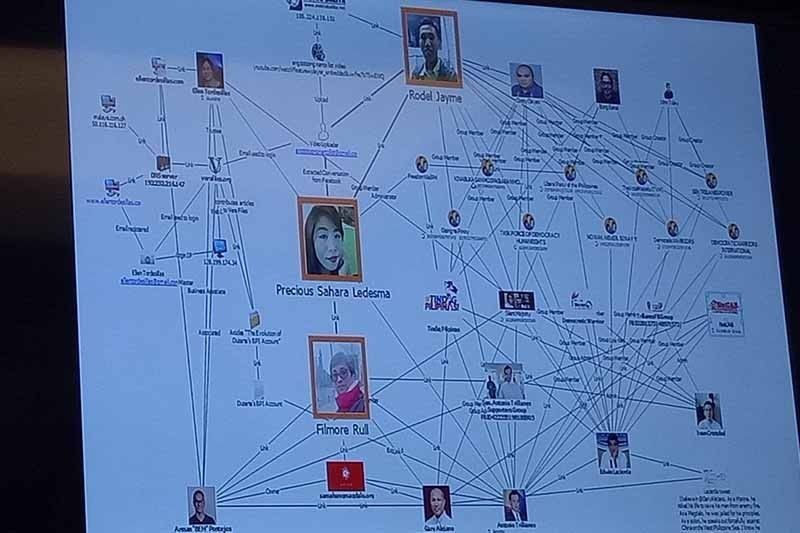 MANILA, Philippines — For Senate President Vicente "Tito" Sotto III, the alleged conspirators named in Malacañang latest supposed "ouster" matrix likely just dislike the president but are not plotting to depose him.
In a phone interview with CNN Philippines Thursday noon, Sotto said that the latest matrix floated by presidential spokesperson Salvador Panelo is "just a piece of paper."
"Ang tingin ko yan yung mga listahan ng mga tingin nila, asar kay president," he said.
(In my view those in the list are those who are disgruntled with the president.)
On Wednesday, Panelo presented to the media yet another diagram of personalities he said are working together in "a deliberate attempt to discredit this administration."
The expanded matrix was presented two weeks after Panelo also announced the existence of an "ouster plot" involving pro bono lawyers and three news organizations.
READ: 'For the nth time,' alleged plotters dispute Malacañang's 'matrix'
Both ouster charts were presented without evidence nor any confirmation by the military of the presence of a plot.
Panelo insisted it was "totally unnecessary" to substantiate the serious claims he made. "The matrix shows that there is an ouster plot. It is just a plot, a plan, an idea," he stressed last week.
Sotto said that an "easy way" to resolve the latest matrix would be to ask the personalities named in it if they would support Duterte as president. If they answer no, it would only mean that they want Duterte out of office, but are "not necessarily" conniving to oust the president.
Gretchen Ho, Hidilyn Diaz in new diagram
The Senate president said that Olympian Hidilyn Diaz and celebrity newscaster Gretchen Ho—both scratched their heads at their inclusion in the Palace chart—would "never" be destablizers.
"They might not like the president but they will never be involved in anything to destabilize the government. I doubt it," he added.
FROM INTERAKSYON: The many times Duterte floated ouster plots against him
Sen. Panfilo Lacson was also left baffled with the latest ouster matrix, pointing out that it included Diaz who clearly has no time to "destabilize" and Ho who "carved a name for herself in media."
During Thursday's Kapihan sa Senado, Lacson said: "It is a bit incredible at this point in time, at face value. Of course, they will have to explain the circumstances leading to the alleged involvement of [Diaz and Ho]. At least those two."
He also noted that it is "unlikely" for Rep. Gary Alejano (Magadalo party-list Sen. Antonio Trillanes IV and Communist Party of the Philippines founding chairman Jose Maria Sison to work together.
Trillanes and Alejano, both former military officers, are outspokenly anti-communist. In 2017, Trillanes called on Duterte to remove leftist officials whom he described as "communist leaders in his Cabinet."
Lacson added that if something is still in the process of "intelligence work" and has not been validated, it should not be made public.
"Develop it, gathering corresponding evidence, then pounce on them," he added.
Panelo, during the briefing, said he is leaving to the Justice Secretary Menardo Guevarra to file appropriate cases against those named in the matrix.
READ: Is LP linked to the alleged ouster plot? Panelo gives perplexing non-answer
'Shrinking democratic space'
But lawyer Gilbert Andres, chairman of Advocates of Freedom of Expression Coalition-Southeast Asia, said the Palace's fresh allegations endanger freedom of expression.
"The latest allegation by Malacañang ... of a supposed matrix which even includes the media and so-called 'active likers' of certain internet posts present a serious chilling effect on the right to freedom of expression and of the press," Andres told Philstar.com.
"These mere allegations that are not supported by evidence actually imperil the constitutional right to freedom of expression and of the press," he added.
The groups tagged in the previous and the expanded ouster plot "matrix" have repeatedly denied the allegations and slammed the Duterte administration for putting the lives of journalists and human rights lawyers in danger.
Right to 'like' online posts
For AFEC-SEA's Andres, Filipinos' constitutional right to freedom of expression necessarily involves the right to "like" posts on the internet.
"[T]here should be no prior restraint and no subsequent punishment when one expresses an opinion, likes an opinion or shares an opinion, in accordance with the Constitutional right to freedom of expression," he said.
Among the names included the diagram that Panelo presented to media on Wednesday were of people who were "active likers" of certain Facebook pages.
"To actively encourage the prior restraint or the subsequent punishment of a person's expression of opinion will lead to a shrinking democratic space," Andres said.
"And freedom of expression and of the press are indispensable principles in a democratic society such as the Philippines. Further, a free press enables the Filipino people to realize their Constitutional right to freedom of expression," he added.
Yu: Website 'owner' usually not responsible for content
Separately, Winthrop Yu of Internet Society – Philippines said it is important to know the relationship of a domain owner or website developer to the content being posted or distributed on a website.
"It is easy to find the registered 'owner' of a website using 'whois' tools on the Internet, this is part and parcel of the normal functioning of the Internet's Domain Name System," Yu said in an interview. Whois is a tool for identifying internet domain ownership.
"However, the registered owner or administrator of a site is not necessarily (and often isn't) responsible for that sites content," he added.