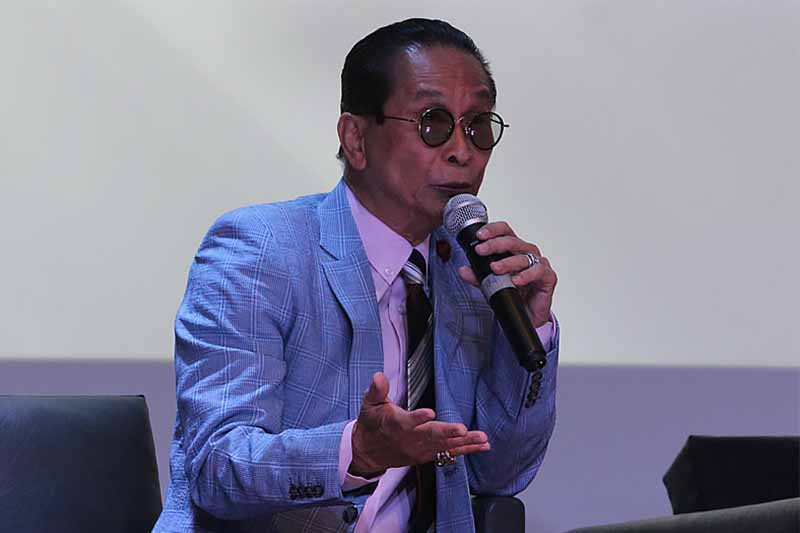 Despite the supposed vetting, people named in the supposed matrix pointed out errors in the documents.
Philstar.com/Kat Leandicho
Palace-vetted 'conspiracy matrix' to oust Duterte has errors
(Philstar.com) - April 22, 2019 - 10:14pm
MANILA, Philippines (Updated 11:10 p.m.) — Presidential spokesperson Salvador Panelo on Monday vouched for the veracity of the supposed matrix linking journalists and pro bono lawyers to a plot to oust President Rodrigo Duterte.
The supposed matrix names at least six people who are no longer affiliated with the groups allegedly conspiring against the president. One had never been a member of the group she was supposedly a part of.
Panelo on Monday said Duterte himself had given him orders to "touch on" the supposed "association matrix" linking news organizations and the National Union of Peoples' Lawyers to a supposed plot oust Duterte from office, only, a broadsheet beat him to it.
The president's spokesman told reporters that the source of the "association matrix" linking veteran journalist Ellen Tordesillas, Philippine Center for Investigative Journalism, Rappler, Vera Files and the National Union of Peoples' Lawyers is Duterte himself.
READ: Palace's new 'ouster' matrix ludicrous, dangerous — groups
"The source...is from the Office of the President, from the president himself. I don't know how [Manila Times chairman emeritus Dante Ang] got one, but it's coming from the president. I talked to him the other day," he added.
"You must remember that the president has so many sources so he got this matrix from one of his sources," Panelo, who is also the presidential chief legal counsel, said.
He added that the matrix had undergone vetting process and stressed that the president may have received information from other countries on the said matrix."He won't instruct me to release it if he did not validate," he said.
"Sharing of intelligence information, that's standard for all countries," Panelo added.
Despite the supposed vetting, people named in the supposed matrix pointed out errors in the documents.
Journalist Inday Espina-Varona, who was in the matrix as a member of NUPL, pointed out that she is not with the group.
"My former employer just promoted this University of the Philippines dropout to lawyer. Journalist to lawyer. Just on those glaring errors of fact, that article fails big time," she said in a piece posted on Medium.
"There is no singular, proven fact in that hogwash — except that the 'information' came from Malacañang, the country's seat of power. It just lumps names on organizational charts, or bylines that have appeared on products and outputs of media orgs," she also said.
Luz Rimban, a founding trustee of VERA Files, clarified in a statement that she had left the group in 2018 and has been focused on her duties at Ateneo de Manila University.
Luz Rimban, who was included in the Office of the President's supposed ouster plot matrix has not been with VERA Files since April 2018, she says in a statement. pic.twitter.com/OWQg8e1w0W

— Philstar.com (@PhilstarNews) April 22, 2019
RELATED: NUPL seeks court protection from 'threats' by state agents
PCIJ: We have no stories on 'Bikoy' videos
The Philippine Center for Investigative Journalism said in a statement that it did not receive any email from Tordesillas sharing the link for the so-called narcolist video of "Bikoy", the narrator in a series of anonymous videos alleging that the Dutertes are linked to illegal drugs.
PCIJ also pointed out that it had not posted any story or commentary on the videos.
Panelo explained during the press conference that his understanding of how the matrix works is that "[t]he source is 'Bikoy,' it was relayed to Tordesillas...relayed to the three new organizations."
He did not explain what NUPL, a group of pro bono lawyers and paralegals, has to do with the videos.
Tordesillas is quoted by News5 as dismissing the allegation as hilarious.
"What I find disturbing is, if this is the kind of intelligence report that the president gets and bases his actions and policies on, the country is in big trouble," she also said.
PCIJ also pointed out that at five people named in the matrix are no longer with them, adding "three of the five are personnel who had resigned as far back as March 2018 to January 2019."
It added that rights lawyer and opposition senatorial bet Chel Diokno left PCIJ before the campaign period started, while Summit Media publisher Lisa Gokongwei-Cheng is also no longer on PCIJ's Board of Editors.
Foreign funding is not foreign ownership
The PCIJ also clarified that it is a non-stock, non-profit media organization that receives funding through video and publication revenues, contributions from patrons, interest income from an endowment fund from Ford Foundation and grants and projects from local and foreign sources.
"Foreign funding is not equivalent to foreign ownership of for-profit media. Truth be told, government agencies are the biggest recipients of foreign funding from the United States, Japan, China, Australia, and other multilateral and bilateral agencies," it stressed.
"For instance, since 2017, the state-run People's Television and the Presidential Communication Operations Office have received from China's state-run media donations of digital radio and other broadcast equipment; brought to China a number of journalists and columnists, including those from The Manila Times, via a 'professional exchange program'; started to re-broadcast China programs in Manila; and sent PCOO personnel to learn the Chinese language," PCIJ also said. — Kristine Joy Patag