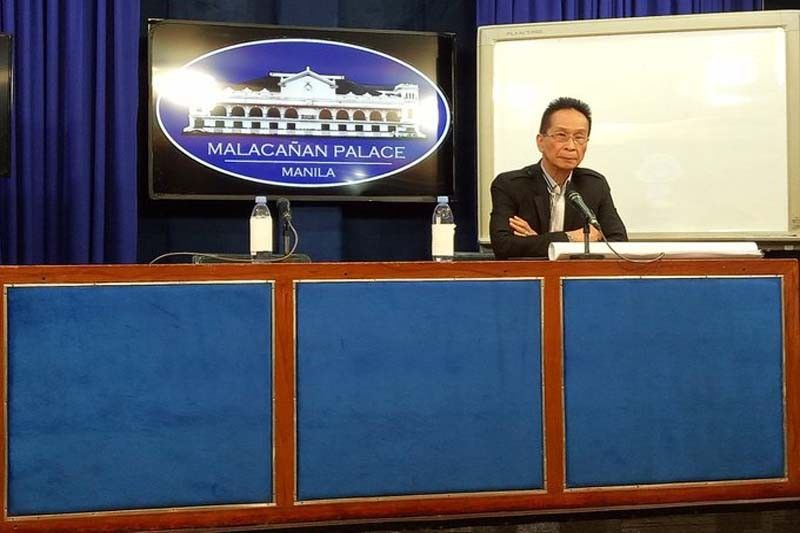 In this May 8, 2019 photo, presidential spokesperson Salvador Panelo hold briefing on alleged conspiracy against the Duterte administration.
The STAR/Alexis Romero
Is LP linked to the alleged ouster plot? Panelo gives perplexing non-answer
(Philstar.com) - May 8, 2019 - 3:37pm
MANILA, Philippines — Presidential spokesperson and Chief Presidential Legal Counsel Salvador Panelo failed to directly address the query on the link of the opposition Liberal Party to alias "Bikoy," who is behind the series of videos linking President Rodrigo Duterte's family to the illegal drug trade.
A Malacañang reporter asked the question to Panelo in a Palace briefing on Wednesday hours after Senate President Vicente Sotto III in a separate press conference revealed that Bikoy made the same accusations in 2016 but that time against officials of the Aquino administration.
"Sir, you mentioned na related din siya (new matrix) doon sa matrix presented the other week, meaning related siya kay Bikoy?" TV 5's Maricel Halili asked. "Yes," Panelo answered in the affirmative.
"But kanina, sir, sa press conference ni Senator Tito Sotto, sinasabi niya na itong certain Bikoy na ito is the same person na nag-a-accuse kay former President Noynoy Aquino to be involved in drugs. So paano natin tatahiin 'yun if he was also accusing Noynoy Aquino," the reporter followed-up.
READ: Sotto: Man claiming to be 'Bikoy' tagged past admin's execs to drugs
Panelo took time to answer the question and said there is a possibility that Bikoy may have come from the same sector as Aquino's allies.
"What appears from the information received by the president is that the one he presented previously against PNoy and other personalities would be coming from the same group antagonistic with the same members of the group. Meaning to say, it's coming from the same sector," Panelo said.
"It doesn't mean that all of you are in consonance with each other. There will be some rebels there who are doing their own thing," he added.
The presidential spokesman then brought the attention back to the new matrix, which he said was related to the previous ouster plot.
The new ouster plot matrix came days after Panelo backtracked his claim that the first matrix initially published at The Manila Times, came from no less than Duterte himself.
On Thursday, the presidential spokesman took back his claim and said it came from an anonymous source.
RELATED: Panelo backtracks, admits matrix source 'unknown'
— Rosette Adel