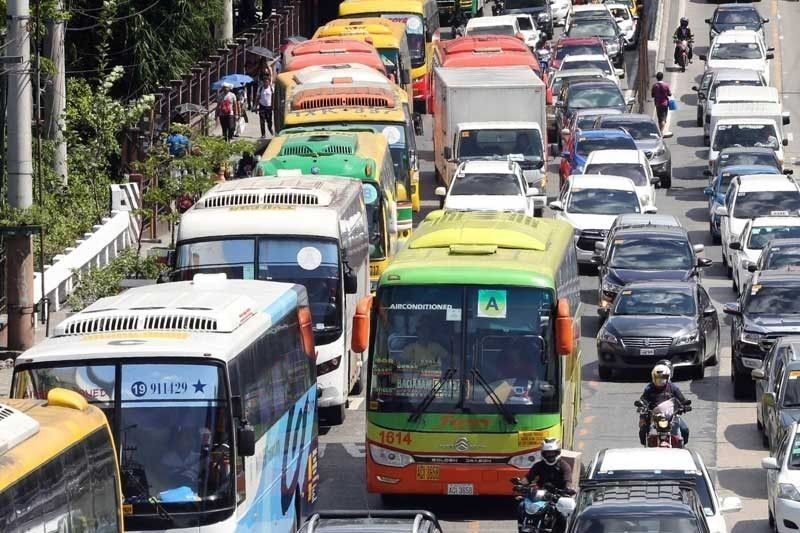 The MMDA started a dry run of the policy last week, April 22.
The STAR/Boy Santos, file
SC asked to hit brakes on ban on provincial buses on EDSA
MANILA, Philippines — Members of Ako Bicol party-list on Monday urged the Supreme Court to issue a halt order against the implementation of the provincial bus ban along the EDSA.
Ako Bicol party-list chairperson Aderma Angelie Alcazar and its representatives at the House, Ronald Ang and Alfredo Garbin Jr. filed a petition for certiorari Monday
They asked the SC to issue a writ of preliminary injunction or a temporary restraining order against the implementation of Metro Manila Development Authority Regulation No. 19-002, series of 2019.
The petitioners asked the tribunal to strike down the memorandum as null and void ad initio (from the beginning) for violating laws and the Constitution.
The directive, to be fully implemented in June 2019, prohibits or revokes the business permits of public utility bus terminals and operators along the metro's main thoroughfare.
The MMDA started the dry run of the policy last week.
Bus ban 'injurious to poor rural people'
The petitioners said that the Metro Manila Council approved the policy proposal of the MMDA without public consultations or hearings. They also pointed out that it was issued "solely on the basis of the verbal directive" of President Rodrigo Duterte.
There was no extensive public information campaign on the move, they also said.
"For this reason, it cannot be denied that the effect of implementation of the regulation is very injurious to poor rural people in terms of additional inconvenience, additional fare, additional time to destination and double loading," the plea also read.
"It was issued without any showing or concrete finding that the traffic congestion along EDSA is directly correlated to the existence of provincial buses," the petition read.
They also argued that the directive, which aims to resolve traffic congestion, was issued in the exercise of police power, a power not vested upon the MMDA.
Bus operators urge MMDA to scrap directive
Provincial bus operators and commuters have also asked the MMDA to scrap its directive.
READ: MMDA urged: Junk provincial bus ban
In an interview with One News' "The Chiefs" last week, Alex Tague, the executive director of the Provincial Bus Operators Association of the Philippines said that the provincial bus ban move "has no discernible reduction in traffic."
He also pointed out that the policy is not helpful to commuters as they are forced to go to interim terminals since they were not allowed to alight the bus along EDSA.
Transport Assistant Secretary Elvira Medina, for her part, said: "It is not only inconvenient, but economically unsuitable, as we know, the cost of transportation is going higher and higher."
MMDA traffic czar Edison Nebrija however said that the policy does not only aim to reduce traffic, but also to ensure the safety of commuters. — with report from The STAR/Robertzon Ramirez