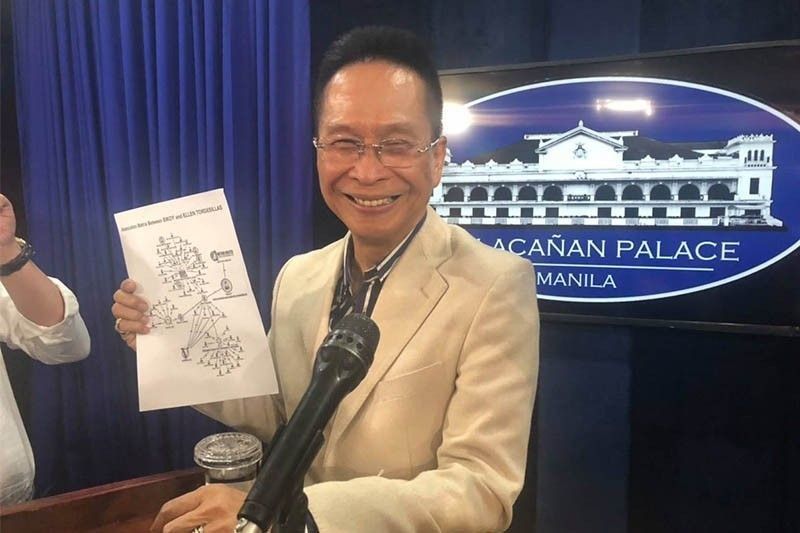 In this photo, presidential spokesperon Salvador Panelo holds up supposed proof of journalists and pro bono lawyers conspiring against President Rodrigo Duterte.
News5/Maricel Halili
Editor quits post from broadsheet that ran ouster 'matrix' story
(Philstar.com) - April 25, 2019 - 3:22pm
MANILA, Philippines (Update 2, 6:32 p.m.) — Senior journalist Felipe Salvosa II quit from his post at the Manila Times after the broadsheet ran the exclusive banner story alleging of a supposed "ouster matrix" to boot out President Rodrigo Duterte from office.
University of Santo Tomas publication "The Varsitarian" reported that Salvosa tendered his resignation on April 24, two days after the Manila Times released a story alleging an ouster plot ran by three news organizations and a group of pro bono lawyers..
"In UST journalism, we always tell students that our number one obligation is to the truth. I felt sincerely that I needed to uphold that principle now more than ever," Salvosa was quoted as saying.
Salvosa, who began teaching in 2005 and has been in the media industry for almost 20 years, reportedly disagreed with the publication of the story written by Times' chairman emeritus Dante Ang.
The matrix tagged the National Union of Peoples' Lawyers and three news organizations—VERA files, the Philippine Center for Investigative Journalism and Rappler—in an alleged plot against the president. They were also linked to an anonymously posted video accusing the Dutertes of involvement in illegal drugs.
Journalists groups have denied the accusation and pointed out factual errors in the matrix that was supposedly accurate as presidential spokesperson Salvador Panelo said President Rodrigo Duterte was the source.
READ: Palace-vetted conspiracy matrix has errors
Salvosa was said to have voiced out his sentiment using his Twitter account, set in private, to express his disagreement as he also vouched for the personalities named in the matrix.
Ang asked him to quit following his tweet, but Salvosa said that he has been meaning to leave anyway.
Salvosa wrote for the BusinessWorld and Financial Times. He currently heads UST's journalism program and is the assistant adviser of the student publication.
Manila Times stands by the story
In a statement released Thursday afternoon, the broadsheet stood by its story as it stressed that Ang "had a credible source" and conducted background check using several sources.
The PCIJ, in its statement upon the release of the story, pointed out errors, which include the tagging of members who already left the organization.
Times also asserted that Salvosa was asked to resign. "He behaved unethically when he posted a statement on social media without first notifying or clarifying with our Chairman Emeritus, Dr. Dante Ang, the issues that he had with the story 'Oust-Duterte plot bared,' written by the owner himself," the statement read.
Salvosa reportedly posted his disagreement over the piece on his personal social media accounts.
The paper pointed out that Salvosa did not "object" nor "suggest ways of rewriting or handling the piece."
The broadsheet also asserted that their article "was a legitimate news item."
The statement further read that Ang "was simply acting on his journalistic instincts having been given an opportunity to write a legitimate story, that was later confirmed by the Palace." — Kristine Joy Patag