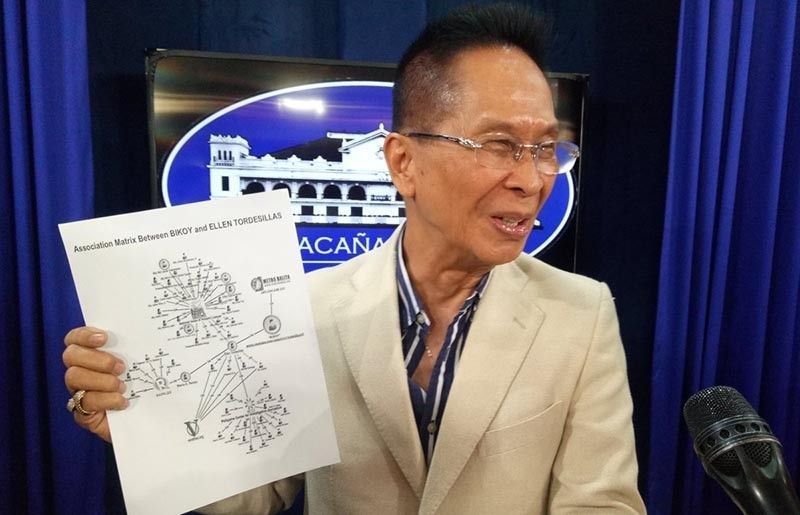 In this photo, presidential spokesperon Salvador Panelo holds up supposed proof of journalists and pro bono lawyers conspiring against President Rodrigo Duterte.
The STAR/Alexis Romero
NUPL elevates dangers of supposed ouster 'matrix' to SC
MANILA, Philippines — The National Union of Peoples' Lawyers has elevated the dangers on their lives of the supposed ouster "matrix" against President Rodrigo Duterte to the Supreme Court.
A week from when the NUPL knocked on the SC's door to ask for the issuance of a writ of amparo, the group was tagged in a supposed ouster plot to boot out Duterte from office.
"The continued vilification, harassment and threats to the life, security and liberty of the petitioners must stop now," they said in their manifestation, in support of its earlier filed pleading for protection order against alleged state "harassment, red-tagging."
READ: NUPL seeks court protection from 'threats' by state agents
The pleading was filed on Wednesday, but a copy of which was made public only on Thursday.
In their manifestation, the NUPL raised the matrix was first released on April 22, in an exclusive banner story of the Manila Times, written by the paper's chairman emeritus and the administration's Special Envoy for Public Relations Dante Ang.
The NUPL and three media organizations—VERA files, the Philippine Center for Investigative Journalism and Rappler—are accused of plotting against the president and of being linked to an anonymously posted video alleging the Dutertes are involved in illegal drugs.
Presidential spokesperson Salvador Panelo likewise said the charts were authentic and that the president himself is the source and should be believed.
The NUPL had earlier said the matrix is "absurd" and risks their safety, security and liberty.
READ: Palace's new 'ouster' matrix ludicrous, dangerous — groups
In its latest pleading to the high court, the rights lawyers also cited a "more vicious and malicious" report written by Rigoberto Tiglao, published two days later, that labeled as a "communist-linked organization."
"These malicious statements and dangerous claims, as well as the contrived 'matrix' above, baseless and reckless as they are, compel the Petitioners to again seek at this time for the Honorable Court's protection and reiterate their prayer for a temporary protection order."
"Petitioners simply chose to practice the ideals of the legal profession by rendering services to the underprivileged as mandated by our oath and by legal, constitutional and international principles," they added.