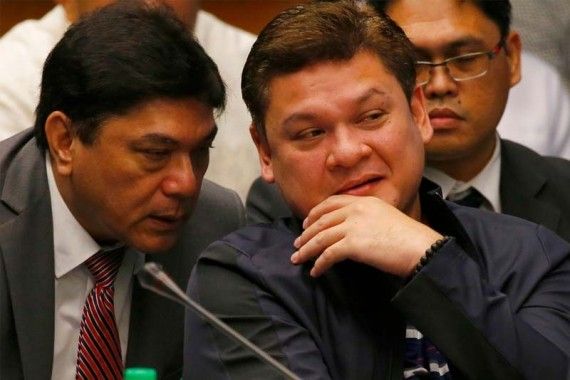 In a recent video, a certain Bikoy, who said he was a member of a drug syndicate, claimed President Duterte's son was included in a 'tara' or list of persons who received kickbacks from drug lords.
File
Paolo Duterte denies involvement in illegal drug trade
Janvic Mateo
(The Philippine Star) - April 4, 2019 - 12:00am
MANILA, Philippines — With a six-minute video of his alleged drug links making the rounds online, President Duterte's son Paolo yesterday issued a fresh denial of his involvement in the drug trade and vowed to get back at his accuser, whom he described as a smuggler of rice and sugar.
In a post on his Facebook page, Paolo Duterte lashed out at a certain J.S., whom he tagged as being behind the video – in documentary format – detailing his supposed connection to a drug syndicate.
"Wow ha kung makaimbento ka wagas. Galit ka kay Waldo kasi binabara niya lahat ng smuggling mo ng bigas at asukal diba J.S. (Wow, you're so good at inventing. You're mad at Waldo because he is blocking your rice and sugar smuggling. Right J.S?)," wrote the former Davao City vice mayor who is running for a seat in Congress.
"Galit ka sa akin kasi di kita pinansin sa eroplano kasi hambog ka! Ngayon pansinin na kita kasama ng kamay ko na kasing laki ng mukha mo pag nangyari yan. Yan ang totoong balita (You're mad at me because I snubbed you on a flight because you're so arrogant. Now, I'm giving you attention – with my hand as big as your face. That's real news)," Paolo Duterte added.
"Waldo" is Agriculture Undersecretary Waldo Carpio, who was also mentioned in the video as being part of the supposed illegal drug ring.
He is a brother of lawyer Manases Carpio, husband of the President's daughter, Davao City Mayor Sara Duterte Carpio.
The video also resurrected Sen. Antonio Trillanes IV's claim that Paolo Duterte has a dragon-like tattoo on his back – supposedly a proof of his ties to a drug trafficking triad.
Paolo had rejected Trillanes' challenge for him to show his back to disprove the allegations during a Senate hearing.
Despite the reemergence of the issue regarding the younger Duterte's drug links, the Philippine National Police (PNP) said there is no reason to investigate him.
PNP chief Gen. Oscar Albayalde told reporters yesterday the accusations were questionable and that the release of the video was "self-serving." He said he would not waste the PNP's time investigating allegations shown in the video as the police were busy with security preparations for the midterm elections next month.
He also questioned the timing and motive behind the release of the video, a month before the midterm polls.
"I don't even know if that is admissible in court because anybody can do that video," Albayalde said.
He advised the public to be wary of the video and other materials being posted on YouTube and shared on social media platforms discrediting the administration.
"We are warning netizens of these videos that are self-serving," Albayalde said.
Presidential spokesman Salvador Panelo, for his part, called the video "nonsense," saying he would never dignify a viral video besmirching the reputation of a presidential son with falsehoods.
The video showed a hooded man alias 'Bikoy,' self-proclaimed former member of a drug syndicate under Duterte's protection. He narrated alleged transfer of millions of pesos regularly to the accounts of people close to President Duterte.
Waldo was named as a conduit for the deposits made in local banks intended for Duterte.
The amounts reportedly reached hundreds of millions by December 2018.
The money was later allegedly transferred to Duterte's bank accounts. – With Emmanuel Tupas, Christina Mendez