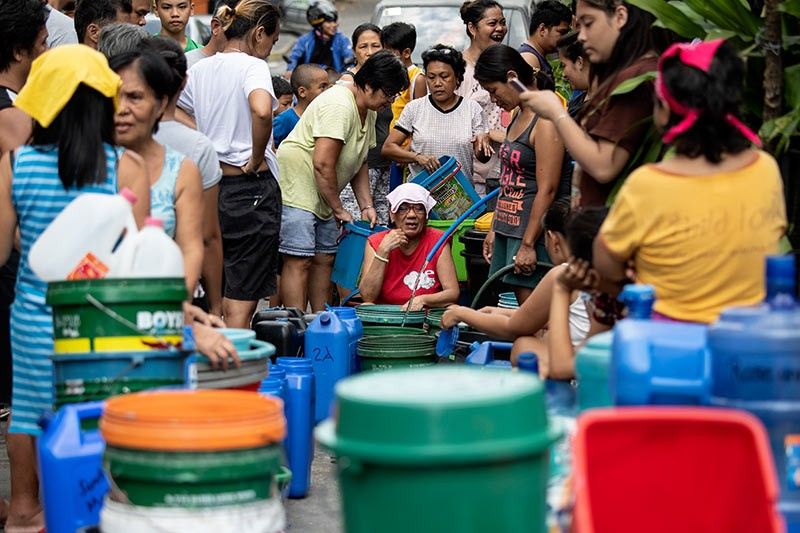 This photo taken on March 14, 2019 shows residents of Barangka in Manila, gathering water. Manila has been hit by its worst water shortage in years, leaving bucket-bearing families to wait hours for a fill up from tanker trucks and some hospitals to turn away less urgent cases.
Noel Celis/AFP
Duterte to meet with MWSS to discuss water issues tonight
MANILA, Philippines — President Rodrigo Duterte and water regulators were set to meet Tuesday to discuss the water crisis that Malacañang has blamed on mismanagement of officials and utilities.
The president and officials of Metropolitan Waterworks and Sewerage System were scheduled to meet at 6:30 p.m., according to presidential spokesman Salvador Panelo.
"Perhaps the MWSS will explain," Panelo said in a chance interview.
"Perhaps they will report latest developments. Perhaps they will report to him on how they complied with his directive," he added.
Duterte has ordered MWSS to compel water utilities and offices involved in water management to deliver enough water to affected households and to release water from Angat Dam to address supply issues.
Finance Secretary Carlos Dominguez said the water crisis would have been "much less of a threat" if the Kaliwa Dam were built during previous administrations. The dam will be funded through an official development assistance from China and will be built by China Energy Engineering Corp.
But environment groups and local officials are opposed to the construction of the dam, saying it would cause floods, displace residents and destroy Sierra Madre's diversity.
Palace: Gov't can stop Kaliwa Dam project if it is 'onerous'
Panelo said the administration could stop the Kaliwa Dam project if it is fraught with anomalies.
"It will push through until perhaps anomalies are discovered," the presidential spokesman said.
"Of course, the president can stop anything unless there is a contract already. There might be impairment of obligations in the contract. But it can be (stopped) if there was fraud in entering it," he added.
Panelo, also the president's chief legal counsel, said the project would be implemented "unless it's stopped by the president." He said it would be up to Duterte to decide whether to reevaluate its deal with China.
"We will leave it to his judgment call. But if you ask me personally, if the advantage is so clear, if it is true that the Chinese proposal is onerous, I think we should look into it," Panelo added.
Panelo said he would ask the National Economic and Development Authority why it preferred the Chinese deal over the proposal by Japanese firm Global Utility Development Corp. The Japanese firm has expressed readiness to build the Kaliwa Dam under a 25-year Build-Operate-Transfer scheme. Its proposal costs about $410 million.