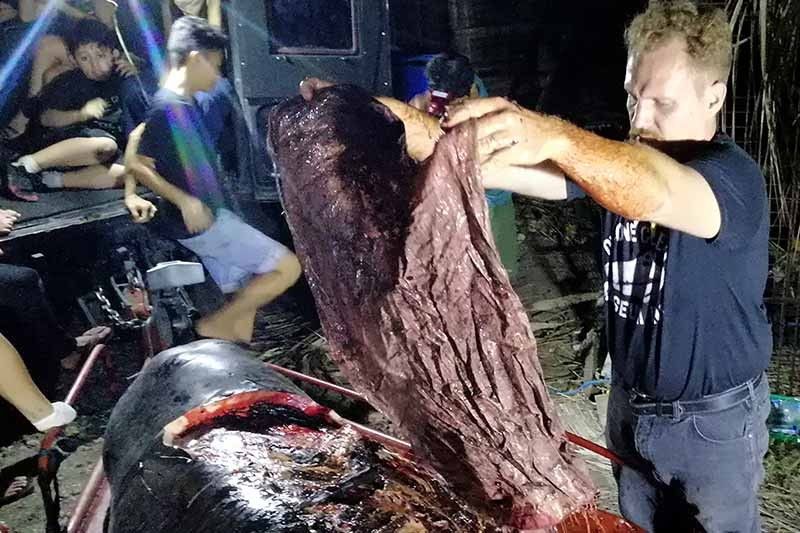 In this photo taken on March 16, 2019, Darrell Blatchley, director of D' Bone Collector Museum Inc., shows plastic waste found in the stomach of a Cuvier's beaked whale in Compostela Valley, Davao on the southern Philippine island of Mindanao. A starving whale with 40 kilos (88 pounds) of plastic trash in its stomach has died after being washed ashore in the Philippines, activists said on March 18, calling it one of the worst cases of poisoning they have seen.
AFP
Dead whale's plastic-filled stomach a 'wake-up call' vs pollution — Greenpeace
MANILA, Philippines — The case of a dead whale with 40 kilos of plastic trash in its stomach—said to be one of the worst cases of poisoning—should prod everyone to take drastic action against plastic pollution, an environmental group said Tuesday.
A Cuvier's beaked whale died in Compostela Valley on Saturday, a day after it was stranded in Mabini town. The animal died of starvation and was unable to eat because of the trash filling its stomach. The 40 kilograms of plastic trash included grocery bags and rice sacks.
Abigail Aguilar, Greenpeace Philippines campaigner, said whales, dolphins and turtles have been reported to have died in the Philippines, Thailand and Indonesia because of trash in the space of less than a year.
"[This] is a clear proof how grave plastic pollution affects our environment, most especially ocean creatures," Aguilar said.
She noted that three whales and a dolphin were found dead with plastic in their stomach in Davao Gulf this year.
A sperm whale died in Indonesia last year with nearly six kilograms of plastic waste discovered in its stomach.
A whale also died in Thailand last year after swallowing more than 80 plastic bags. A green turtle, a protected species, suffered the same fate there in 2018.
"It is unimaginable how many more animals are mistaking and ingesting plastic for food right now and how many more of them will be found beached and dead soon," Aguilar said.
She added: "One piece of plastic found in the stomach of a whale or a dolphin is one piece of plastic too many. How many dead whales, dolphins or sea turtles do we need before we wake up and take drastic action on plastic pollution?"
Call for action vs plastic pollution
The death of the whale comes weeks after a study on the country's pollution problem by the Global Alliance for Incinerator Alternatives revealed that around 59.8 billion pieces of plastic sachets are used by Filipinos a year.
The report also showed that more than 17 billion shopping bags are used across the Philippines every year. The use of smaller, thinner and often transparent plastic bags is at 16.5 billion.
The Greenpeace Philippines campaigner stressed the death of the whale is not just a cause for alarm, but an "urgent call for quick, effective, sustainable and large-scale action against plastic pollution."
"We can never emphasize enough how urgent it is for corporations to reduce the production of single-use plastic and redesign packaging and systems to minimize plastic waste, for governments to ban single-use plastic products and for citizens to be mindful of a throwaway lifestyle and put pressure to both the government and the industry to take decisive steps to counter this crisis," Aguilar said.
She added: "From production, to consumption, to disposal, we have to get our acts together."— with a report from Agence France-Presse