Grace Poe continues to sustain lead in Pulse Asia senatorial poll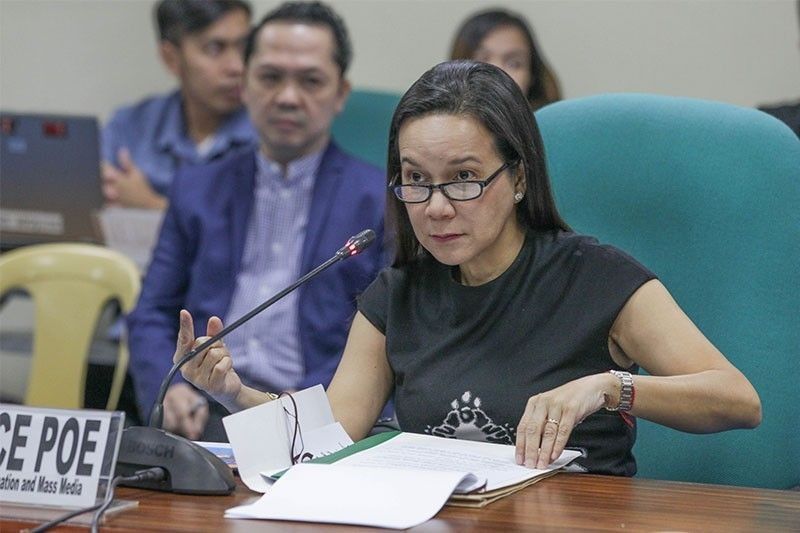 MANILA, Philippines — Re-electionist Sen. Grace Poe continued to be the top choice of Filipinos for the Senate in the May midterm elections, according to the latest Pulse Asia survey.
The survey, conducted from February 25 to 28, showed that about 67.5 percent would vote for Poe, who is running as an independent candidate.
Despite posting a figure lower than the 74.9 percent she received in the January survey of Pulse Asia, Poe—a former presidential bet—has been a consistent topnotcher in the last six surveys of the polling firm.
Sen. Cynthia Villar also maintained her second place ranking after 61 percent of the respondents said they would vote for her. She was the lone candidate who obtained a 100-percent awareness rating.
Administration-backed bets dominate the list
Former presidential aide Christopher Bong Go, who previously ranked in the sixth to 12th bracket, jumped to the third to fifth place. About 53 percent said they would vote for Go, a newbie in the senatorial race.
Go tied with Sen. Sonny Angara in the third to fifth place with voter preference of 52.2 percent.
Completing the top half of the list of probable winners are former Sen. Lito Lapid (49 percent) Taguig City Rep. Pia Cayetano (47 percent) and former Philippine National Police chief Ronald dela Rosa (44.6 percent).
FACT CHECK: No, your shaded vote won't seep through and get counted for a rival candidate
Dela Rosa jumped to fifth to eighth place from being in the 11th to 16th bracket in the January survey.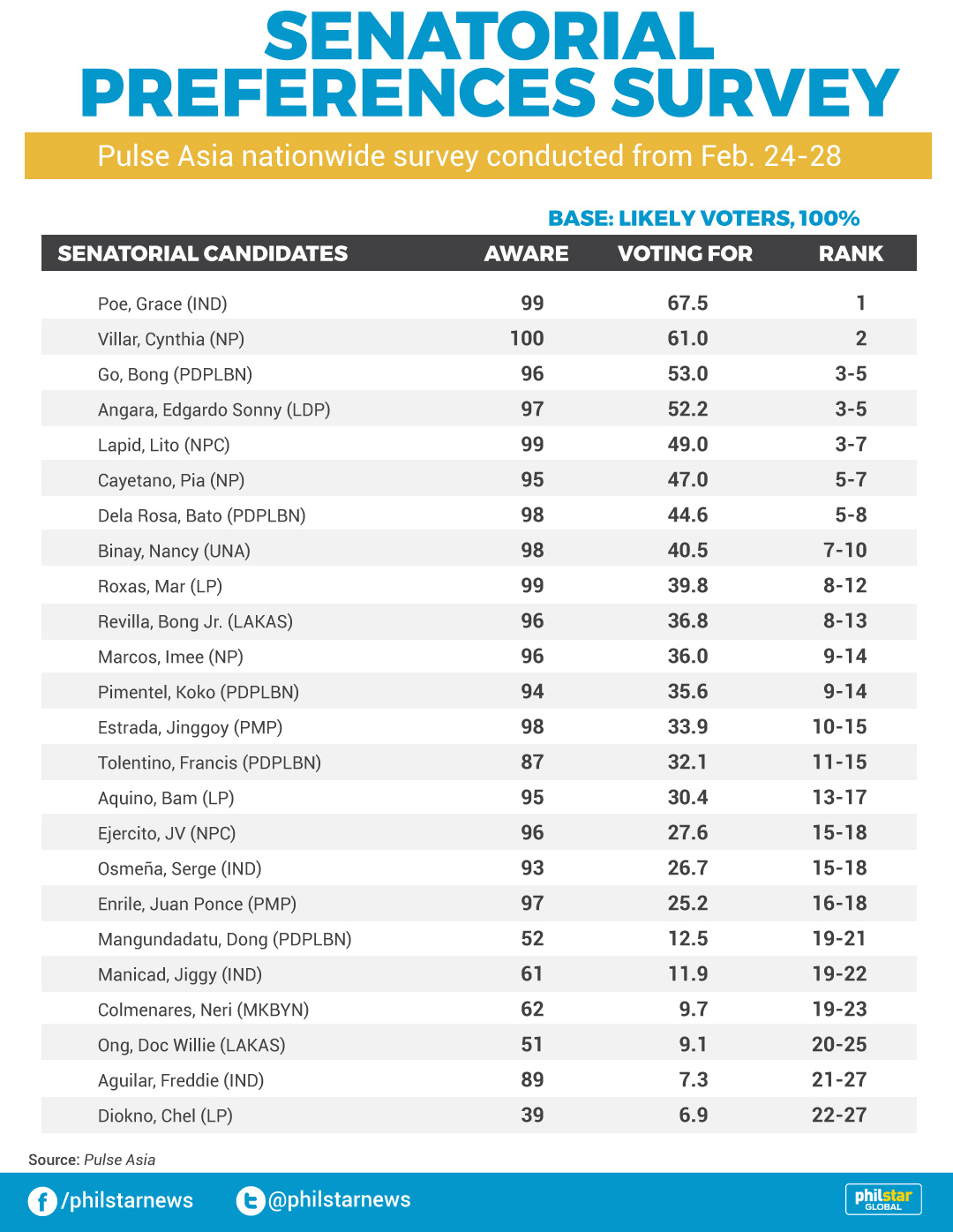 Those who also have a statistical chance of making it to the winners' circle were United Nationalist Alliance's bet Sen. Nancy Binay (40.5 percent), former Interior and Local Government Secretary Mar Roxas (39.8 percent), former Sen. Bong Revilla (39.8 percent), Ilocos Norte Gov. Imee Marcos (36 percent), former Sen. Jinggoy Estrada (33.9) and former presidential political adviser Francis Tolentino (32.1 percent).
Roxas was the only bet from the opposition Otso Diretso who entered the Magic 12.
Sen. Bam Aquino ranked in the 13th to 17th bracket with 30.4 percent, while Sen. JV Ejercito (27.6 percent) and Serge Osmeña (26.7 percent) settled in the 15th to 18th bracket. Former Sen. Juan Ponce Enrile placed from 16th to 18th with 25.2 voter preference.
The survey was conducted among 1,800 Filipino adults using face-to-face interviews. The respondents were allowed to give multiple responses up to 12 names. — Gaea Katreena Cabico