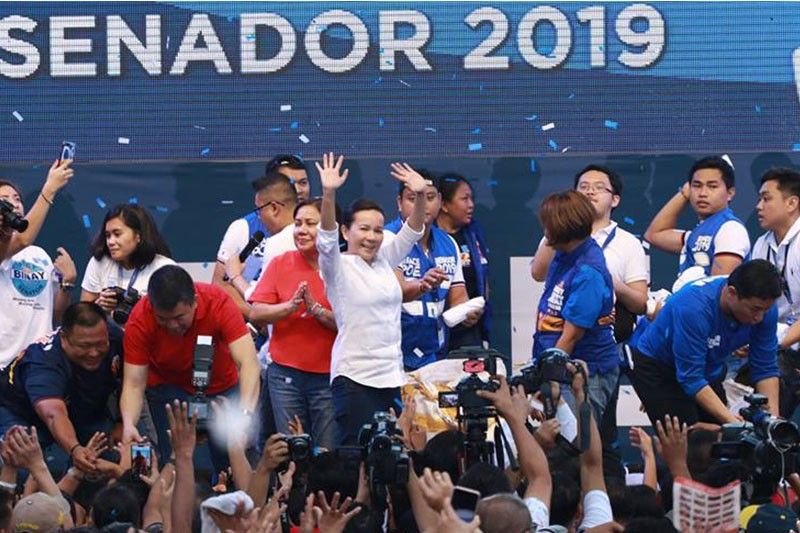 In this February 13 photo, Sen. Grace Poe attends a campaign sortie with her fellow re-electionist senators.
Office of Sen. Grace Poe/Released
Independent Grace Poe keeps top spot in Pulse Asia senatorial poll
MANILA, Philippines — Reelectionist Sen. Grace Poe remains the top choice of Filipinos among senatorial candidates in the 2019 midterm elections, according to a Pulse Asia survey released Friday.
About 74.9 percent said they will vote for Poe, who is running as an independent candidate, in the upcoming elections. She is also the lone candidate who obtained a 100-percent awareness rating.
The former presidential bet has been a consistent topnotcher in the last five Pulse Asia senatorial surveys, which the poll firm earlier attributed to the influence of her late father, National Artist Fernando Poe Jr.
Ranking second is Sen. Cynthia Villar with 60.5 percent, followed by Taguig Rep. Pia Cayetano with 53.3 percent and former Sen. Lito Lapid with 53 percent.
Reelectionist Sens. Nancy Binay (50.1 percent), Sonny Angara (48.8 percent) and Koko Pimentel (45.4 percent) also entered the list.
Completing the "Magic 12" are former Special Assistant to the President Bong Go (44.7 percent), former Sen. Jinggoy Estrada (44.3 percent), former DILG Secretary Mar Roxas (41.8 percent), Ilocos Norte Gov. Imee Marcos (41.2 percent) and former Sen. Bong Rebilla (40.2 percent).
The Liberal Party's Roxas is the only opposition bet who entered the Magic 12 while Sara Duterte's Hugpong ng Pagbabago slate dominated the survey — Villar, Cayetano, Angara, Pimentel, Go, Estrada, Marcos and Revilla.
Sen. Bam Aquino (38.5 percent), former Sen. Serge Osmeña (37.7 percent) and former Philippine National Police chief Ronald "Bato" dela Rosa (36.9 percent) ranked 13th to 15th in the latest senatorial poll.
Ranking 16th to 18th are Sen. JV Ejercito (32.8 percent), former Senate President Juan Ponce Enrile (23.3 percent) and former MMDA chair Francis Tolentino (21.4 percent).
The survey was conducted among 1,800 Filipino adults using face-to-face interviews from January 26 to 31, a few weeks before the official campaign period started on February 12. The respondents were allowed to give multiple responses up to 12 names.
<
>