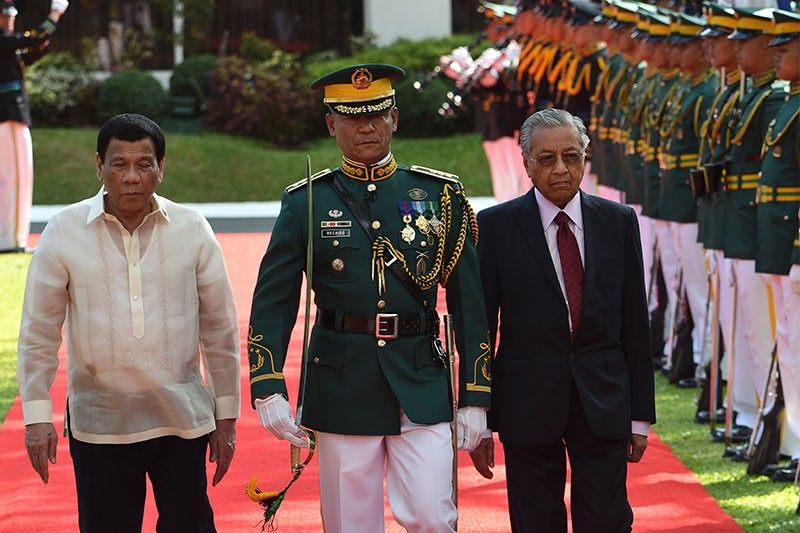 Philippine President Rodrigo Duterte (L) walks with Malaysia's Prime Minister Mahathir Mohamad (R) as they review an honour guard during a welcoming ceremony at the Malacanang Palace grounds in Manila on March 7, 2019.
AFP/Ted Aljibe
Mahathir denies Philippines' claim on Sabah, Palace counters
(Philstar.com) - March 7, 2019 - 3:53pm
MANILA, Philippines — Opposing the pronouncements of Malaysian Prime Minister Mahathir Mohamad, Malacañang stressed that the Philippines has claim over Sabah.
In 2016, President Rodrigo Duterte said he would pursue the country's claim over Sabah, which had been under the Sultanate of Sulu until it came under the administration of British North Borneo Co. in the late 19th century.
Mahathir, however, blatantly said the Philippines does not have claim over the area.
"Well, as far as we're concerned, there is no claim," Mahathir told ANC's Cathy Yang.
Panelo: 'We have a claim'
Presidential spokesperson Salvador Panelo said this was just the position of Malaysia.
"The position of the president (Duterte), as you said, we have a claim. It is true that we have a claim. That has been a bone of contention ever since the time of President (Ferdinand) Marcos," Panelo said in a press briefing.
The Philippines has been claiming that Sabah was only leased, not ceded, to the British North Borneo Co. before the British government declared it a part of the newly created Federation of Malaysia in 1963.
The heirs of the sultan of Sulu continue to receive lease payments for Sabah.
Mahathir is in Manila for an official visit, his first time since assuming office in 2018. The Malaysian leader previously undertook bilateral official visits to the country in 1987 and 1994 during his previous term as prime minister.
However, the Philippines and Malaysia's overlapping claims on Sabah would not be part of the agenda of the two leader's meeting on Thursday.
"It's not in the agenda as I know," Panelo said.
In an earlier statement, the Department of Foreign Affairs said Duterte and Mahathir are expected to discuss political, economic and people-to-people cooperation during their bilateral meeting. — Patricia Lourdes Viray