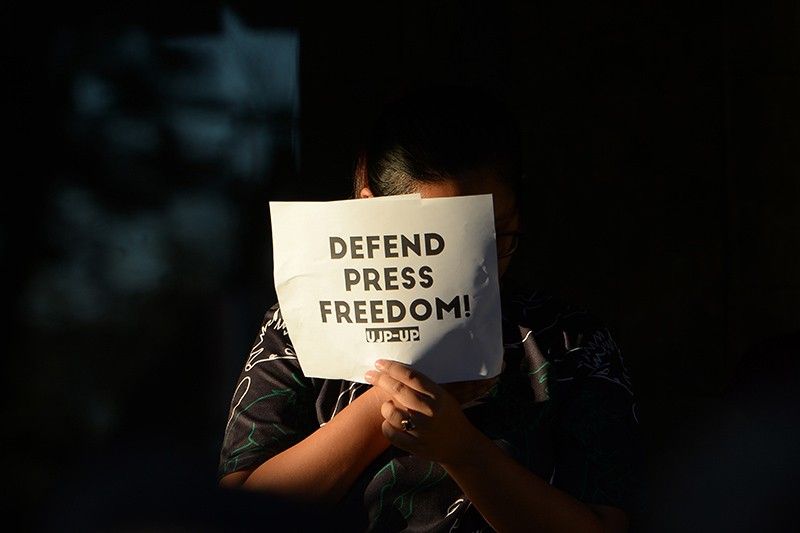 A student holds a placard during a protest at the state university grounds in Manila on February 14, 2019, in support of CEO of Rappler, Maria Ressa, who was arrested a day earlier for cyber libel case. Ressa was freed on bail on February 14 following an arrest that sparked international censure and allegations she is being targeted over her news site's criticism of President Rodrigo Duterte.
Ted Aljibe/AFP
PCOO to hold Europe caravan to explain to int'l media Duterte not behind Ressa arrest
MANILA, Philippines — Officials will hold a "press freedom caravan" in European countries to discuss media-related issues including the arrest of journalist Maria Ressa to counter claims that the Duterte administration is silencing its critics.
Presidential Communications Secretary Martin Andanar said some officials of his agency would meet with journalists in Belgium, Bosnia and Switzerland to answer their questions about the state of press freedom in the Philippines.
"Ngayon, nandoon din sila ngayon sa Brussels — Bosnia muna tapos Brussels, tapos Switzerland. So ito ay para naman kausapin iyong mga European media, for example, marami silang tanong about the press freedom sa Pilipinas (They are in Brussels — they will go to Bosnia first before Brussels — and then to Switzerland. They will talk to the European media because they have lots of questions about press freedom in the Philippines)," Andanar told state-run Radyo Pilipinas last Saturday.
"Eh dinadala natin iyong Press Freedom Caravan para maintindihan nila, para maliwanagan sila sa kaso ni Maria Ressa (We are bringing the press freedom caravan there so they can be enlightened about the case of Maria Ressa)," he added.
READ: NBI arrests Rappler CEO Maria Ressa
Andanar said Presidential Communications Undersecretaries Joel Egco and Lorraine Badoy and Assistant Secretary Kris Ablan would explain "the nature" of the case of Ressa and "why the Duterte administration had nothing to do with it."
"It is clear that it is a case between a private individual, a private businessman in the name of Wilfredo Keng and Miss Ressa and Rappler," the Cabinet official said.

"You are not above the law. So you are given all of the leeway and you are given all of the legal remedies that you can get...But to say that this is against press freedom, and to say that it is an upfront to press freedom is a big mistake because it's not true," he added.
Ressa, the chief executive officer of news website Rappler, was arrested last Thursday over a cyber libel complaint filed by businessman Wilfredo Keng.
In 2012, Rappler published a report about the businessman's alleged connection with the late former chief justice Renato Corona, who was ousted in the same year.
The report, written by then Rappler researcher Reynaldo Santos, Jr., claimed the late chief justice had been using a sports utility vehicle owned by Keng. Rappler also claimed to have obtained an intelligence report stating that Keng had been under surveillance by the National Security Council for alleged involvement in human trafficking and drug smuggling. The intelligence report said the businessman was also involved in a murder case "for which he was never jailed," the Rappler article added.
READ: DOJ to look into NBI agent's alleged intimidation of reporter
Rappler, its supporters here and abroad, and rights advocates have described Ressa's arrest as an attack on press freedom and have accused Duterte of clamping down on his critics.
Rappler pointed out that Keng's complaint came five years after the story was published and months before the cybercrime law was enacted. It noted that the National Bureau of Investigation had closed an investigation in February 2018 because the one-year prescriptive period had lapsed.
NBI revived the case eight days later, arguing that as long as the report can be accessed online, it can be covered by the cybercrime law even if it was published before its enactment.
READ: A look at the cyber libel charge vs Rappler, Maria Ressa
Malacañang and Keng have denied that Ressa's arrest was related to press freedom. Keng said his complaint is a "private criminal action" against Rappler over what he described as their "untrue, unfair and malicious imputation of grave crimes" against him.
Presidential spokesman Salvador Panelo has also defended Ressa's arrest, saying it was done because the government observes "rule of law." He has also maintained that the executive branch has no control over the judiciary, which issued the arrest warrant. President Duterte has also denied involvement in the arrest, saying he does not know Keng.