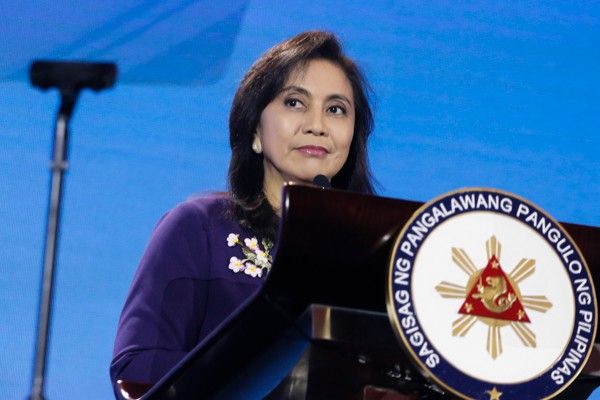 In this 2017 file photo, Vice President Leni Robredo delivers a speech at the ASEAN Business and Investment Summit.
Philstar.com/Efigenio Toledo IV
Panelo to Robredo on 'special treatment' to Chinese: Stop giving statements that 'inflame' issues
MANILA, Philippines — Presidential spokesman and Chief Presidential Legal Counsel Salvador Panelo on Monday said Vice President Leni Robredo's should stop making speculations and giving statements that might add flame to certain issues.
"Maybe it's a wake-up call to her to stop speculating and stop giving statements that may inflame incidents that need not be so," Panelo said in a Palace briefing.
The Palace spokesman was asked to react on Robredo's comment on the taho-throwing incident involving a Chinese student who threw a soybean drink at a cop manning a Metro Rail Transit-3 station and implementing the controversial liquid ban.
Robredo on Sunday said the move of 23-year-old Jialz Zhang was an "insult" to the nation despite the hospitality extended by Filipinos to Chinese and other foreign nationals in the country.
She also said the incident is a wake-up call to the government as she raised her concern on the "special treatment" given to Chinese in line with the "friendship" that the Philippine government has with China.
READ: Robredo, opposition bets denounce 'taho' tantrum, call out gov't's 'special treatment' to Chinese
Panelo, however, hit back at the vice president saying it is a "wake-up call" for her.
In the past, President Rodrigo Duterte also made statements against foreign leaders.
He previously told former US President Barack Obama to "go to hell" and cursed him and said Canada is "stupid" following a botched helicopter deal.
'Taho-throwing incident isolated'
Meanwhile, Panelo said he thinks the taho-throwing incident is isolated as he has "not heard" of such incidents before.
"I have not heard of incidents, I mean publicly. But there have been rudeness on certain nationalities. It's not limited to Chinese. Koreans do that also… Japanese… siguro depende kasi kung minsan rude din 'yung tao Filipino so nag-ti-trigger ng conflict between the two (Maybe it depends because sometimes Filipinos are rude, too, so it triggers the conflict between the two)," he added.
Panelo said he echoes the views of Foreign Affairs Secretary Teddy Locsin to not blow up the issue on the taho-throwing incident.
"I think I will follow the line of Secretary Teddy Boy Locsin on that matter… He said that let us not blow up this issue, that particular incident happens almost anywhere. Kumbaga 'wag na natin palakihin (In essence, let's not make it a big deal)," Panelo said.
He cited that Zhang has also been charged and the authorities are "considering her deportation."
Panelo said "the president is outraged by any kind of oppression," when asked about Duterte's reaction on the incident.
The Palace official reminded foreigners to behave while in the country.
"Foreign nationals who sojourn in this country should always behave otherwise they are subject to laws and deportation," Panelo said.
"We will not allow them to disrespect authorities, or violate any law or ordinance in this country," he added.