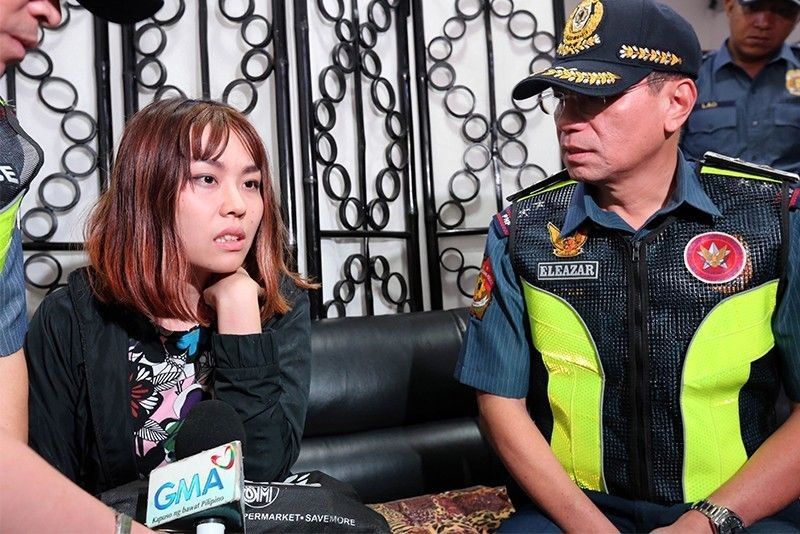 In this, Feb. 9, 2019 photo, NCRPO Director Guillermo Eleazar talks to Chinese national Jialz Zhang.
The STAR/Boy Santos
Robredo, opposition bets denounce 'taho' tantrum, call out gov't's 'special treatment' to Chinese
MANILA, Philippines — Vice President Leni Robredo and some opposition senatorial candidates on Sunday denounced the act of a young Chinese woman who threw "taho" at a police officer at an MRT-3 station.
Robredo said the "disrespectful" move was an "insult" to the nation despite the hospitality extended by Filipinos to Chinese and other foreign nationals in the country.
"Hindi lang pambabastos sa pulis, pero pambabastos ito sa bansa natin, (It's not just a disrespect to the police but also to our country)" Robredo said in her weekly radio show "BISErbisyong LENI."
The vice president called on the foreigners to respect the Philippines and its people.
Robredo made the comment a day after 23-year-old Chinese national Jialz Zhang Nepomuceno threw a cup of "taho" at a police officer who was conducting an inspection at MRT-3 Boni Station in Mandaluyong City Saturday morning. She was charged with direct assault, disobedience to an agent or person in authority, and unjust vexation.
READ: Chinese student nabbed for 'taho' tantrum
The Chinese national, identified to be a student of SOFA Design Institute and residing in Mandaluyong City, refuses to follow the liquid ban in the MRT. She then argued with stationed cop PO1 William Cristobal and threw the taho.
Blame it on special treatment to Chinese
Due to this, Robredo also raised her concern on the "special treatment" given to Chinese — in line with the "friendship" that the Philippine government has with China.
She cited that several Filipinos are complaining that some jobs supposed to be for Filipinos are given to Chinese.
She added that this "special treatment" may have paved the way for the "disrespect" being shown by some of the Chinese nationals here.
"[W]ake-up call iyon sa ating lahat… Tapos ito pa, parang kinakalinga natin sila tapos binabastos nila tayo (This is a wake up call for us. We take care of them yet we are being disrespected)," Robredo lamented.
Filipinos 'second-class citizens' in own country
Opposition senatorial candidates Rep. Gary Alejano (Magdalo party-list) and former Solicitor General Florin Hilbay shared the same sentiment as the vice president.
Alejano said Filipinos are becoming "second-class citizens" because of the privilege being given to Chinese.
"This is what happens when our government itself favors the Chinese and calls our country a 'Province of China,'" Alejano said in a statement.
"Nagiging second-class citizens ang mga Pilipino at binabastos ng mga dayuhan sa sarili nating bayan. Hindi lamang ang ating mga mangingisda at mga sundalo sa West Philippine Sea ang nakararanas ng bullying dahil pati mismo ang ating mga kapulisan ay hindi ginagalang (Filipinos are becoming second-class citizens and are being disrespected by foreigners in our own land. It's not only the fishermen and soldiers in the West Philippine Sea who are experiencing bullying but also our police)," he added.
'Deport the Chinese student'
Meanwhile, Hilbay is also calling on the authorities to deport Zhang for her unruly behavior.
"We have no reason not to deport a foreigner who treats a Filipino policeman like garbage," Hilbay said in a release.
The former solicitor general compared the government's treatment of Zhang and Australian nun Sr. Patricia Fox, who was forced to leave the country. She had a spat with the government for allegedly engaging in partisan politics.
Hilbay previously called out the current administration for its "favorable rules toward Chinese." He cited the "bilateral deals that are unfair to the Philippines and the influx of illegal Chinese workers."
He also blamed the government for these saying he doesn't "want to be a foreigner in his own land."
Hilbay was part of a legal team that argued the Philippines' landmark maritime case against China in The Hague.
'Zhang to be considered undesirable alien'
Meanwhile, National Capital Region Police Office chief Guillermo Eleazar, who went to the Mandaluyong police station to confront Zhang, said they would "recommend for her to be considered as [an] undesirable alien."
The Department of Transportation earlier said it is considering a temporary or permanent ban against Zhang which would prohibit her from entering any of the MRT-3 stations over the "extremely rude behavior she exhibited."
For its part, the Bureau of Immigration said it would assess if the Chinese student violated any immigration regulations.
'Same thing could happen to Filipinos in China'
Foreign Affairs Secretary Teddy Locsin, on the other hand, agrees with the filing of charges against the Chinese student but not her deportation.
"Charge her. But deport? She's a student who believes enough in us to study here," the DFA chief said on Twitter.
Locsin said the same thing could happen to Filipinos in China.
"But then again we have workers in China and the Chinese public may behave as irrationally as a few people on Twitter. Wouldn't want that to happen in China or anywhere in the world where our people work. This is not to condone taho flinging but a sense of proportion puhleese," he said.
As It Happens
LATEST UPDATE: February 13, 2019 - 10:59am
Vice President Leni Robredo denounces the "disrespect" shown by a young Chinese woman who threw "taho" at a police officer conducting an inspection at an MRT station.
Robredo says the act was an "insult" not just to the police, but to all Filipinos.
"Hindi lang pambabastos sa pulis, pero pambabastos ito sa bansa natin," she says in her weekly radio show "BISErbisyong LENI."
She says Filipino hospitality extends to the Chinese and other foreign nationals in the country and in turn, these foreigners should also respect the Philippines and its people.
The Chinese woman was turned over to authorities on Saturday morning after she threw "taho" at a cop. The MRT-3 management said the incident happened at Boni Station in Mandaluyong City at around 8:30 a.m.
Authorities identified the Chinese woman as Jialz Zhang Nepomuceno, 42, and the cop as Police Officer 1 William Cristobal.
February 13, 2019 - 10:59am
The Bureau of Immigration says it has detained the Chinese student who threw taho at a police officer over the weekend.
In a statement, Immigration spokesperson Dana Sandoval says Zhang Jiale is now detained at the BI Warden Facility in Camp Bagong Diwa, Taguig.
Immigration operatives "were armed with a Mission Order signed by BI Commissioner Jaime Morente to gain custody over Zhang...for violating immigration laws," adds Sandoval.
Zhang posted bail on Tuesday night on cases filed against her by the police .The bureau also says it will resolve her possible deportation case "in the next few weeks."

February 12, 2019 - 10:00am
The Bureau of Immigration's Legal Division has recommended filing a deportation case against the Chinese student who threw a cup of taho at a police officer at a Metro Rail Transit station over the weekend.
Bureau spokesperson Dana Sandoval says the division found probable cause to file a case against 23-year-old Zhang Jiale, who apologized Monday night for throwing the soybean drink at PO1 William Cristobal for barring her from entering the station with the drink.
"The BI can file a case motu proprio, especially since there are photos showing what happened," Sandoval says.
Immigration Commissioner Jaime Morente is quoted in the same BI release as calling Zhang's act "an utter display of disobedience and arrogance against a person of authority."
"The bureau will not tolerate such acts, as this shows disrespect to the country," he says.
February 11, 2019 - 8:49am
Police have formally filed a complaint against Jiale Zhang, 23, for throwing taho at a police officer for refusing to let her bring the cup inside the MRT station on Boni Avenue.
Authorities have filed a complaint of unjust vexation, disobedience to a person in authority and direct assault against the foreign student who threw "taho"at a cop stationed at MRT.

The complaint was filed at the Mandaluyong prosecutor's office. | @kristinepatag pic.twitter.com/YkFwNFS74O

— Philstar.com (@PhilstarNews) February 11, 2019
Photos of the incident, which went viral on Saturday, have prompted calls to deport her to China. The Department of Foreign Affairs has said the incident is a non-issue.