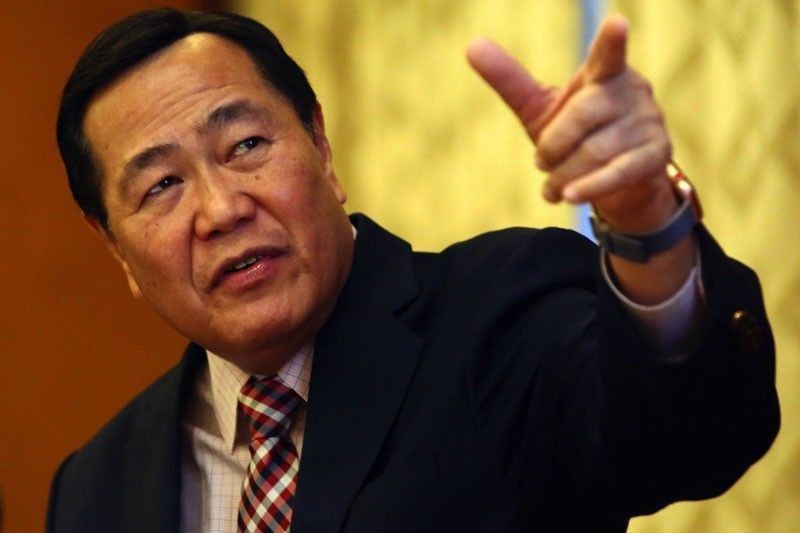 "We should protest because Fiery Cross Reef is part of the geologic features we claim in the Kalayaan Island Group. If we do not protest, then we impliedly consent to China's act of putting up a maritime rescue center there," Senior Associate Justice Antonio Carpio said.
The STAR/Miguel de Guzman, File
Carpio: Philippines should protest China's rescue center on Kagitingan Reef
MANILA, Philippines — Supreme Court Senior Associate Justice Antonio Carpio called on the Philippine government to protest China's establishment of a maritime rescue center on Kagitingan or Fiery Cross Reef in the West Philippine Sea.
Carpio, one of the leading figures in the Philippines' arbitration against China, pointed out that not doing so would imply that the country consented to Beijing's putting of a center on one of the geologic features that the country claims.
"This means we are recognizing that China has a right to occupy and use Fiery Cross Reef. Occupation and use are acts of sovereignty," Carpio said in a statement released Thursday.
Putting up a maritime rescue center on Kagitingan Reef is an act of administration, which is essential to acquiring sovereignty, according to the SC magistrate.
Allowing Beijing to freely do so would mean that the Philippines is agreeing that China can exercise acts of administration over the West Philippine Sea feature.
"So, if we impliedly or expressly agree to such act of administration by China, we are helping China strengthen their sovereignty claim to Fiery Cross Reef to our own prejudice," Carpio said.
Malacañang, on the other hand, said Beijing's maritime rescue center on the island could help everybody.
"Maybe we should be thankful," presidential spokesperson Salvador Panelo said, adding that the distress center could benefit everyone who might need help in the region.
Kagitingan Reef is one of China's "big three" islands in the Spratly group, where Beijing had installed missile systems and electronic jamming equipment.
In July 2016, the Permanent Court of Arbitration issued its ruling on the Philippines' arbitration against China. The United Nations-backed tribunal concluded that Beijing violated its obligations under the UN Convention on the Law of the Sea with its island-building activities on several features, including Kagitingan Reef.