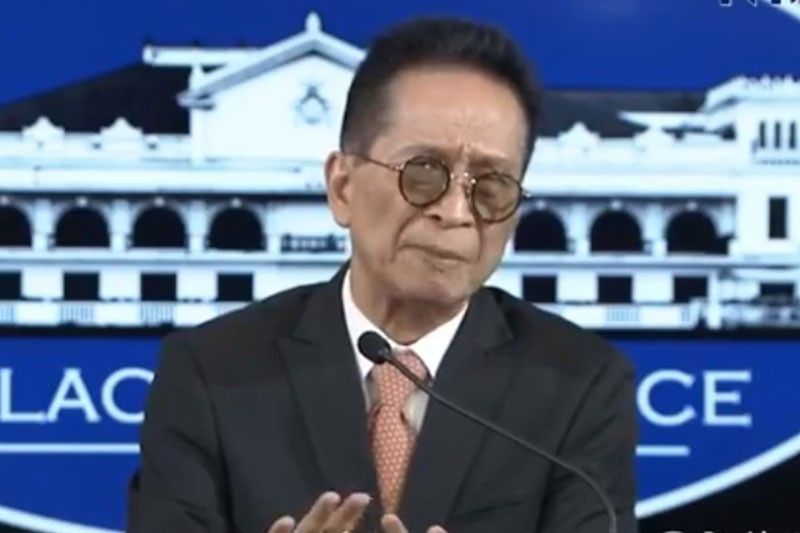 Presidential spokesperson Salvador Panelo holds a press briefing at Malacañang.
Facebook screengrab/Presidential Communications
Palace: China's rescue center on Manila-claimed reef 'could help everybody'
MANILA, Philippines — Beijing's establishment of a maritime rescue center on a Manila-claimed reef in the West Philippine Sea would benefit everyone, Malacañang said Thursday.
Chinese-state run Xinhua earlier reported that China's Ministry of Transport has opened a rescue on Kagitingan or Fiery Cross Reef, one of its artificial islands in the Spratly Islands.
"Maybe we should be thankful. I share the sentiment of (Defense) Secretary Delfin Lorenzana that could help seamen in distress in that area. It can help everybody," presidential spokesperson Salvador Panelo said in a press briefing.
RELATED: Locsin: China's weather stations 'not claims of ownership' | Philippines cannot physically confirm China's weather stations — Lorenzana
The Malacañang spokesman, however, said the establishment of the center on Kagitingan Reef would still be up for validation despite it being already reported by Xinhua, China's official state-run news agency.
This has always been the position of Malacañang whenever Beijing announces new developments on its outposts in the Spratlys, which are also being claimed by the Philippines.
In November last year, Panelo repeatedly refused to acknowledge the Chinese Foreign Ministry's announcement that it has started opening weather monitoring stations in the West Philippine Sea. Panelo even downplayed the weather stations, dismissing Beijing's announcement as "merely new a news report."
Asked if China's rescue center would affect the Philippines' claims in the West Philippine Sea, Panelo said he does not think so.
"If that has been validated, then (Foreign Affairs) Secretary (Teddy) Locsin will make his position on the matter. We will leave it to him first," Panelo said.
The Department of Foreign Affairs has yet to issue a statement on the matter.
Supreme Court Senior Associate Justice Antonio Carpio, meanwhile, urged the Philippine government to protest China's rescue center on Kagitingan Reef as it contradicts the country's sovereignty on the feature.
"If we do not protest, then we impliedly consent to China's act of putting up a maritime rescue center there," Carpio said.