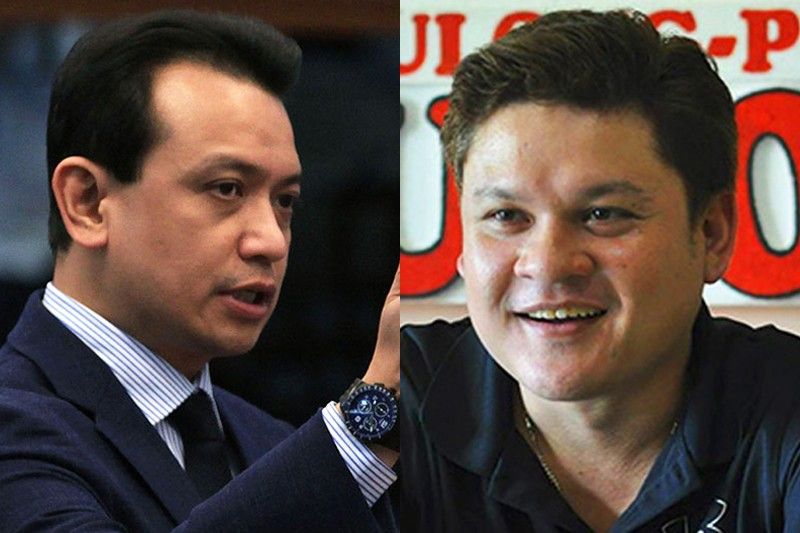 File photo shows Sen. Antonio Trillanes IV and former Davao City Vice Mayor Paolo Duterte. The latter sued Trillanes for libel before a Davao court.
Composite photo from The STAR and Facebook.com/Vice Mayor Pulong Duterte Official, File
Paolo Duterte wants Trillanes' bail canceled over trip abroad
MANILA, Philippines — Former Davao Vice Mayor Paolo Duterte moved for the cancelation of Sen. Antonio Trillanes IV's bail and his arrest after the senator went abroad without seeking permission from the court.
Duterte, through private prosecutor Rainier Madrid, sought the cancelation of Trillanes' temporary liberty for an alleged violation of the conditions of his bail.
Davao Regional Trial Court Branch 54 rejected the plea for the issuance of a hold departure order against Trillanes, saying the senator is not a flight risk.
The same court, on Dec. 7, 2018, issued a warrant against the senator for a libel case filed by the former Davao City mayor.
Trillanes paid bail of P96,000 on Dec. 10, 2018 and left for a series of activities in Europe on the following day.
'Trillanes placed himself outside jurisdiction of law'
Duterte's camp argued that Trillanes' trip abroad violates the Rules of Court as the senator placed himself under the jurisdiction of the law when a warrant was issued against him and he posted bail.
"Whilst under custodia legis [or 'custody of law'], accused is duty bound not to frustrate this court's jurisdiction and reach over him. He could not unilaterally place himself beyond it," Duterte said in his motion, a copy of which was obtained by Philstar.com.
Under Rule 114 (Bail) of the Rules of Court, "the accused shall appear before the proper court whenever required by the court of these Rules."
"His departure for abroad without seeking this court's prior permission is a serious and material breach of his bail and temporary liberty. Consequently, accused himself has thereby 'repudiated' his own bail," the motion further read.
Duterte added: "Accused' bail should now be formally canceled, and his re-arrest immediately ordered to restore this court's jurisdiction over his person."
Davao court: Trillanes not a flight risk
In the Davao court's order junking the plea for HDO, Presiding Judge Melinda Alconcel-Dayanghirang found that Trillanes "is not a flight risk and that he will abide with the conditions imposed for his provisional liberty including his appearance before this Court when required."
The order was dated Dec. 14, 2018, or two days after Trillanes had already left for Europe.
It was however made public only on January 15, 2019.
In her order, the judge also said that when the Pasay court, where Trillanes posted bail, issued an order lifting a warrant of arrest against him, the matter of acquiring jurisdiction over Trillanes "is already moot and academic."
The court also noted the senator's voluntary surrender as a demonstration of his "utter respect for the legal processes of this country."
The court's order also stressed that Trillanes has filed a manifestation "to be admitted as sufficient explanation and/or justification for his falure to secure leave from this Court for his scheduled trip."
The manifestation was granted last December 11.
Arraignment
Trillanes also flew to Davao City on January 15 for his arraignment on the libel case.
The senator pleaded not guilty to the charge.
Paolo accused Trillanes of defaming him and his family in a radio interview in Cebu.
In the interview cited in the complaint, the senator accused Duterte of corruption and extortion involving Uber and other companies regulated by the Land Transportation Franchising and Regulatory Board, the Road Board and the Department of Public Works and Highways.
Trillanes earlier said that the libel suit is meant to harass him.