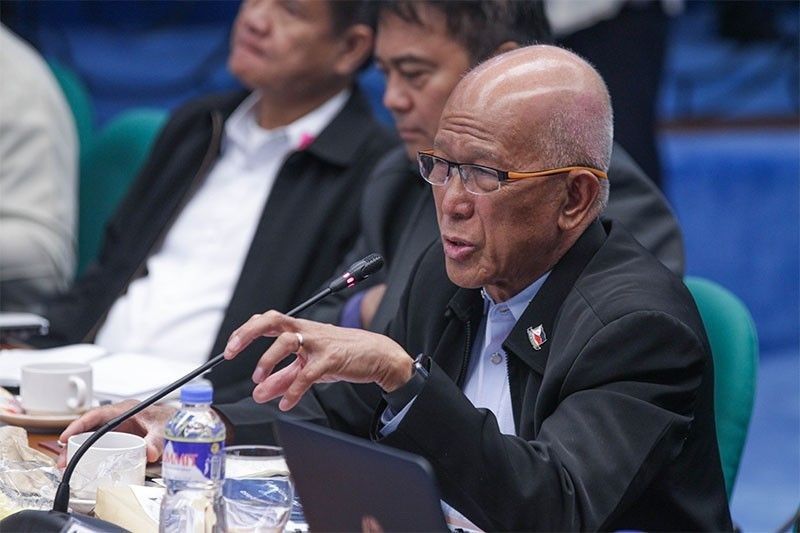 In this Oct. 2, 2018 photo, Defense Secretary Delfin Lorenzana attends the Senate hearing on the proposed budget for the Armed Forces of the Philippines.
The STAR/Geremy Pintolo, File
Lorenzana: Chinese bases changed equation in Philippine military security
MANILA, Philippines — Beijing's military facilities in the South China Sea, part of which is the West Philippine Sea, changed the equation in the country's military security, Defense Secretary Delfin Lorenzana admitted on Wednesday.
This change occurred since China installed its facilities on its artificial islands in the Spratlys a few years ago, the Defense chief said in a Senate hearing.
"It's very clear that the Chinese is trying to extend its influence in the South China Sea, West Philippine Sea and the fact that they have built, reclaimed islands there, buit islands out of shoals and reefs and turned them into practically a military base or naval base," Lorenzana told the Senate.
Lorenzana noted that China has been discouraging navy ships, including those of the Philippines, from sailing near the artificial islands.
"It's very clear that they would like to have some hegemony or control over the... West Philippine Sea," the secretary said.
Sen. Richard Gordon, meanwhile, raised alarm over Beijing's capacity to intercept the Armed Forces of the Philippines' radio frequencies from its military outposts in the Spratly Islands.
There have been reports that Beijing is likely using Manila-claimed Kagitingan or Fiery Cross Reef as its intelligence hub in the area. Satellite imagery obtained by Washington-based think tank Asia Maritime Transparency Initiative reported that China completed a large communications or sensor array on Fiery Cross Reef in 2017.
"That doesn't sound too comfortable for us to be able to sleep solidly at night and soundly and knowing that if yhere is trouble they could be here, for example if something should break up between Taiwan and China it's too close to us," Gordon told Lorenzana.
From Mischief Reef, one of China's "Big Three" islands, the Chinese could reach Manila in approximately 20 minutes, according to Lorenzana.
Asked about the Philippine government's game plan in case of trouble with other countries, Lorenzana said: "Our game plan is to at least prevent loss of lives by our people."
This is the reason the military is investing on some assets as deterrence for any attack, the Defense chief added.
The Philippine Air Force is looking to acquire Black Hawk helicopters from Lockheed Martin this year. The Air Force is also set to purchase attack helicopters from Turkey.