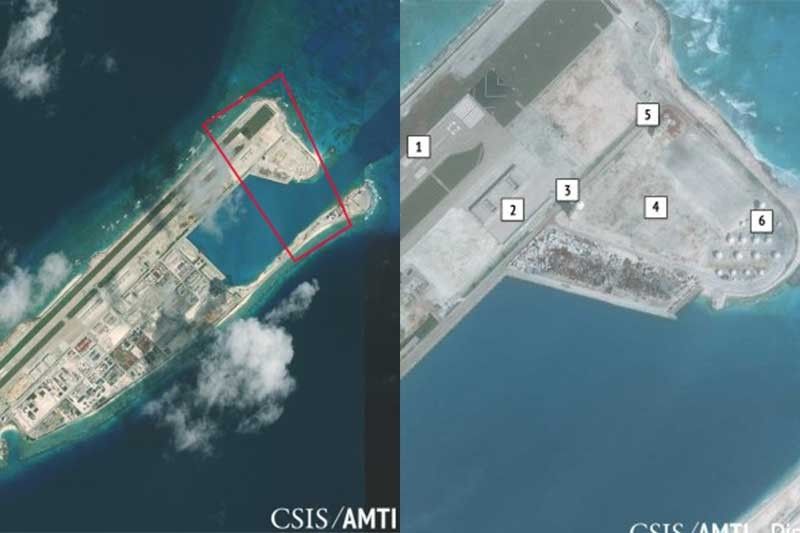 Fiery Cross or Kagitingan Reef is the smallest of China's "Big 3" artificial islands in the Spratly Islands but it contains large communications/sensor array, according to the Asia Maritime Transparency Initiative. CSIS/AMTI via DigitalGlobe
Kagitingan likely China's intelligence hub in Spratlys, think tank says
MANILA, Philippines — With the type of communications facilities that it has installed on Kagitingan or Fiery Cross Reef, Beijing is likely using the Manila-claimed reef as its intelligence hub in the Spratly Islands.
Washington-based think tank Asia Maritime Transparency Initiative reported that China has completed a large communications or sensor array on the artificial island last year.
"None of the other bases in the Spratlys so far has a comparable array, though smaller ones have been built on Subi and Mischief, suggesting that Fiery Cross might be serving as a signals intelligence/communications hub for Chinese forces in the area," the AMTI said in a brief published last Friday.
Jay Batongbacal, director of the UP Institute for Maritime Affairs and Law of the Sea, said that given these facilities, Beijing can listen in on other electric signals in the region.
Using these communications facilities in Kagitingan Reef, China can combine information from other countries and figure out what is going on in their surroundings.
"This is part of what they call maritime domain awareness and you need these things to have the full appreciation of what's going on around you," Batongbacal told ANC's "Headstart" on Monday.
Following reports that China is nearly finished with installing military capabilities and facilities on its outposts in the Spratly Islands, it is likely that they will not rehabilitate more islands in the region.
"They're able to operate their ships. They're using them as extended bases for their ships and soon probably for their aircraft and as pointed out in that feature they already have communications signals array set up," the international maritime law expert said.
Batongbacal noted that China has not yet deployed aircraft in their military outposts but they can already coordinate all their assets with current capabilities.
"Any additional features to be occupied will only be bonuses. They already have what they need," he said.
Asked about the Duterte administration's pronouncements that the government continues to rely on China's "good faith," Batongbacal noted that the government is hoping that China will not build additional structures on uninhabited features in the region.
China already stopped its reclamation activities because they are now building on them "vertically," the maritime law expert said.
"They don't need to expand them now horizontally but building all sorts of infrastructure on them, equipment, they've dug underground bunkers and now you see the buildings going up there," Batongbacal said, adding that Beijing's commitment to the country is "beside the point."
"What should be our concern is the kind of things they are now installing on these artificial islands and the kind of capabilities that they are now building up," he said.
Related video