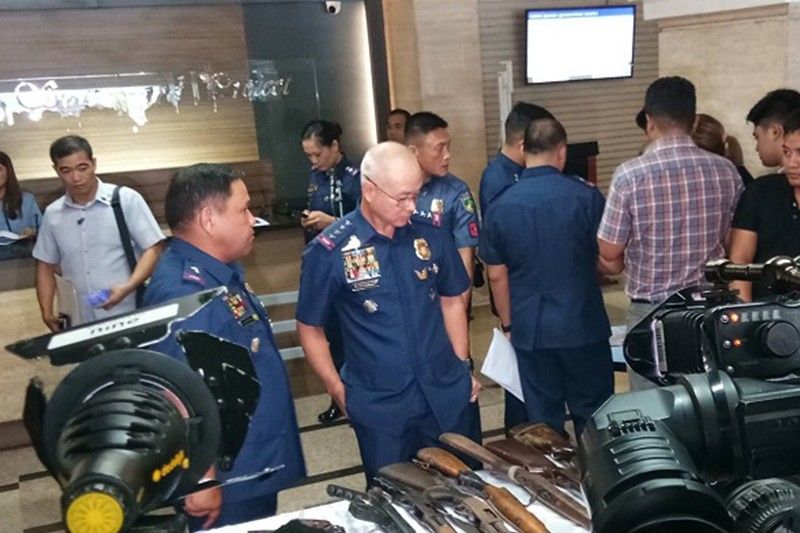 Philippine National Police Director Gen. Oscar Albayalde presents weapons confiscated during the gun ban.
Philippine National Police release
25 nabbed on first day of election gun ban
MANILA, Philippines — At least 25 people were arrested on the first day of the gun ban, the Philippine National Police said in a statement Monday evening.
"We have conducted an accumulated 4,447 checkpoint operations resulting in the arrest of 25 persons and the confiscation of 27 firearms, 168 rounds of ammunition, seven bladed weapons, 22 gun replicas, 70 sachets of suspected shabu (methamphetamine hydrochloride), and two glass pipes with suspected marijuana," Director General PNP Chief Oscar Albayalade said in a statement.
The gun ban began on January 13 and will expire on June 12, after the midterm elections.
While the ban is in place, licensed gun owners may not transport their firearms outside of their residences. Only the Commission on Elections may grant exemptions from the ban.

READ: Election gun ban to start January 13

Albayalde said uniformed law enforcement and the military are exempted from the ban. Private security agencies may also be exempted.
Politicians receiving death threats may apply for escorts from the PNP, Albayalde said.
While the police consider the first day of the ban implementation successful, four men were killed in seperate incidents on the first night of the gun ban.
READ: 4 killed on first day of gun ban
Two were killed in a police encounter in San Jose Del Monte, Bulacan after ignoring a checkpoint and allegedly firing at police officers.
Others, on the other hand, were killed in police operations in Nueva Ecija.
According to Albayalde, the following measures will be in place during the election period:
Strict implementation of gun ban
Intensified focus law enforcement operations
Dismantling of private armed groups
Early preparation of security and contingency plans
Provide security to vulnerable candidates
Limited reshuffle of PNP personnel
Accounting of loose firearms
Neutralization of gun for hire and criminal gangs
Police will be providing daily updates of gun ban violations until the end of election period.