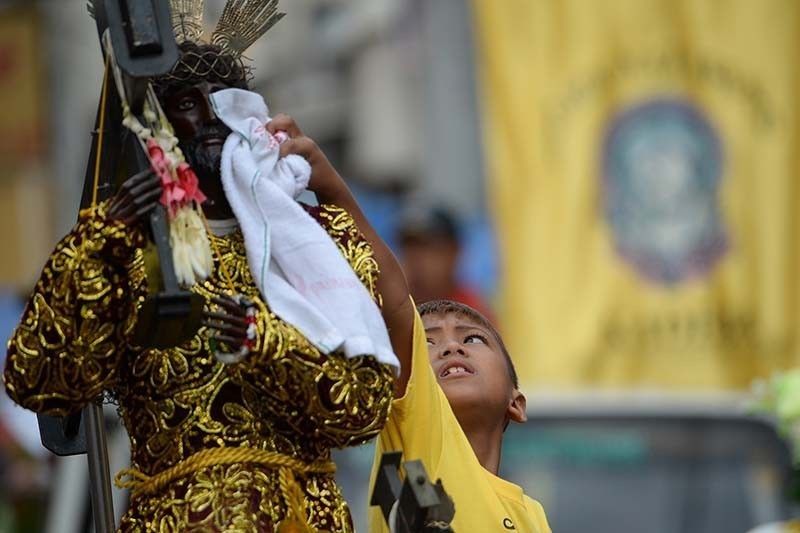 A young Catholic devotee wipes the face of the replica of the Black Nazarene during the blessing of the replicas near Quiapo church in Manila on January 7, 2019, ahead of the annual religious procession on January 9 where millions of Catholic devotees are expected to attend.
AFP/Ted Aljibe
LIVE updates: Procession of the Black Nazarene 2019
MANILA, Philippines — Millions of devotees of the Black Nazarene, or Nuestro Padre Jesus Nazareno, are expected to join the traslacion or procession in observance of the annual religious celebration.
The traslacion commemorates the transfer of the image of the Black Nazarene from its old home in Intramuros, Manila to the Minor Basilica of the Nazarene, or Quiapo Church. It is held every January 9.
This year's theme is "Deboto ng Poong Hesus Nazareno, Hinirang at Pinili Upang Maging Lingkod Niya."
Since early Tuesday, devotees have been flocking to the Quirino Grandstand for the practice of kissing the image of Black Nazarene, also known as "pahalik."
The procession will begin at the Quirino Grandstand, Rizal Park early Wednesday.
Msgr. Hernando Coronel said around 21 million devotees are expected to join in this year's traslacion while it expects more than five million devotees to participate in the religious procession.
Follow the event with these LIVE updates and contribute to the reports by using the hashtag #Traslacion2019 on Twitter.