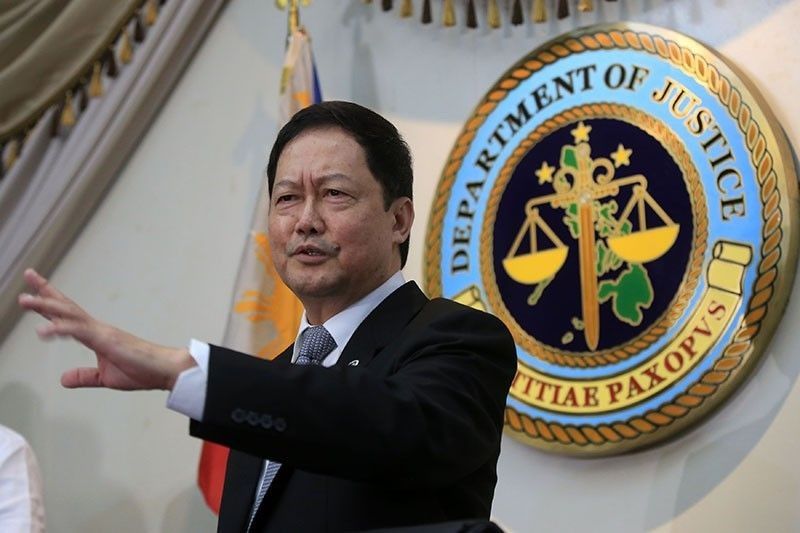 File photo shows Menardo Guevarra, chief of the Department of Justice. He sought travel ban against Sen. Antonio Trillanes IV before other local courts.
The STAR/Edd Gumban
DOJ seeks travel ban vs Trillanes from other courts
(Philstar.com) - December 6, 2018 - 2:00pm
MANILA, Philippines — Justice Secretary Menardo Guevarra said on Thursday that the Department of Justice has filed separate motions seeking travel ban against Sen. Antonio Trillanes IV before other local courts.
Makati Regional Trial Court Branch 150 Presiding Judge Elmo Alameda earlier allowed Trillanes to leave the country for speaking engagements in the United States and Europe later this month and on January.
The Justice chief said that he is not certain on the number of motions for the issuance of a hold departure order against the senator that was filed, but he stressed that this move is separate from a Makati court's order that allowed the senator to leave the country to travel to United States and Europe.
READ: Trillanes asks Makati court to partially lift travel ban for speaking engagements
"It just so happens that there are other cases pending against Sen. Trillanes. Some for inciting to sedition and some for libel," Guevarra said.
Trillanes is facing an inciting to sedition complaint before a Pasay court, while a libel case was filed against him at a Davao court.
The DOJ has already sought for the reversal of the court's order that temporary lifted the hold departure order against the senator. The court set a hearing on the government's motion for reconsideration on Friday, December 13.
The Justice secretary also maintained that it is within the prerogative of the state prosecutors to file a motion for the issuance of an HDO.
"These are pending elsewhere in other [regional trial courts] and the prosecution has the right to file a motion for the issuance of an HDO in those courts," Guevarra also said. — Kristine Joy Patag