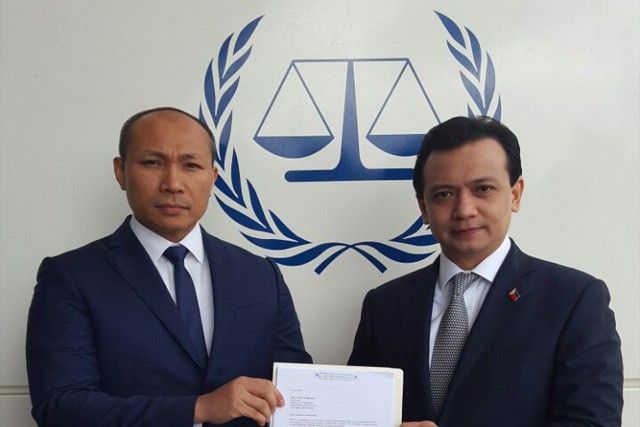 Sen. Antonio Trillanes IV and Magdalo Party-list Rep. Gary Alejano filed a supplemental complaint against President Rodrigo Duterte before the International Criminal Court in The Hague, Netherlands.
Office of Sen. Trillanes/Released
Magdalo hits back at Duterte for likening rebel soldiers to ISIS
(Philstar.com) - November 17, 2018 - 5:06pm
MANILA, Philippines — The Magdalo group on Saturday retaliated to President Rodrigo Duterte, who likened the band of rebel soldiers — some of whom are critical of him — to Islamic State terrorists.
On Friday night, Duterte claimed the Magdalo, a group of rebel soldiers who accused former president Gloria Arroyo of corruption and demanded her resignation, are not capable of anything but kill and disrespect people. Arroyo is an old friend of Duterte.
Duterte said Magdalo members are "buang (idiots)" who operate like the Islamic State in the Middle East.
"While Mr. Duterte uses 'buang (idiot)' to malign people, special warriors from the [Armed Forces of the Philippines] are elated to be referred as such, Magdalos are no exception," the group said in a statement.
"If the Magdalos are 'buang' because they stand up against corrupt officials and tyrants, then it is a badge of honor. We will just continue serving our people with no power naps during official duties," it added.
Magdalo members faced rebellion charges over the 2003 Oakwood mutiny and the 2007 Manila Peninsula siege. Its members, which include vocal Duterte critics Sen. Antonio Trillanes IV and Magdalo party list Rep. Gary Alejano, were granted amnesty by Arroyo's successor former president Benigno Aquino III.
The ISIS, meanwhile, is a terrorist group that seeks to establish a worldwide caliphate and is notorious for kidnapping and beheading non-Muslims.