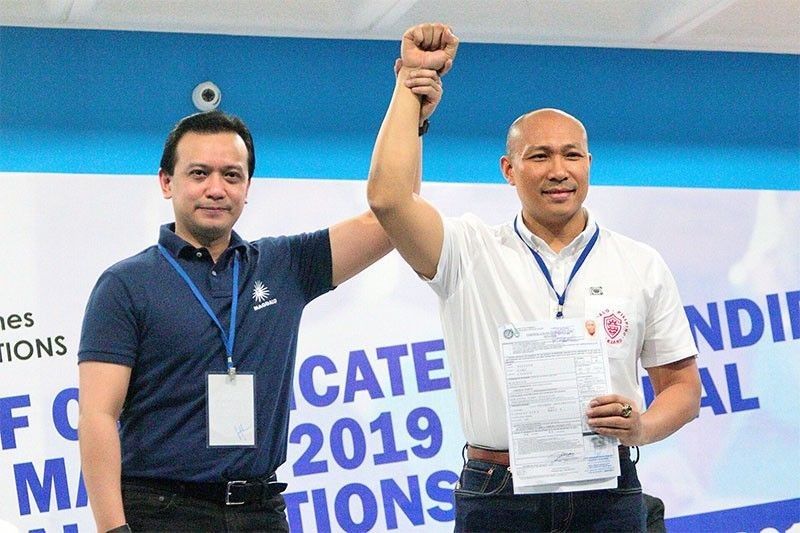 Sen. Antonio Trillanes IV accompanies Magdalo Rep. Gary Alejano as he files his certificate of candidacy for senator.
Philstar.com/Efigenio Toledo IV
Duterte likens Magdalo to ISIS, asks son Paolo to engage Trillanes in shooting match
PORT MORESBY — President Rodrigo Duterte has compared the Magdalo group to Islamic State terrorists, saying the public should be wary of the rebel soldiers, some of whom are critical of him.
Duterte claimed the Magdalo, a group of rebel soldiers who accused former president Gloria Arroyo of corruption and demanded her resignation, are not capable of anything but kill and disrespect people.
"Be careful with Magdalo. Be careful of the Magdalo party. They are the rebel soldiers who made a mess out of Makati and in the (Manila) Peninsula (hotel). And they destroyed everything," the president told the Filipino community here, referring to the uprisings staged by the rebel soldiers.
"Parang ISIS (Islamic State of Iraq and Syria) ang mga buang (Those crazies are like the ISIS)," he added.
Magdalo members faced rebellion charges over the 2003 Oakwood mutiny and the 2007 Manila Peninsula siege. Its members, which include vocal Duterte critics Sen. Antonio Trillanes IV and Magdalo party list Rep. Gary Alejano, were granted amnesty by Arroyo's successor former president Benigno Aquino III.
The ISIS, meanwhile, is a terrorist group that seeks to establish a worldwide caliphate and is notorious for kidnapping and beheading non-Muslims.
"Wala silang alam kung 'di to kill, maghahamon, magbastos (They do not know anything but kill, challenge and malign). Be careful again with military especially those rebels who were rehabilitated because they were extended pardon by Aquino," Duterte said.
'Magbarilan kayo'
Duterte went on to lambast Trillanes, whom he said was able to remain in the Senate despite doing the "worst" things in his lifetime.
He said former military chief Angelo Reyes had committed suicide after he was embarassed by Trillanes in a Senate hearing. Trillanes was one of the senators who attended Senate inquiries on the alleged systemic corruption in the military
"So they became --- sort of invincible...(They thought) well, I can do anything I want because I did the worst in my lifetime and yet I am still here being a senator. Be careful with those guys. Believe me. Take it from here," Duterte said.
Duterte said his son Paolo is running for Congress because he was maligned by Trillanes during a Senate probe on drug smuggling.
"He will be running for congressman. Tabla sila diyan. Ang sabi ko magkaaway man kayo ni Trillanes pagdating ninyo sa Congress, magbarilan kayo. At mamatay ka, ililibing kita (They will be co equals. I said 'If you and Trillanes meet in Congress, shoot each other. If you die, I would bury you). That's how it is," the president said.
Even if Paolo wins as congressman of Davao's first district, he and Trillanes would not be in the legislature together next year because the senator is not running for any post in the midterm polls.