ASEAN, China see South China Sea code first draft by 2019
November 14, 2018 | 2:30pm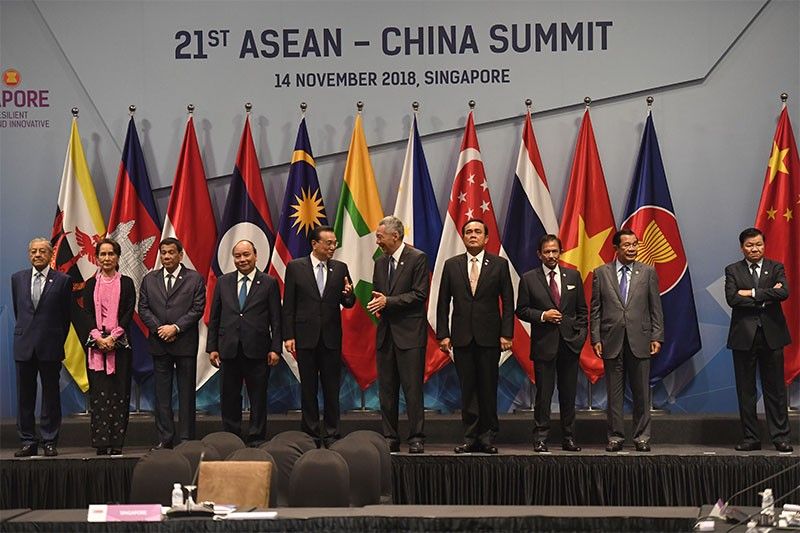 MANILA, Philippines — The Association of Southeast Asian Nations and China are looking forward to the completion of the first draft of the Code of Conduct in the South China Sea (COC) by next year.
Speaking as country coordinator for the ASEAN-China dialogue relations, President Rodrigo Duterte reiterated the parties' commitment to the "expeditious conclusion" of an effective COC.
"ASEAN and China have seen steady progress in the initial phase of the COC negotiations since the announcement of a Single Draft COC Negotiating Text, and looked forward to the completion of the first reading of the Single Draft COC Negotiating Text by 2019," Duterte said in a speech before the 21st ASEAN-China Summit in Singapore.
Duterte assured his Southeast Asian counterparts, as well as Beijing, that the Philippines will continue to work with the 10-member regional bloc and China for the early conclusion of the sea code.
The Philippine leader maintained that concerned parties would continue to maintain a "conducive environment" for future rounds of negotiations on the matter.
"In the meantime, ASEAN and China continue to reaffirm the importance of maintaining and promoting peace, security, stability, safety and freedom of navigation and overflight," Duterte said.
Thai Prime Minister Prayut Chan-o-cha, meanwhile, called for support on strategic trust in his speech during the ASEAN-China Summit.
"ASEAN and China should cooperate to support ASEAN-centered regional architecture, mutual interests for all parties related to South China Sea — such as COC which will help change South China Sea to become 'sea of peace, stability and sustainable development,'" Chan-o-cha said.
Thailand will assume ASEAN chairmanship after Singapore's hosting this year.
Push COC 'at all cost'
In an interview prior to the ASEAN-China Summit, Duterte said that he will focus on the COC in the meeting with Southeast Asian leaders and Chinese Premier Li Keqiang.
Duterte, however, expressed concern over "friction" between Western nations and China.
"I am worried, I expressed it last night, because we have a Mutual Defense Treaty with the US and there's some serious miscalculation because of the treaty," Duterte was quoted saying in an ABS-CBN News video.
The president stressed that the COC on the disputed waterway must be accomplished "at all cost."
"I'd like to tell China that is why at all cost we must have a COC so you're there, you're in position, you occupied it. Tell us what routes shall we take, what kind of behavior," Duterte said.
In recent months, Beijing has installed surface-to-air missiles, anti-cruise ship missiles and electronic jamming equipment on its "big three" islands in the Spratly Islands, which are also being claimed by Manila.
China has rejected the July 2016 arbitral ruling of a United Nations-backed tribunal that invalidated its nine-dash line claim in the South China Sea.
As It Happens
LATEST UPDATE: November 26, 2022 - 1:48pm
November 26, 2022 - 1:48pm
Palawan Rep. Edward Hagedorn files a bill declaring 3 nautical miles surrounding the Kalayaan Island Group and Scarborough Shoal in West Philippine Sea as marine protected area. — The STAR/Sheila Crisostomo
November 22, 2022 - 7:03pm
Philippine President Ferdinand Marcos says the country will ask Beijing to explain its "more benign" account of an incident involving Chinese coastguard taking rocket debris from Filipino soldiers in disputed waters.
A senior Filipino navy official on Monday accused the Chinese coastguard of "forcefully" seizing parts of a rocket fairing that landed in the waters of the Spratly Islands in the hotly contested South China Sea.
Beijing insisted the handover took place after "friendly consultation". — AFP
February 28, 2022 - 10:29am
Around 68 foreign vessels were near Julian Felipe Reef and 39 near Union Banks on February 17, satellite image show.
Liz Derr, CEO of the geospatial data provider Simularity, says this at a Stratebase ADR-hosted conference.
In March 2021, over 200 Chinese vessels were sighted near the reef. — report from News5/Marianne Enriquez
November 22, 2021 - 3:54pm
President Rodrigo Duterte condemns the latest flare-up in the disputed South China Sea after Chinese coastguard ships fired water cannon at Filipino boats.
"We abhor the recent event in the Ayungin Shoal and view with grave concern other similar developments," Duterte tells the meeting of the Association of Southeast Asian Nations and China, using the Filipino name for the shoal.
"This does not speak well of the relations between our nations and our partnership." — AFP
November 22, 2021 - 8:41am
The European Union expresses "strong opposition" against China's unilateral actions in the South China Sea, including the West Philippine Sea.
This statement comes after Chinese coast guard ships blocked and water cannoned Philippine boats transporting supplies to military personnel stationed at Ayungin (Second Thomas) Shoal.
"In this context, the European Union recalls the Arbitration Award rendered under UNCLOS on 12 July 2016, which found that Second Thomas Shoal lies within the Philippines' exclusive economic zone and continental shelf," the EU says in a statement.