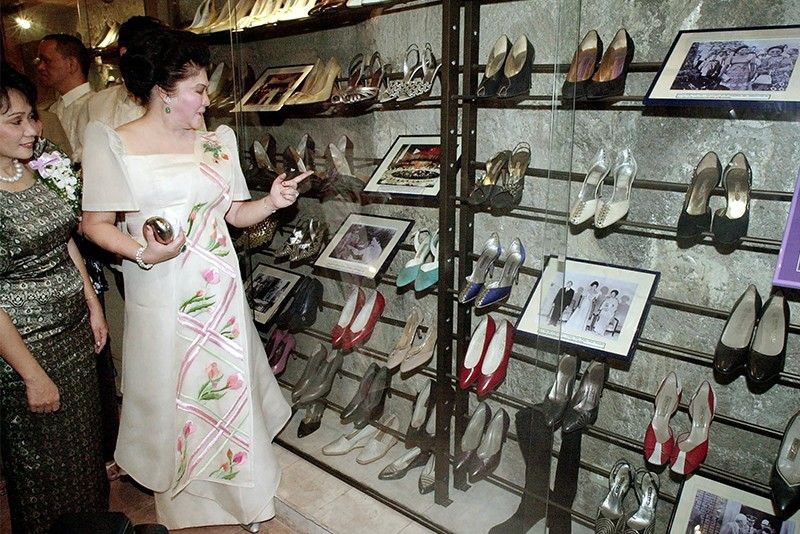 This file photo taken on February 16, 2001 shows Philippines' former first lady Imelda Marcos (2nd L) accompanied by tourism official Marides Fernando as she looks at her shoe collection, after formally opening the suburban Marikina Shoe Museum in Manila. Imelda Marcos was found guilty of corruption on November 9, 2018 and ordered arrested in a rare conviction for the former Philippine first lady accused with her late dictator husband of embezzling billions of dollars from state coffers.
Joel NITO / AFP
Palace: We respect court ruling vs ex-first lady Imelda Marcos
MANILA, Philippines — The guilty verdict against former first lady Imelda Marcos, who has been sentenced to prison for corruption, was proof that the executive branch does not meddle in the affairs of courts, Malacañang said on Friday.
Philippine anti-corruption court Sandiganbayan found Marcos, 89, guilty beyond reasonable doubt of seven counts of graft.
The court ordered the widow of late dictator Ferdinand Marcos to serve six to 11 years in jail for each count. The ruling also permanently disqualified Marcos — a congresswoman who is running for Ilocos Norte governor in the 2019 elections — from holding public office.
"The Executive Branch is not in the business of exerting undue interference or influence in the affairs of another separate and independent branch of the government," the Palace said of the Sandiganbayan's decision.
"As such, we manifest our respect to the decision of the Sandiganbayan," it stressed, adding that Marcos' conviction underscores that the country has a "working and impartial justice."
"We treat this decision by the anti-graft court as a good reminder to all public servants that public office is a public trust and that we are all accountable to the people we serve," the Palace continued.
The charges against Marcos stemmed from her alleged illicit financial dealings with Switzerland-based foundations during the regime of her husband. She was the minister of human settlements from 1976 to 1986 and concurrent Metro Manila governor from 1978 to 1984.
According to a prosecutor, Marcos can appeal the ruling.
The Marcos patriarch, whose presidency was tainted by human rights abuses and massive corruption, was ousted in the 1986 "People Power" revolution.
Despite the death of the strongman while in exile in Hawaii in 1989, his family has been making a steady political comeback, with his only son and namesake eyeing a return to Malacañang as Philippine president.
In the Marcos family's two-decade rule, it was the convicted ex-first lady's lavish lifestyle and collection of designer shoes and jewelry that etched the couple's extravagance in the collective memory of the Philippines, where the poor accounts for nearly a quarter of the country's 105 million population.
In 2016, President Rodrigo Duterte, an ally of the Marcoses, granted the political clan's longstanding wish to bury the late dictator's remains at the Heroes' Cemetery.