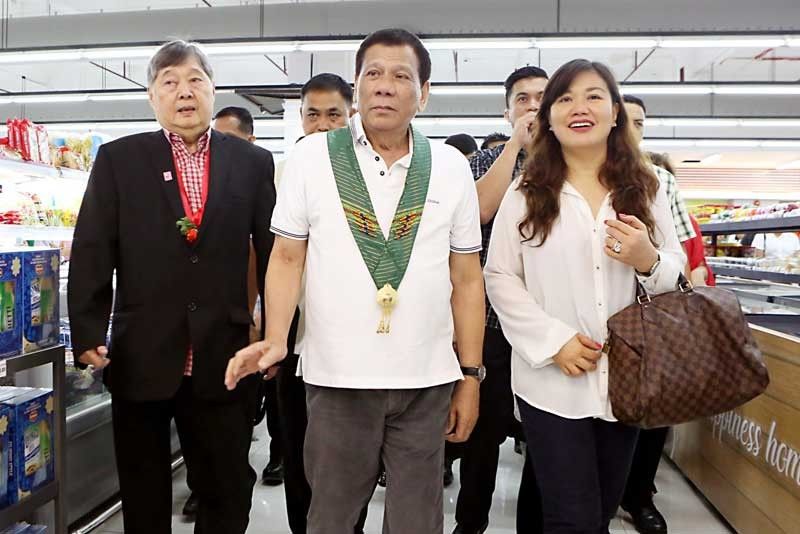 President Duterte is accompanied by partner Cielito 'Honeylet' Avanceña and Benito Gaisano as he takes a tour inside the Gaisano Grand Citygate Mall during its inauguration at the Buhangin district in Davao City the other day.
Duterte's advice to government job seekers: Be honest
DAVAO CITY, Philippines — President Duterte has advised all those wanting to join the government to be honest and competent.
"To those of you intending to enter government now, my criteria is you must be honest and you must be competent. That's it. If you can handle the job and if you are a decent person…" Duterte said during the inauguration of the new Gaisano Grand Citygate Mall in Buhangin district here the other night.
Duterte vouched for the honesty and competence of former Army chief Rolando Bautista, whom he appointed as secretary of the Department Social Work and Development immediately after the general's retirement on Oct 15.
Bautista, who took his oath the following day, was also chief of Task Force Davao before he was assigned as brigade commander in Basilan.
In 2016, he was Duterte's first Presidential Security Group chief.
The President earlier admitted his wont for appointing former military men into civilian office, particularly to Cabinet positions.
"If I want to get things done, these former military officials could easily do them for me," Duterte repeatedly said in his speeches.
The President said his circle of friends is limited and he does not know many other people, except those whom he knew and worked with before.
Most of the retired military officers that the President appointed had been assigned here this city or in Southern Mindanao, where he had the opportunity to work with them.
Duterte reiterated his commitmment to fight corruption in government.
"You accepted me but I need to tell you that if we do not have the law and order in this country, if the corrupt will never stop, ah then there's nothing. We would all be dead," he said.
The President has fired several government officials over allegations of graft and corruption since he assumed office in June 2016.