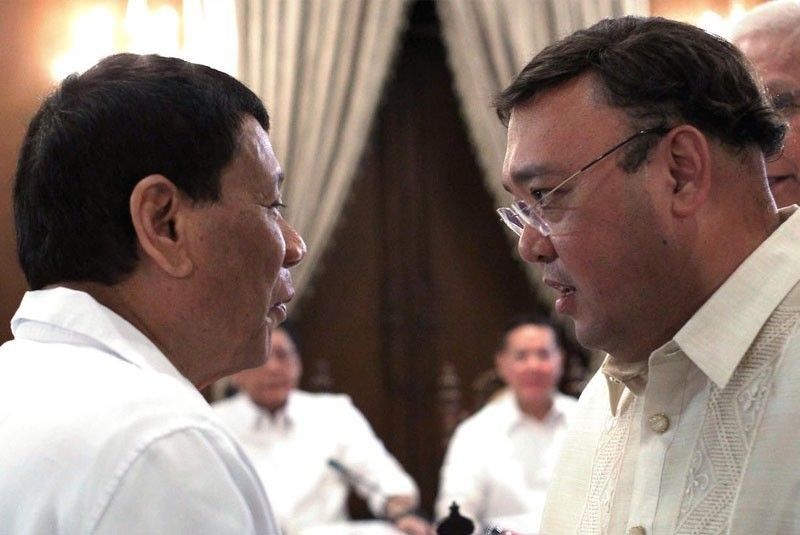 Former presidential spokesman Harry Roque once downplayed the "controversial kiss" of President Rodrigo Duterte to a Filipina OFW as merely a "playful act."
PPD/Ace Morandante
Roque changes tune, says Duterte's 'playful act' of kissing OFW was 'inappropriate'
MANILA, Philippines — After a revamp at the Presidential Communications Operations Office that may have booted him out of the Palace, former presidential spokesperson Harry Roque said that the "playful act" of President Rodrigo Duterte kissing a Filipina overseas worker was "inappropriate."
On Sunday night, Roque—who was replaced as the Palace mouthpiece by Presidential Chief Legal Counsel Salvador Panelo despite no resignation from Roque—had a candid interview at "Gandang Gabi Vice" with host and comedienne Vice Ganda.
Roque was asked if there have been instances when he thought what the president said was inappropriate.
"Of course, there was," he said in Filipino.
The former spokesman said he thought that Duterte' s kissing of an overseas worker at a meeting with the Filipino community in Seoul, South Korea—which Roque once downplayed as a mere "playful act"—last June was inappropriate.
Roque even said that the issue should not be blown out of proportion as there was no malice in it. "The lady has clearly expressed the view that she was honored by the kiss," he told CNN Philippines back in June.
READ: Roque: Duterte's kiss 'an act of endearment for all OFWs'
Months later, Roque said that he actually thought "he was going to die" when he saw what was happening.
"I thought I was going to die... I felt that I should have run and pulled him. 'Come here, let us go here, Mr. President,' " he recalled.
Roque said that he was there when the incident happened but he could not have pulled the president away since it would mean losing his job.
"Patay na ako," he quipped.
Asked why he defended it before, Roque said that it was "his job."
"I believe that serving the countrymen is through serving the president, which includes defending him when he did not do anything wrong," Roque added.
Before Roque went to the Palace to become Duterte's mouthpiece, he was a former party-list congressman and a known human rights lawyer.
Senatorial bid?
Roque was earlier rumored to vie for a seat at the Senate—he admitted to shooting a campaign ad already—but he has yet to officially file his resignation from the PCOO to formalize his bid.
Panelo's reappointment as the presidential spokesperson came days after Roque filed a leave of absence after being kept in the dark about Duterte's whereabouts and hospitalization.
This sparked speculations that Roque would be replaced and would pursue his senatorial bid.
In a speech, Duterte also said he told Roque to quit his Senate dream as he would not win and instead offered him a new post. Presidential Communications Operations Officer Martin Andanar earlier said Roque was offered the post of press secretary. Roque confirmed the offer and said he would think about it.
As of today, however, Roque's fate under the Duterte administration is still uncertain.
READ: Roque wants to resign? Then go — Duterte
RELATED VIDEO: