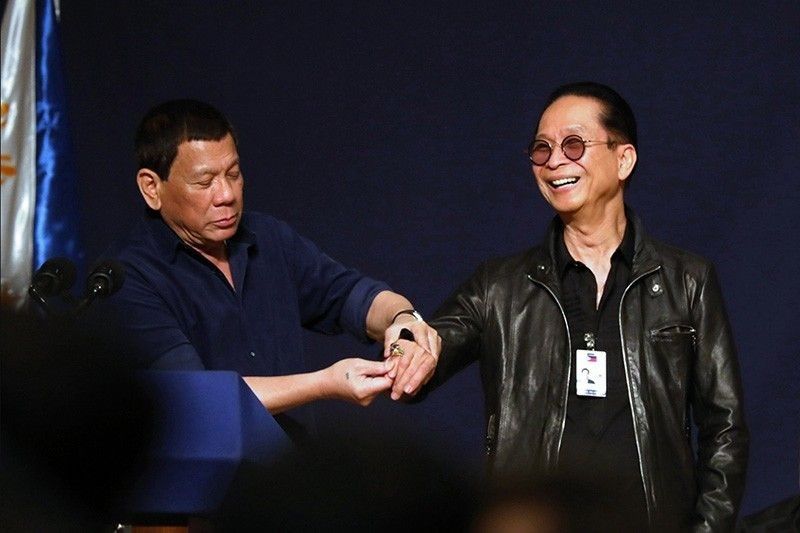 President Rodrigo Duterte shows the ring worn by Presidential Chief Legal Counsel Salvador Panelo during the meeting with the Filipino community at the Grand Hilton Convention Center Seoul in South Korea on June 3, 2018.
Presidential Photo/Toto Lozano
Panelo returns as Duterte spokesman
MANILA, Philippines— Former party-list congressman Harry Roque has yet to resign as presidential spokesperson but his replacement is already waiting in the wings.
"Yup," Chief presidential legal counsel Salvador Panelo told The STAR when asked whether he has been informed that he will be the next presidential spokesman.
This is the second time Panelo will be the president's mouthpiece.
READ: Abella replaces Panelo as incoming presidential spokesperson
In 2016, Panelo served as Duterte's spokesperson before being replaced by educator and former pastor Ernesto "Ernie" Abella, who was initially designated deputy presidential spokesperson.
Roque still kept in dark?
With Panelo's confirmation, it was unclear which post Roque now holds.
Panelo's reappointment as the presidential spokesperson came days after Roque filed a leave of absence after being kept in the dark about Duterte's whereabouts and hospitalization.
This sparked speculations that Roque will be replaced and will pursue his senatorial bid.
Presidential Communications Operations Officer Martin Andanar earlier said Roque was offered the post of press secretary. Roque confirmed the offer and said he would think about it.
But it seems that offer has already expired.
Roque, early Thursday, also denied that he already resigned from his post.
Duterte earlier discouraged Roque to run for Senate, citing that he is not favored by the military.
Despite this, Roque was named by Duterte as one of the Cabinet officials set to join the senatorial race in 2019.
Meanwhile, reports quoted Special Assistant to the President Bong Go as saying Roque and Panelo will hold the post concurrently while Roque makes up his mind.
Last month, Panelo facilitated the tête-à-tête format similar to a talk show, where he and Duterte discussed national issues. — With a report from Alexis Romero