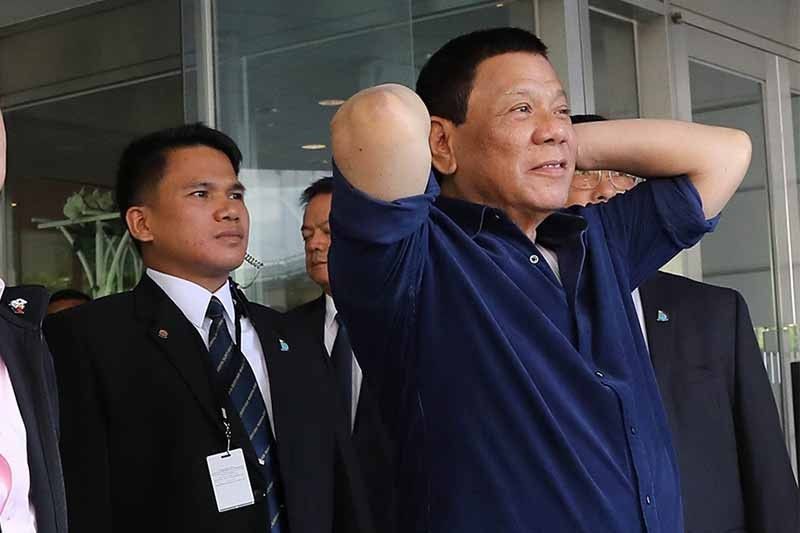 President Rodrigo Duterte exits the Grand Hilton Convention Center Seoul in South Korea after meeting with the Filipino Community on June 3, 2018.
Presidential Photo/Alfred Frias
Roque: Duterte's kiss 'an act of endearment for all OFWs'
'The lady has clearly expressed the view that she was honored by the kiss'
MANILA, Philippines — It is a kiss on the lips that is threatening to overshadow other developments in President Rodrigo Duterte's trip to South Korea, but for his spokesman it was just a "playful act" act and should not be an issue.
According to presidential spokesperson Harry Roque, the president kissing a woman on stage at a meeting with the Filipino community in Seoul should not be blown out of proportion as there was no malice in it and there was no offended party.
"Obviously, there is no offended party here. The lady has clearly expressed the view that she was honored by the kiss," Roque said in an interview with CNN Philippines.
"It was not an issue. It was not an issue to the woman, so it was not an issue to the president. If you were there, the Filipino community appreciated the act. It was an act of endearment intended toward all OFWs," the president's spokesman added.
The presidential spokesman said that the playful act was accepted in Fililipino culture and an overwhelming majority of Filipinos found it a "light moment", implying that it is normal in the Philippines to trade kisses for tokens like books.
READ: The uneven power relations behind Duterte kissing a married Filipina on stage
Members of the opposition blasted Duterte for kissing a married woman during an official event in Seoul where he is currently on an official visit.

Rep. Gary Alejano (Magdalo party-list) said that what Duterte did was disrespectful not only of women but also of the presidential office.

"Just when we thought the president could not go any lower, Duterte pulls off another act disrespecting women and the presidential office. The president kissing an OFW in South Korea- at an official public event, behind the presidential seal, is a display of how he sees women and how he uses his power to subject them," said Alejano, who is one of a handful of members of the House of Representatives critical of Duterte's actions and policies.
Rep. Tom Villarin (Akbayan party-list) meanwhile described the presidential act as "pathetic and outrageous."
He said that the kiss was a use of the "coercive powers of the state" for force a woman to give in to Duterte's desire for a kiss.
"It was a clear 'set-up' that the Office of the President did make to acquiesce his lust for public adulation," he said in a statement.

Alejano advised the president to rethink how his "stunts" resonated and set a new low standard for people in public service. He added that instead of engaging in critical discussions about policy and development Filipinos would just wait for Duterte's "next show."

"The people have the tendency to put their government leaders on a pedestal. Duterte in this position opts to spread misconduct rather than use his position to encourage a brand of service centered on dignity and good Filipino values," the lawmaker said.

The group said that Duterte's acts of "machismo" were meant to hide the reality of his sinking popularity due to concerns over drug-related extrajudicial killings, the government's tax reform law and corruption scandals hounding some officials.

This is not the first time that the president was labeled as demeaning to women.

The president's defenders denied that he was contemptuous of women and said that they should instead look at Duterte's policies on women protection and empowerment.

Alejano said that those defending the president were disappointing, stressing that this could lead to a "new normal" for the country's leaders.

"I believe that the president's supporters are not naïve on how government officials should conduct themselves. They should be able to criticize Duterte's inappropriate and wrongful actions," Alejano said.

"Let us return the dignity and respect to the image of the Office of the President. The Filipino people deserve leaders, not entertainers," he said.
Former Rep. Lorenzo Tañada said that if he were the husband of the woman he would be offended.
"How would you feel if your Korean husband kissed a famous Korean female on the lips in front of Korean media. Would you feel the same weay?" he said.
Roque said the controversy would not overshadown the billions of investments and official development assistance and thousands of jobs that he got from this trip.
Related video: