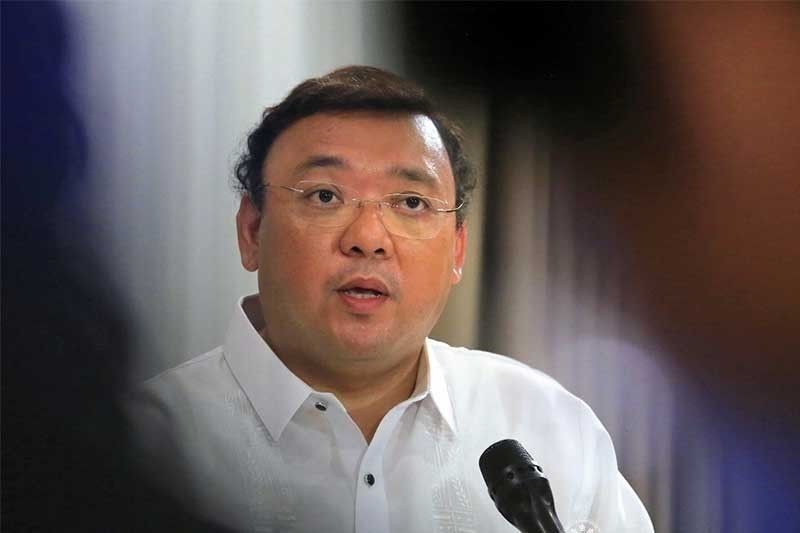 In a press briefing Tuesday, presidential spokesperson Harry Roque Jr. said his decision will be based on the outcome of his conversation with President Rodrigo Duterte.
Presidential Photo/Joey Dalumpines, File
Roque still in talks with Duterte over planned Senate bid
MANILA, Philippines —It remains to be seen whether presidential spokesperson Harry Roque Jr. will push through with his plan to run for senator as he is still in talks with President Rodrigo Duterte, who has said in public that the former human rights lawyer will not win.
In a press briefing Tuesday, Roque said his decision will be based on the outcome of his conversation with Duterte.
"We're still talking. I talked to the president yesterday afternoon. Talks have not been concluded. We will continue with our conversation," he said.
Roque added: "I'd rather the president and I agree on a course of action."
Last Friday, Roque said he would need the weekend to ponder if he would run for senator in the 2019 midterm polls or accept the chief executive's reported offer for him to lead the Office of the Press Secretary. On Monday, Roque's staff announced he had gone on an indefinite leave. He, however, attended a Cabinet meeting on Monday night and handled the press briefing on Tuesday.
There has been talk of reviving the OPS to replace the Presidential Communications Operations Office, which has collected blunders and gaffes in recent years.
Senate President Vicente Sotto III said that if the PCOO's functions are taken over by the Office of the Press Secretary, "perhaps it would be more effective than what it is today."
'Game changer'
The president's mouthpiece confirmed that he has started shooting a political advertisement for his planned campaign.
"I shot it because it's been paid for. We've had plans. Whatever happened in the last few days were really deviation from the plans that even the president knew about," he said.
He also admitted that he was surprised when the president said that he would not stand a chance in the 2019 midterm polls.
"For the past five or six months, he's been calling me a senator. For all intents and purposes endorsing my bid for Senate so I was taken aback with his statement with the Philippine Military Academy alumni," Roque said.
Last week, Duterte said he had told Roque to quit his Senate plan and offered him a new job in his administration.
"Roque and others want to become senator. I said to [him]: 'Stop it. Just be on standby. I'll give you another job. You won't win," the president said in Filipino, noting the military does not like Roque.
While he does not believe that the military does not like him, Roque said the president's statement was a "game changer."
Roque: AFP chief Galvez is not a lawyer
Although Duterte did not explain why the military supposedly does not like Roque, the lawyer, who is known for making bombastic statements, has been at odds with Armed Forces of the Philippines officials in the past.
Roque played down a statement by Gen. Carlito Galvez Jr., Armed Forces chief of staff and a PMA alumnus, that Sen. Antonio Trillanes IV's amnesty papers may have been submitted and later lost due to lapses in handling them.
"Certainly, you don't expect me to take the side of Chief Galvez, who is not a lawyer, over the words of a learned judge." he said.
"I'm talking as a lawyer, best evidence rule. And besides, that's in the courts and one court has said that the pictures and everything else that Sen. Trillanes adduced are not enough and of course, I concur as a lawyer," Roque said then.
Camp Aguinaldo incident
In 2014, Roque got into an argument with Lt. Col. Harold Cabunoc, AFP spokesperson at the time, over the custody of US Marine Joseph Scott Pemberton, who has since been convicted over the death of transgender Filipina Jennifer Laude.
Pemberton was being held at the Mutual Defense Board – Security Engagement Board facility inside Camp Aguinaldo and Laude's family and German boyfriend wanted to check if the American was really inside.
They were refused entry and Roque confronted the soldiers by accusing them of favoring an American over their fellow Filipino. He also shouted at American servicemen who were seen guarding the container vans.
Laude's sister and German boyfriend of slain transgender woman eventually breached a perimeter fence around the facility.
The incident led to a disbarment complaint against Roque, which he said he would answer by filing a graft case against military officials.
Filing of candidacy papers on starts October 11
The filing of certificates of candidacy for the midterm elections is slated from October 11 to 17.
The latest Pulse Asia survey for next year's senatorial candidates showed that 76 percent of the respondents said they were aware of Roque. But only 7.7 percent said they would vote for him.
He ranked in the 29th to 36th bracket.