Lorenzana, Pompeo talk South China Sea militarization
September 20, 2018 | 12:12pm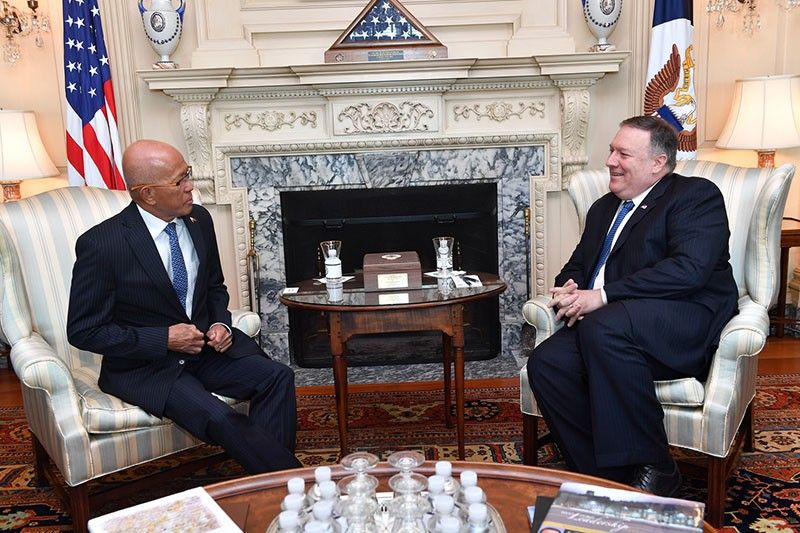 MANILA, Philippines — China's expanding militarization in the disputed South China Sea was on the agenda in Defense Secretary Delfin Lorenzana's meeting with US Secretary of State Mike Pompeo.
Lorenzana met with the US top diplomat in Washington to reaffirm the decades-long defense relationship between the two countries.
In a readout released Thursday (Manila time), US Department of State spokesperson Heather Nauart said Lorenzana and Pompeo discussed mutual defense and security challenges.
"Secretary Pompeo and Secretary Lorenzana discussed cooperation on addressing regional security challenges, including the militarization of the South China Sea and the threats posed by terrorism and efforts to achieve denuclearization in North Korea," Nauert said.
Beijing has installed anti-cruise ship missiles, surface-to-air missile system and electronic jamming equipment on its artificial islands in the South China Sea. China has been claiming that its weapons are not directed at any country.
Commitment to Mutual Defense Treaty reaffirmed
The two secretaries also reaffirmed Washington's commitment to the 1951 Mutual Defense Treaty with Manila.
Aside from the MDT, the Philippines has two more military agreements with the US — the 1999 Visiting Forces Agreement and the Enhanced Defense Cooperation Agreement.
Pompeo also expressed Washington's readiness to extend support for the modernization of the Armed Forces of the Philippines.
US assistance vs terrorism
Lorenzana also met with US Defense Secretary Jim Mattis to discuss defense issues, including the two countries' commitment to combat terrorism.
The US Department of Defense or the Pentagon said Mattis reaffirmed US military advisory support to assist the Philippines in its operations against ISIS and other violent extremist groups.
"Secretary Mattis thanked Secretary Lorenzana for his country's contribution to maritime security through its trilateral air and maritime patrols with Indonesia and Malaysia in the Sulu and Celebes Seas," the Pentagon said in a statement.
'Ompong' relief
Meanwhile, Pompeo expressed sympathies to Lorenzana after the Typhoon "Ompong" (international namen Mangkhut) pummeled into the country over the weekend.
"Secretary Pompeo also expressed condolences for the destruction and loss of life cause by Typhoon Ompong and offered US assistance in humanitarian relief efforts," Nauert said.
The US Embassy in Manila already announced that it will be providing hygiene supplies to the 5,500 people affected by the typhoon in Cagayan.
The US Agency for International Development, in partnership woth the Department of Social Welfare and Development, will also be transporting 1,000 metric tons of food to families affected by Ompong.