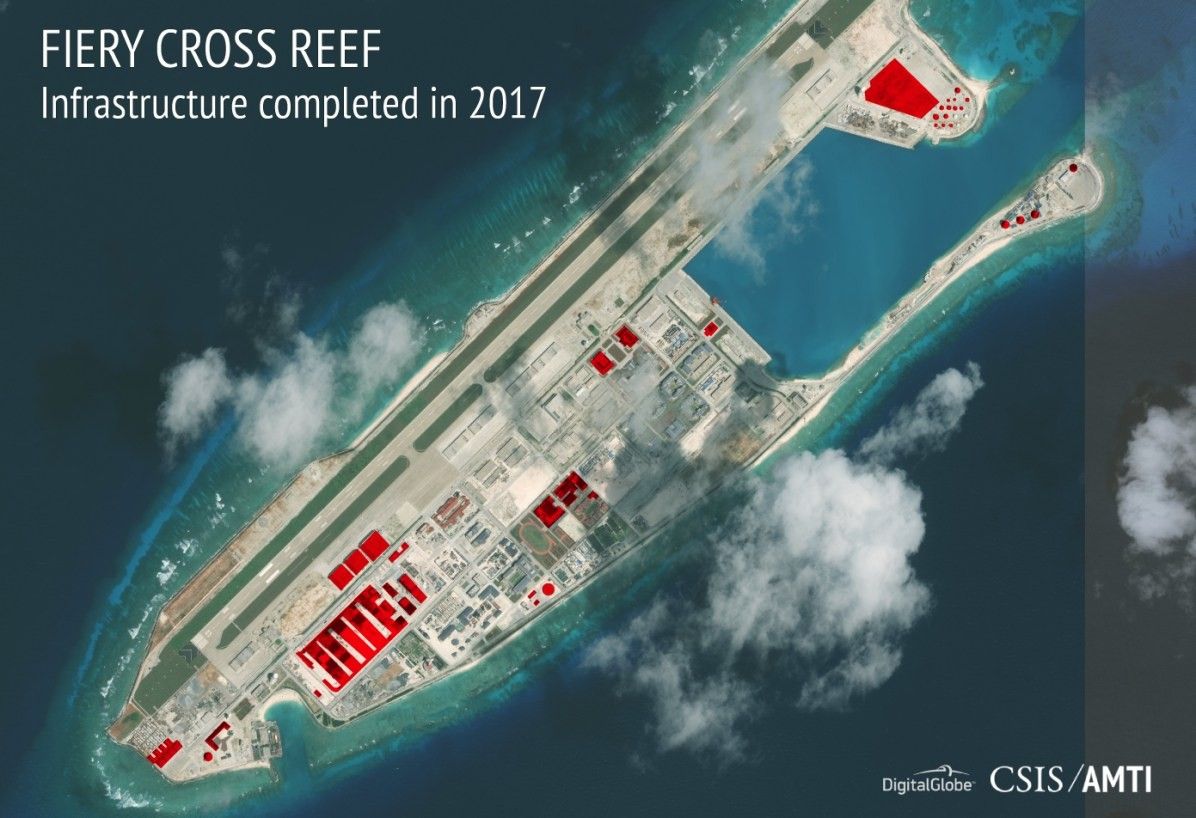 This 2017 satellite image of Fiery Cross Reef shows China's completed infrastructure on the artificial island.
CSIS/AMTI, File
China might bring 'nuclear element' to South China Sea, Pentagon warns
MANILA, Philippines — No permanent large-scale air or naval presence has been observed on China's outposts in the Spratly Island but it may soon be powered with a "nuclear element," the Pentagon warned.
The US Department of Defense, in its annual report to US Congress, noted that Beijing has stopped its land reclamation activities in the South China Sea but has continued to build infrastructure at three outposts.
"In 2017, China indicated development plans may be underway to power islands and reefs in the typhoon-prone South China Sea with floating nuclear power stations; development reportedly is to begin prior to 2020," the report read.
The People's Liberation Army's missile force now fields short and medium-range ballistic missiles, as well as ground- and air-launched land-attack cruise missiles, the report read.
China's DF-26 intermediate-range ballistic missiles (IRBM) are capable of conductung precision conventional or nuclear strikes that can reach Guam, where the US has bases.
"The PLA has begun fielding a road-mobile, nuclear and conventional capable IRBM, expanding its near-precision strike capability as far as the second island chain," the Pentagon also said.
'Limited but survivable nuclear force'
The Pentagon also reported that Beijing invests resources to maintain and modernize a "limited, but survivable" nuclear force to ensure that the PLA will have a capacity to deliver a damaging responsive nuclear strike.
"China's nuclear weapons policy prioritizes the maintenance of a nuclear force able to survive a first strike and to respond with sufficient strength to inflict unacceptable damage on an enemy," the report read.
China has been insisting that its missile forces are meant to "ensure the viability of its strategic deterrent" against the US and Russia.
Beijing has a "no first use" policy consisting of two commitments — China will never use nuclear weapons first at any time and it will not use nuclear weapons to threaten any non-nuclear-weapon state or in nuclear-weapon-free zones.
This policy, however, is ambiguous on conditions where it would no longer apply.
"Some PLA officers have written publicly of the need to spell out conditions under which China might need to use nuclear weapons first; for example, if an enemy's conventional attack threatened the survival of China's nuclear force or of the regime itself," the Pentagon said.
"China is enhancing peacetime readiness levels for these nuclear forces to ensure responsiveness," it added.
According to the Pentagon report, China maintains a "nuclear triad" in the PLA Rocket Force, Navy and Air Forces, providing the country delivery systems dispersed across land, sea and air.
"PLA writings express the value of a 'launch on warning' nuclear posture, an approach to deterrence that uses heightened readiness, improved surveillance, and streamlined decision-making processes to enable a more rapid response to enemy attack," the Pentagon said.
Despite insisting that its projects in the Spratly Islands are focused on improving the living and working conditions of those stationed on the artificial islands, China continues to build administrative buildings, weapons stations, sensor emplacements and other facilities on the features.
China's expansion efforts are currently focused on its "big three" islands – Fiery Cross, Subi and Mischief Reefs, which are also being claimed by the Philippines.
Earlier reports have indicated that Beijing has deployed anti-cruise ship missiles, surface-to-air missiles and electronic jamming equipment on the three islands.